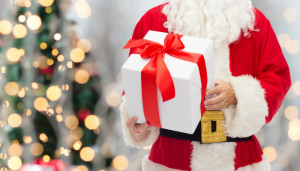 This Saturday, our guest blog comes to us from the wonderful site On Behalf of All, and its a great and timely post about Santa. Click the link below to read the whole post, and share it with your friends.
"Every year, as Christmas approaches, the discussions begin in parenting circles: How do you deal with Santa Claus?
Some embrace the myth wholeheartedly, complete with the recent addition of the Elf on the Shelf, Santa's faithful spy (since, apparently, kids these days are less open to the idea of an omniscient Santa than previous generations). Others reject it completely, fearing that perpetrating even so innocent a deception will damage their children's trust in them, especially as regards things invisible and miraculous."
Click this Link to read the rest!
P.S. Don't forget that we air a new Faith Encouraged LIVE program Sunday, December 14th at 8 PM and the title of the show is "His Kingdom Will Have NO End." That's Sunday December 14th at 8 PM on AncientFaith.com!