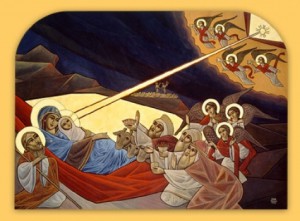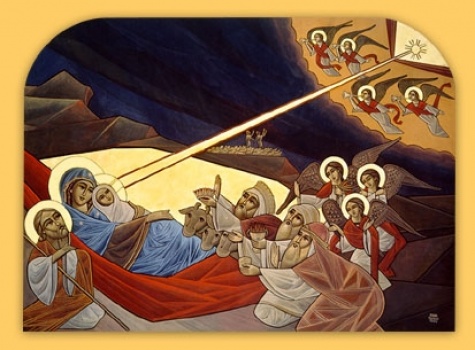 He simply stared at me wondering how to respond. We were marching in a parade of Christian believers supporting the presence of our faith in the public square. He was a very dynamic and animated member of one of the local mega-churches that was a charismatic church with thousands in attendance every Sunday. I was a new convert to Orthodoxy. He was carrying a banner with the words "Praise Jesus" on it. I was carrying an icon of All Saints. And he was fascinated by the icon but he had one complaint: "Why aren't they smiling and jumping around with joy if they are all in heaven in this picture?" He went on to say he would be all over the place jumping and leaping and praising God. I looked at him and told him that traditionally the language of heaven is silence in awe of God's presence and the people in the icon aren't smiling but they are joyful. But they are overwhelmed by the contemplation of God's presence. That's why they have such a sober look on their faces. For this sincere friend, the concept of sobriety and joy simply didn't go together.
And that is a big problem.
You see, there is a spiritual maturity we are called to achieve that allows us the freedom to no longer be intoxicated with either despondency or elation. And that is because intoxication with either state leads to illusion. Intoxication with despondency makes you feel like you will never be happy again, and that simply isn't true. And intoxication with elation leads you to be blindsided with troubles when your elation makes you blind to signs of trouble coming later. Both these intoxicated states make spiritual maturity impossible. That's why the Orthodox faith leads to sobriety, wakefulness, and joy. Notice it isn't a somber sobriety but a joyous sobriety that quiets my soul and focuses my heart and head on the singular Face of Christ. In fact, this theology, this purposeful Orthodoxy, always leads to a sober joy that removes the temptation to intoxication even with religious zeal because the Faith has learned such a state of frenzy makes you susceptible to other passions untamed and undisciplined.
Just look at our Gospel Lesson for this Christmas Eve: In those days a decree went out from Caesar Augustus that all the world should be enrolled. This was the first enrollment, when Quirinius was governor of Syria. And all went to be enrolled, each to his own city. And Joseph also went up from Galilee, from the city of Nazareth, to Judea, to the city of David, which is called Bethlehem, because he was of the house and lineage of David, to be enrolled with Mary, his betrothed, who was with child. And while they were there, the time came for her to be delivered. And she gave birth to her first born son and wrapped him in swaddling clothes, and laid him in a manger, because there was no place for them in the inn.

And in that region there were shepherds out in the field, keeping watch over their flock by night. And an angel of the Lord appeared to them, and the glory of the Lord shone around them, and they were filled with fear. And the angel said to them, "Be not afraid; for behold, I bring you good news of a great joy which will come to all the people; for to you is born this day in the city of David a Savior, who is Christ the Lord. And this will be a sign for you: you will find a babe wrapped in swaddling clothes and lying in a manger." And suddenly there was with the angel a multitude of the heavenly host praising God and saying, "Glory to God in the highest, and on earth peace among men with whom he is pleased!"

When the angels went away from them into heaven, the shepherds said to one another, "Let us go over to Bethlehem and see this thing that has happened, which the Lord has made known to us." And they went with haste, and found Mary and Joseph, and the babe lying in a manger. And when they saw it they made known the saying which had been told them concerning this child; and all who heard it wondered at what the shepherds told them. But Mary kept all these things, pondering them in her heart. And the shepherds returned, glorifying and praising God for all they had heard and seen, as it had been told them.
If there was anything that was going to cause we humans to "freak out" in amazement then God coming to us in our own flesh would be that time. But look at the events and all the reactions. First, the birth is uneventful and even "out of the way" in a cave where the animals are kept. No fanfare. No parade. No royal welcome. Next, angels appear to shepherds. To be sure, a notable event and the shepherds were afraid, but the angels counsel to not be afraid because they bring "good tidings." Finally, these shepherds to into Bethlehem and share their story of angels and "good tidings" and an angelic choir, and our Lady Theotokos "kept all these things, pondering them in her heart." For an event on such a cosmic and universe changing scale quite a sober affair indeed!
Our worship today is dignified, focused, profound, even subdued, but there is this very same sense that this very focused, liturgical worship is rumbling with power disciplined by peace and filled with a joy that brings clarity, not intoxication. This is profoundly different than much of our modern world which seems to constantly be seeking "escape" and a numbing of reality. We even see this in modern ideas concerning worship reduced to entertainment or worse yet some individualistic self-help session.
Today, our faith invites us to peer into the Cave with a sober wonder that fosters a mature and lasting joy more powerful that the fleeting emotions of temporary thrills. Today, God Himself subdues His own power and humbles Himself to come among us. Today, God takes on flesh so that we who are flesh can become god-like by grace. And all during a "silent night, holy night." Today we look on things too wonderful for words and we are once again invited to the sobering truth that God wishes for us to be His eternal companions. What a shame that so many are still gripped by the inebriation of defeated fears and/or shallow thrills. Our Orthodox faith invites us to a mature relationship, a sober joy! Christ is Born! Glorify Him!
P.S. All of us at Faith Encouraged Ministries pray you and your family have a blessed Feast of the Nativity. May these Twelve Days be filled with a growing sobriety of the amazing gift God has given His world. Please pray for us and please email us your prayers for 2015 at email hidden; JavaScript is required
Oh and don't forget we will be doing some much needed maintenance on our web presence from December 26-January 1. Tomorrow's devotional will be our last devotional of the year. We will see you again in 2015!