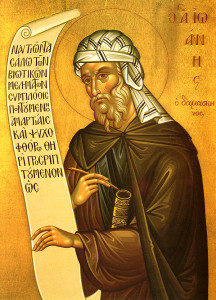 How we Christians look at our Holy Scriptures reveals a deep truth about how we see God, faith, and even ourselves. This matters!
"Those who engage in debates on a regular basis know that the argument itself can easily shape the points involved. This is another way of saying that some debates should be avoided entirely since merely getting involved in them can be the road to ruin. There are a number of Christian scholars (particularly among the Orthodox) who think that the classical debates between Christians and Muslims during the Middle Ages had just such disastrous results for Christian thinking."
Click the link below to read more!
https://blogs.ancientfaith.com/glory2godforallthings/2014/10/01/bible-become-quran/
P.S. So looking forward to speaking today at St. John the Wonderworker parish in Atlanta for their community outreach project. The lecture is at 1 PM and I'd love to see you if you're in the area! Would you like Fr. Barnabas to speak at your special event? Go here to find out how!