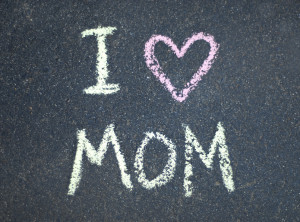 In the culture I was raised, your mother is the most important person in your life. Oh, don't get me wrong, dad was just as important, but he was working, and it was mom that had the after-school snack ready for you when you got off the bus in the afternoon!
Of course that calls to mind the old saying "The hand that rocks the cradle rules the world."
This brings me to a bit of confusion as to why there are so many who love and desire to follow Jesus that dismiss centuries of wisdom in the history of Christianity concerning the most important mother who has ever lived – Mary.
Some may argue that "well, this group went overboard" but even so, to ignore those that didn't go overboard is going overboard in the other direction.
But the wisdom concerning Mary, one of our race, one of us, actually becoming the "gateway" through which the Uncreated entered His creation holds such powerful insight and help in me living for Christ every day! The timeless teachings from the Church about Mary, called "Theotokos" by the 4th Council at Chalcedon in 451 AD, gives me, today, insights into how a human person says "yes" to God and have Christ enter my life!
In fact, the argument can be made that Mary was the first Christian. Think about it: A Messenger brings her Good News and she accepts this Good News and Jesus comes to live inside her. Talk about accepting Jesus as your personal Savior!
As we continue in the preparation for the Feast of the Dormition , listen to what Elizabeth says about Mary in Luke chapter 1: "Blessed are you among women, and blessed is the fruit of your womb! And why is this granted me, that the mother of my Lord should come to me? For behold, when the voice of your greeting came to my ears, the babe in my womb leaped for joy. And blessed is she who believed that there would be a fulfillment of what was spoken to her from the Lord."
"Blessed are you among women" – Every Jewish woman since the prophecy was given about the coming Messiah wondered if she was going to be his mother, and standing before Elizabeth is that lady. Far be it from me to dismiss the honor bestowed on Mary by God in her being chosen to bear the Messiah!
"Blessed is the fruit of your womb" – The Uncreated is entering His creation through the ministry of one of us. This glorious and cosmically mysterious event can only teach me that I, too, am meant for heavenly things.
"Blessed is she who believed…" – Blessings always follow belief. I'm certainly not talking about mere materialistic trinkets. After all, this woman will watch her Son crucified. No, the blessings of belief flow from a reunion between God and man. And Mary is the icon to us all in how to affect that reunion by loving, willing, obedience no matter what the cost.
Today, know that in all the universe this Lady is the only being God still calls "mother." Because relationships forged in love and devotion never pass away! Jesus still has that human flesh (though glorified, so our flesh will be glorified too) He was provided by Mary. Watch how she responds to Him. Watch how she follows Him. Watch how she never abandons Him. Do this and mimic her devotion, and you, too, will see Christ formed inside you and you, too, will show Him to your world.
Today, "It is truly right to bless you, O Theotokos, ever blessed and most pure, and the Mother of our God. More honorable than the Cherubim, and more glorious beyond compare than the Seraphim. In virginity you gave birth to God, the Word. True Theotokos, we magnify you."