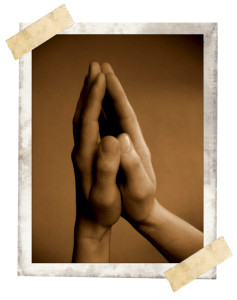 "Now let us have a little talk with Jesus, let us tell Him all about our troubles. He will hear us when we cry and He will answer by and by…" This old spiritual written by Clevant Derricks strikes a chord in my heart with it simple emphasis on prayer – "a little talk with Jesus."
And that's just what prayer is, a conversation between you and God. But it is so much more than that!
You see, the goal of the Christian life is to become like Christ. Orthodoxy calls this process of spiritual growth and maturity "theosis." This recalls the words of St. Athanasius when he taught that God had become flesh so that we might become like God. This wisdom, this insight, is what enlivens all of Orthodox theology.
It is the driving force behind all the words of wisdom of the fathers and the underlying theme of all the scriptures: Making humanity into a fit companion for the Divine – becoming like Christ!
So now you can see why prayer is so important. Prayer is the most central path to intimacy with God, and intimacy leads to the knowing of God that makes a man a "new creature." A man who prays is a theologian in Orthodox Christian understanding, because unceasing prayer is the greatest spiritual education any human can ever receive.
In our Epistle Lesson today we hear the wisdom of St. Peter. In 1 Peter 1:1-25; 2:1-10, St. Peter writes to the "exiles of the Dispersion" or the Christians scattered by persecution and under the care of St. Peter as their bishop. He gives powerful insights, but I want to focus in on one particular passage concerning this absolutely necessary development of intimacy with God through prayer.
Look at 1 Peter 2:1-3: So put away all malice and all guile and insincerity and envy and all slander. Like newborn babes, long for the pure spiritual milk, that by it you may grow up to salvation; for you have tasted the kindness of the Lord.
If we are ever going to "grow up to salvation" we are going to have to actively and purposefully cultivate and focus on building an intimate relationship with God. Because it is precisely that intimacy that transforms us into being like Him. Look at what prayer does:
First, Prayer Creates Intimacy. And you won't get to know God without praying. Knowing God in a personal and intimate way requires me to speak to Him and let Him speak to me. Prayer isn't a laundry list of your requests directed to the Divine. It is the natural communication of a child to her Father. So, talking and listening to God (praying) should become as natural and matter of fact to your life as breathing. It is the very heart of any authentic spiritual progress and growth. Prayer brings us close to the Divine Fire and begins now to burn away all that is unlike God in our lives so that on the Last Day we will already be use to the unquenchable Fire of the Love of God. Just like the Three Youths in the Flames, we will find our true home within God's Loving Fire.
Second, Prayer Combats Forgetfulness. One of the quickest ways for my life to slide into sloppy living is when I allow my thoughts to wander from God. When I practice a daily rule of prayer, I am constantly and consistently confronted with God and His presence in my life. God never really is distant from me. He only seems to be absent when I've forgotten that He is as close as my knees are to the floor. He is as near as the sweet words of the Jesus Prayer: "Lord Jesus Christ, Son of God, have mercy upon me." When God seems far away from me, it isn't because He is far away. It is because I have allowed the cares of this world to numb me to His constant Presence. Prayer keeps me aware of God and that directs my life.
Thirdly, Prayer Conquers Pride. When I learn to pray, I learn to focus on my dependence on God and His mercy. God is not in heaven just waiting for you to mess up so He can punish you. Regardless of the repeated attempts of the Evil one to impugn the character of our loving Father, the truth is that danger lies in my own foolish notion of self sufficiency, not God's wrath. It's when I believe I can do this living thing all by myself that I get myself into trouble. This prideful notion feeds every vice a man has. Soon even if he is culturally a Christian, the faith begins to be more of an afterthought than the central theme of this man's life. Worship is reduced to a habit or worse yet, a social gathering, and intimate prayer is the very last thing on this man's mind. His life begins to reflect this self-centered attitude, but in his delusion it is only obvious to those around him. No, prayer is my constant reminder that I need God every moment of every day.
Today, as we approach the Feast of the Transfiguration, are you building a life of prayerful intimacy with God? What's your plan? Do you desire God enough to break the back of the hectic hunger for your time that you find yourself disconnected from God and wondering why you're not "growing up into salvation?" A serious and consistent regimen of prayer is the time-honored wisdom from the Church to usher us into the transforming and maturing life of a serious disciple of Jesus Christ.
I want to leave you with the words of an Arab Christian from many centuries ago:
How lovely is prayer and how radiant are its works. Prayer is acceptable to God when it is accompanied by good deeds, and it is heard when it rises out of a spirit of forgiveness. Prayer is always answered when it is pure and sincere. Prayer is powerful when it is suffused with God's vigor. — Aphrahat the Persian