This is the final installment of this series. For the full series here is Part 1,  Part 2, Part 3, of this series.
This brings me to the second way in which Christianity performed an end-run around the entire complex of assumptions that governed ancient thought about sex and marriage. It did so, not by addressing these subjects directly, but by presenting a model of holiness even higher and more exalted than the ascetics. I have in mind, of course, the Virgin Mary. Her elevation to a central place in Christian life and devotion revolutionized how men thought about women—and thereby, indirectly, also how women thought about men.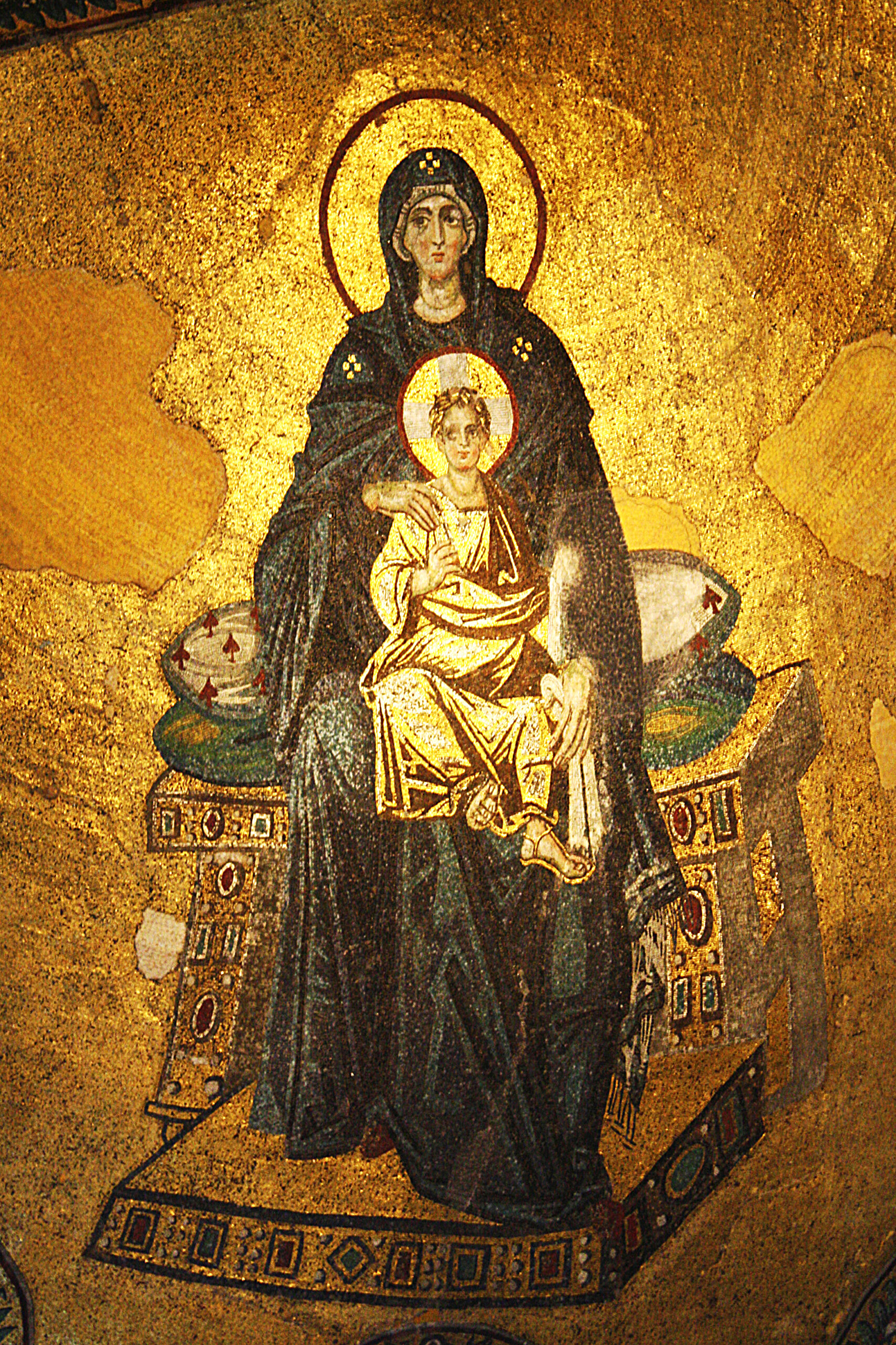 Mary is, of course, already prominent in the Gospels (particularly in Luke), and so had been part of Christian teaching from the beginning. Prayers seeking her intercession have been found on papyri as early as the third century. However, it was only with the rise of the monastic movement that she began to play a central role in Christian devotion. Church Fathers such as St. Athanasius in the East and St. Ambrose in the West held her up as a model, especially (although not solely) for women, of a life of virginity that is devoted to God.1 The Christological debates of the fifth century gave her further prominence, for it came to be seen as essential to affirming the full divinity of Christ to identify her as the Theotokos, the Mother of God. It is in the wake of the Council of Ephesus in 431, which codified this decision, that we find the first great flowering of artistic and liturgical devotion to her as the Theotokos. Homilists emphasized that her purity derived from the presence of God within her womb. According to Theodotus of Ancyra, "the stainless Virgin was, as it were, burned pure through the approach of the divine and immaterial fire . . . so that henceforth she remained inaccessible to any carnal corruption." Theodotus also provides the first surviving example of praise directed to her through chairetismoi, "greetings," such as later became popular: "Hail, joy whom we have so long desired; Hail, brightness of the Church; Hail, spiritual fleece of salvation; Hail, stainless mother of holiness," and so on.2
The importance of devotion to the Theotokos for relations between the sexes can hardly be exaggerated. Men had not been accustomed to looking up to a woman as someone holier, purer, and mightier than they. There were the pagan goddesses, to be sure, but like all the pagan deities, they were essentially personifications of aspects of nature. The Virgin Mary was a historical person—one who, by receiving God in her womb, had been "burned pure" and is now forever with her son, where she intercedes for us. Soon tales began to accumulate of the power of her intercessions. Some were of historic significance, as when she saved Constantinople from the invasion of the Avars in 626. Unlike the power of the virgin goddesses Athena and Artemis, her power derived directly from her embrace of her femininity as mother. She is at once Virgin, Mother, and Queen, one who embodies in herself everything that is both distinctly feminine and worthy of reverence.
It was in learning to revere the Theotokos that men learned to revere women. I cannot enter into this subject fully here, for to do so would require a discussion of courtly love and medieval romance, topics that are well beyond our present scope. Suffice to say that devotion to the Theotokos enabled men to see women, in all their femininity, not only as pleasure-mates or potential mothers for their children, but as fountains of goodness and spiritual wisdom. That is what enabled the slow growth of the kind of love that we call romantic. And it is what has led us today to see in marriage, including its sexual dimension, not only the possibility of pleasure, offspring, and a secure life together, but that of true heart-to-heart communion.
This is a powerful ideal, but one that because of its very power is also dangerous. We are all aware that to seek romance is to court disappointment, and that even when found, romance can lose its luster, grow old, and decay. Western literature is full of tales of people like Tolstoy's Anna Karenina who by seeking romance were led to abandon their duties, with disastrous consequences. The challenge has always been how to seek heart-to-heart communion, or at least something close to it, without undermining everything that the ancients rightly valued in marriage—its security, its stability, its fecundity, and, not least, its ethical and religious sanction.
It is at this point that the wisdom of the Church's devotion to the Theotokos becomes most apparent. In honoring the Theotokos, men not only learned to honor women; they also learned to honor chastity. By this I mean not simply the rule of no sex outside of marriage, but the beauty and holiness of one who is pure in body and in spirit. As I have argued elsewhere, the traditional rites devoted to the Theotokos, such as the Akathist service sung in the Orthodox Church during Lent, lead one to seek to be chaste and pure as she is—not out of conformity to a rule, but out of devotion to a person.3 This is important, for it means that when the Church brought the possibility of romance into the world, it did so in a distinct ethical context. Romance is rooted in the soil of chastity. To seek romance without honoring chastity is as foolish as to seek to grow fruit in a dry and barren desert. It is to become another Anna Karenina, one who by grasping at false fruit ends with nothing.
This brings us at last back to the question from which I began—that of what went wrong? In a word, what went wrong was dislocation. We have kept the high ideals that Christianity brought into the world—equality of the sexes, romantic love, the yearning for heart-to-heart communion—and removed them from the ascetic and devotional practices that enable them to be realized. To realize them takes virtues like patience, humility, forgiveness, and chastity, and these can be learned, reliably and on a large scale, only through the very practices that generated these ideals in the first place. Having abandoned these practices, we are left with only the bare rules of no adultery, no fornication, and so on—what Hugh Hefner called "rigid rules set forth many centuries ago." Such rules can be enough for people whose faith is strong and whose determination does not waver. But we should not be surprised that the outside world, not understanding their purpose, finds them arbitrary and oppressive.
It is not my aim here to point a finger at precisely when, why, and how Christian sexual ethics degenerated into legalism. Obviously the Reformation, which threw out both monasticism and devotion to the Virgin Mary, played a large role. But legalism has been a sin common to all branches of Christianity. Medieval Catholicism certainly had its own forms, as we saw intimated already in the opposition between celibacy and marriage established in the fourth century, very much to the detriment of the latter. And so too has Orthodoxy, such as those detailed by Eve Levin in her work, Sex and Society in the World of the Orthodox Slavs.4 To tell the tale of all the misconceptions, false assumptions, and presumptuous claims to power that have been put forward under the cover of Christian sexual teaching would be dreary indeed, and would bring us no closer to understanding what we should do today.
The answer to that question is both simple and daunting. We must recover the ancient practices of asceticism and devotion that gave Christian sexual ethics its original power. Anything else is just a half-measure that the world will soon turn into an object of mockery. Our generation must be like the prodigal son, who returned to his father's house—meaning here the ethos of the ancient Church—because he had learned by hard experience what life is like on the outside.