"I could not venture to reject [Revelation]…. For if I do not understand I suspect that a deeper sense lies beneath the words. I do not measure and judge them by my own reason, but leaving the more to faith I regard them as too high for me to grasp. And I do not reject what I cannot comprehend, but rather wonder because I do not understand it." St. Dionysius of Alexandria
My friend Nick hosts a podcast about UFOs. In his first episode he jokingly riffs on a John Steinbeck quote:
Steinbeck once wrote something along the lines of "No man really knows about UFOs. The best he can do is suppose that they are like himself." … [B]elieving UFOs are vehicles for little man-shaped aliens is such a terrestrial, human concept that it seems far-fetched…. [P]resuming UFOs are extraterrestrial makes them a lot easier to prematurely dismiss.
Steinbeck's original quote is "No man really knows about other human beings. The best he can do is to suppose that they are like himself." He wasn't referring to UFOs, but he was talking about the unfathomable phenomenon of other minds. We presume other people think like us, and that can be a good rule of thumb, but sometimes our presumptions mislead us.
In that same spirit, I'd like to offer my own version: "No man really knows about the book of Revelation. The best he can do is suppose it is all about himself." All throughout history, some have thought Revelation a secret code all about them and their time. These misinterpretations presume that a true understanding ultimately eliminates uncertainty and ignorance about the future. Better interpretations instead view it as an aid to living with uncertainty today.
Thus, I chose St. Dionysius's words for this essay's epigraph: "I do not reject what I cannot comprehend, but rather wonder because I do not understand it." Ignorance and terror are the point. So are patient faithfulness and wonder. Uncertainty touches every aspect of life, including our economic lives, and the biblical Apocrypha teach us how to wait for our Lord in that uncertainty, doing what good we can in the present.
The term "apocrypha" sometimes has a negative meaning. St. Athanasius referred to "apocryphal writings" that "are an invention of heretics." So also, some Protestants came to refer to our Old Testament bonus books as apocrypha as well.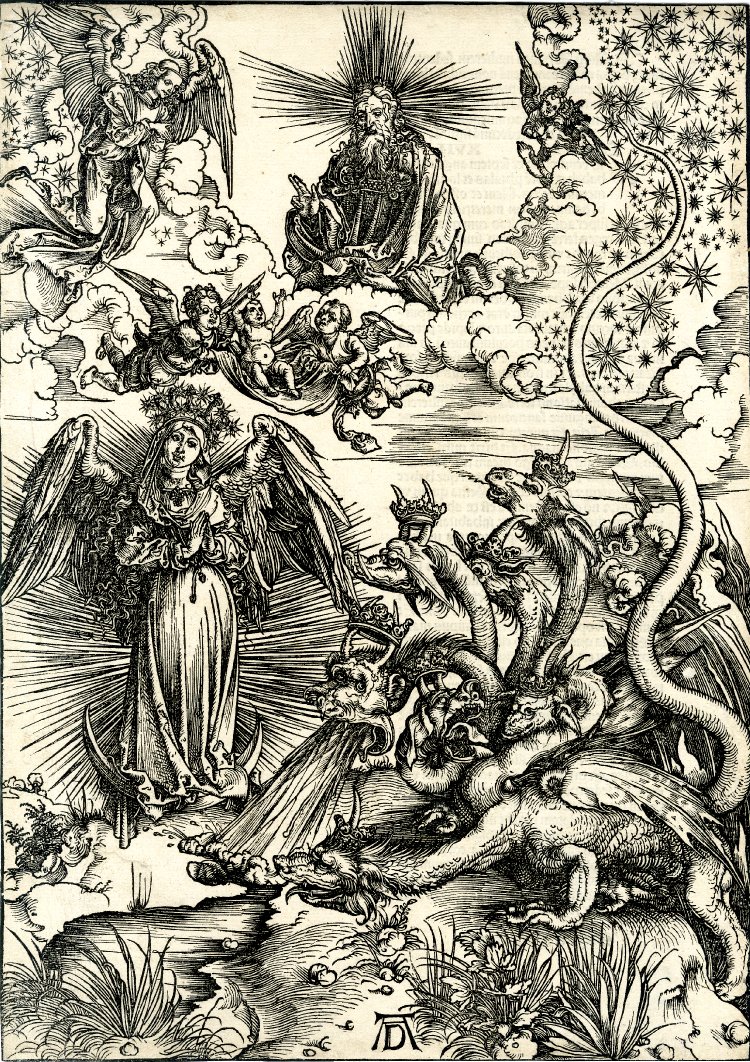 For my purposes, Apocrypha is neither of those but rather a term of convenience for those books of the Bible not often read in the Orthodox Church. Not only that, but I do not simply refer to them as "apocalyptic," because I think it helpful to include the Song of Songs, which though not an apocalypse is far more than a sappy love poem. That said, I know why anyone has read this far: flying chariot thrones, six-winged beings, seven-headed beasts, and whatnot, i.e., weird stuff. Biblical Apocrypha is the "weird stuff" of Scripture, best understood through the lens of Pope St. Gregory the Great (Dialogos): "a divine discourse … communicated to the frigid, sluggish soul by means of enigmas [that] secretly teaches such a soul the love that it does not know by means of what it knows."
Let's start with Revelation then. Edith M. Humphrey adds some helpful perspective in her ongoing series: It isn't just a book about the end of the world. Rather "it comprises the whole of time, which is in God's hands." Its real title is "the Apocalypse" (literally "unveiling") "of Jesus Christ" (Revelation 1:1). It is from him and chiefly about him. It only tells us about the Church, the world, and history as they relate to him in all his heavenly, crucified-resurrected-and-ascended glory.
St. John (the Theologian, presumably), like the prophets Zechariah, Daniel, and Ezekiel, serves a common apocalyptic role. Through celestial mediators, he witnesses divine visions for the sake of comforting God's suffering people. Indeed, while Jesus is the source and focus, St. John addresses Revelation "to the seven churches which are in Asia" (Revelation 1:4) that suffered under Roman persecution "towards the end of Domitian's reign," at least according to St. Irenaeus. So right from the start, we ought to caution ourselves before applying it to our own time and context.
Each of these seven churches receives a letter from Christ himself, following, as Humphrey notes, the same pattern: "an address reminding them of His character …; a confirmation of their strengths; a warning and call to repentance where necessary; a closing command …; and finally a promise." Regarding social thought, the warning to Laodicea ought to catch our attention: "Because you say, 'I am rich, have become wealthy, and have need of nothing'—and do not know that you are wretched, miserable, poor, blind, and naked—I counsel you to buy from me gold refined in the fire, that you may be rich" (Revelation 3:17-18).
Our definitions of riches and wealth need to be transfigured in Christ's kingdom: Our true riches are righteous perseverance, apart from which we are "wretched, miserable, poor, blind, and naked," no matter our socio-economic status. Material wealth can be used for good, but it cannot of itself purchase the greatest treasure of all:
If a man would give for love

All the wealth of his house,

It would be utterly despised.

(Song of Songs 8:7)
How do we make that love "happen," then? We don't:
I charge you, O daughters of Jerusalem,
…
Do not stir up nor awaken love
Until it pleases.

(Song of Songs 3:5)
We must wait patiently, like a bride anticipating her betrothed, until the grace of Christ our Bridegroom comes to us. Yet, paradoxically, waiting is something: "[W]hen the church sighs," wrote St. Gregory Dialogos, "when the church, as it were, seeks its absent spouse—it suddenly beholds him as present."
This we do, and see in every biblical vision of heaven, through liturgy. Some say liturgy means "the work of the people," but that isn't quite right. In ancient Greece and Rome, leitourgia signified a "public work" of the wealthy, primarily financing services like education and theater. Thus, we refer to our Eucharistic service as the "Divine Liturgy." It is as much God's economy for us as it is our work for God or each other. Liturgy teaches us "not [to] stir up nor awaken love" on our own time but to wait on God.
Waiting as Christ's unwedded and virgin bride—the Theotokos being our prime, unique example—also means patient faithfulness, which requires rejecting illegitimate suitors. "[A]s you have heard that the Antichrist is coming," wrote St. John, "even now many antichrists have come" (1 John 2:17). Notice the time, "now," and the plural, "antichrists." The word means a fraudulent messiah, anyone who "does not confess that Jesus Christ has come in the flesh" (1 John 4:3), demanding the love and loyalty proper to Christ and his kingdom for themselves.
While, yes, we do think "the Antichrist is coming," we risk missing the message if we overfocus on the future. St. John refers to an evil city (Rome?) as "Babylon," suggesting that we've seen this all before (and will again). Jesus spoke of an "abomination of desolation" (Matthew 24:15) from Daniel—which referred to Antiochus IV offering sacrifices to Zeus in the Lord's Temple—as about an event in "the end" that "will come" (Matthew 24:14). So also, famines, wars, and even plagues throughout history should have a deeper meaning to Christians. The light of Christ reveals our world as saturated with iconographic symbolism, directing us ascetically to endure present trials and watch with bated breath for our Bridegroom's return at the final resurrection.
Thus, we can learn about the present from the end, and the end from the present, including our economic lives. The Antichrist, the beast from the abyss, St. John tells us, institutes impious obstacles to commerce: "no one may buy or sell except one who has the mark or the name of the beast" (Revelation 13:17). I have no idea or opinion what precisely that may be, but it functions economically as a barrier to market entry. Those who refuse to compromise their faith for the sake of economic privilege must endure additional hardship and injustice.
By contrast, when "Babylon" finally falls (as it always does), "the merchants of the earth"—those who accepted the mark—"will weep and mourn over her" (Revelation 18:11). Misunderstanding the nature of true wealth, as did the Laodiceans, they cry out, "Alas, alas, that great city, in which all who had ships on the sea became rich by her wealth!" (Revelation 18:19) The Venerable St. Bede frames this in terms of uncertainty: "Observe that every single person of those who lament, weeps not only for the loss of riches, but for the sudden and unforeseen ruin of the deceitful world." Like the five foolish virgins, the Bridegroom's sudden coming leaves them in the darkness (Matthew 25:1-13).
As for those who remain faithful, an archangel shows St. John their true destiny: "'Come, I will show you the bride, the Lamb's wife.' And he carried me away in the Spirit to a great and high mountain, and showed me the great city, the holy Jerusalem, descending out of heaven from God" (Revelation 21:9-10). On this, St. Victorinus of Pettau offers a healthy corrective to overly literal misinterpretations: "the kingdom of Christ is now eternal in the saints, although the glory of the saints shall be manifested after the resurrection." In the descent of the Holy Spirit at Pentecost, we already have in our present world embassies of this new Jerusalem in the Church.
"Now eternal," we possess in part that which in its fullness we anticipate. Thus, we all, as "kings and priests" (Revelation 5:10) of God's kingdom, act as its ambassadors to the world, offering a foretaste, a glimpse, a revelation of that "life of the age to come," to quote the Creed. Let us, then, for the sake of this present age, meditate on that heavenly city, never expecting we can establish it through our efforts, yet never wavering in our belief that it can, will, and does come in the grace of God's good time.
[L]o, the winter is past,
The rain is over and gone.
The flowers appear on the earth;
The time of singing has come,
And the voice of the turtledove
Is heard in our land.
The fig tree puts forth her green figs,
And the vines with the tender grapes
Give a good smell.
Rise up, my love, my fair one,
And come away!

(Song of Songs 2:10-13)
Old men and old women shall again sit
In the streets of Jerusalem,
Each one with his staff in his hand
Because of great age.
The streets of the city
Shall be full of boys and girls
Playing in its streets.

(Zechariah 8:4-5)
And God will wipe away every tear from their eyes; there shall be no more death, nor sorrow, nor crying. There shall be no more pain, for the former things have passed away. (Revelation 21:4)
And there shall be no more curse, but the throne of God and of the Lamb shall be in it, and his servants shall serve him. (Revelation 22:3)
And the Spirit and the bride say, "Come!" And let him who hears say, "Come!" (Revelation 22:17)
Let us, too, following 2,000 years of Orthodox Christians before us, say, "Come!" Let us witness to this revelation, even with our material resources, of what our world will one day become if today we heed the call to repentance: "Come!" And let us never tire of waiting for our Bridegroom, who answers even still, "Surely I am coming quickly!" (Revelation 22:20)