"I am convinced and believe that even after the resurrection [Christ] was in the flesh. Indeed, when he came to Peter and his friends, he said to them, "Take hold of me, touch me and see that I am not a bodiless ghost." And they at once touched him and were convinced, clutching his body and his very breath. For this reason they despised death itself, and proved its victors." St. Ignatius of Antioch
Growing up, my mother tried to enforce age-appropriate entertainment consumption for me. However, she did make exceptions, one such being legal dramas based on John Grisham novels like The Client. It released in 1994, which means I probably didn't first see it on VHS until 1995, when I was eleven just like the lead witness at the center of the story, Mark Sway (Brad Renfro).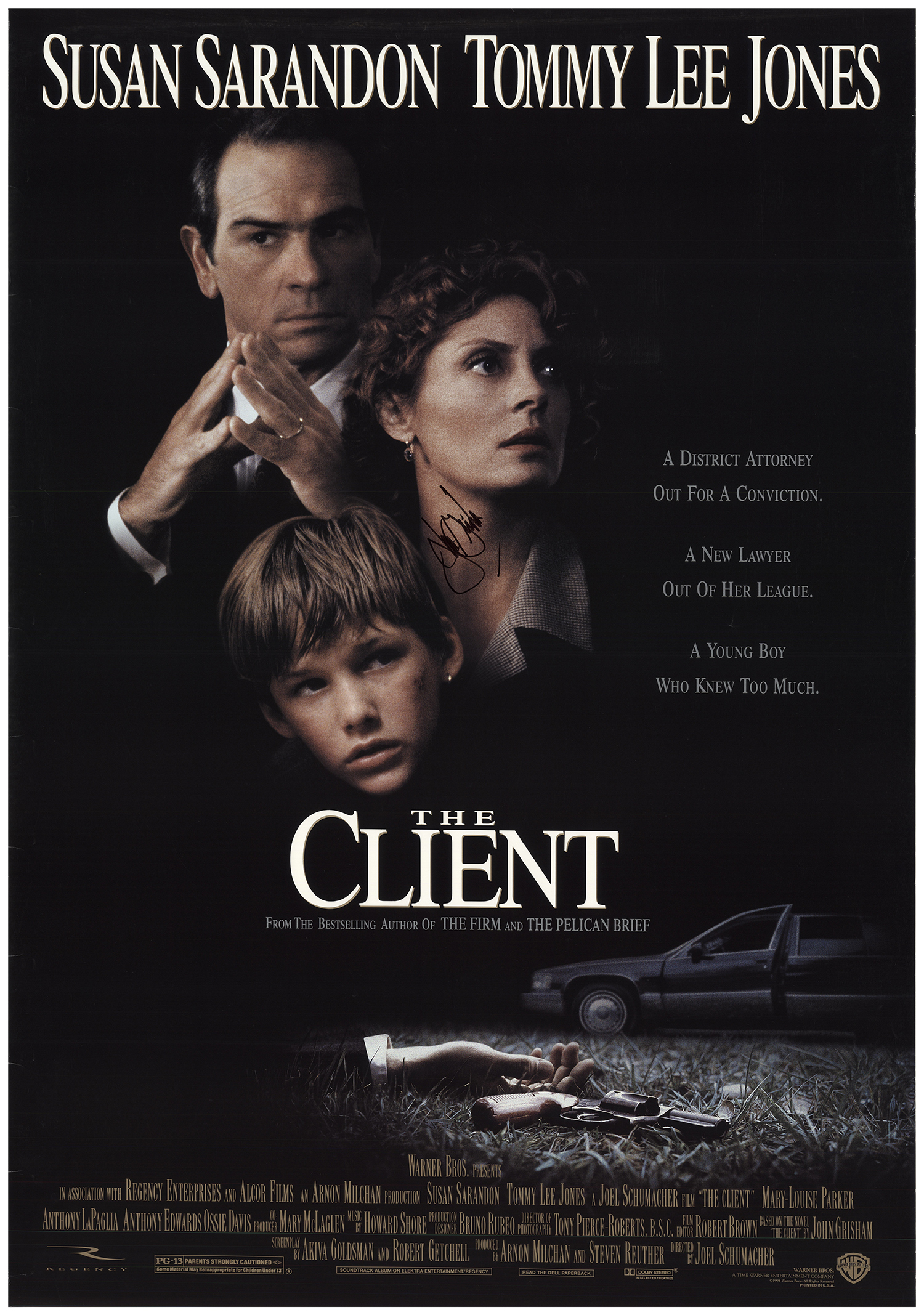 After Mark witnesses the confession and suicide of a mob lawyer, ambitious prosecutor Roy Foltrigg (Tommy Lee Jones) wants Mark to give an account of what he saw and heard. Mark worries for his and his family's safety and seeks a lawyer of his own in Regina Love (Susan Sarandon). The Client stands on its effectiveness as a moral drama, challenging assumptions about our justice system for the sake of a higher justice, in this case for the rights of eyewitnesses, no matter their age or economic status, to withhold their evidence until their safety can be ensured.
The contrast between our legal norms and expectations and those of the ancient world, Rome in particular, could not be sharper. The latter comes to full relief in the Apostles—Acts and the Epistles—in which the legal rights and procedures due to Roman citizens play a major role. Apostles like St. Peter were eyewitnesses to the risen Christ, and that mattered for refuting docetism, but it wasn't an essential part of being a witness. The ideal witness in ancient Rome was a person of proven character, who could vouch for the trustworthiness of the accused, not necessarily an eyewitness who could make sense of empirical evidence.
Christ tells the disciples at his Ascension, "you shall receive power when the Holy Spirit has come upon you; and you shall be witnesses to me in Jerusalem, and in all Judea and Samaria, and to the end of the earth" (Acts 1:8). At Pentecost, St. Peter, "ready to give a defense … for the hope that is in [him]" (1 Peter 3:15), proclaimed to the crowd, "Repent, and let every one of you be baptized in the name of Jesus Christ for the remission of sins; and you shall receive the gift of the Holy Spirit" (Acts 2:38). To repent is to change one's ways and perspective. What, then, did St. Peter hope they would reconsider? "This Jesus God has raised up, of which we are all witnesses" (Acts 2:32).
All Christians, in our lives and even our deaths, are called out of the world to be witnesses to Christ's resurrection, our faith being "the evidence of things not seen" (Hebrews 11:1) and "the victory that has overcome the world" (1 John 5:4). The world continually puts Christ on trial in his Church, his "cloud of witnesses" (Hebrew 12:1). The devil, whose name literally means "accuser," represents death and prosecutes the case against the resurrection. But we are not alone. The Holy Spirit acts as the defense attorney (parakletos—John 15:26). And we, "justified by faith" (Romans 5:1), testify to the trustworthiness of Christ and the grace of the resurrection through our love, ascetically dying and rising daily with him and for our neighbors.
Thus, writes St. Luke, "Now all who believed were together, and had all things in common, and sold their possessions and goods, and divided them among all, as anyone had need" (Acts 2:44). Even whole communities may be called to complete material renunciation—or near complete. The Church still broke "bread from house to house" (Acts 2:45), becoming "one bread and one body" (1 Corinthians 10:17) through the Eucharist. The point is they were willing to give up anything to meet anybody's needs. It was sacramental love, not an impersonal economic system, as St. Paul would later warn, "though I bestow all my goods to feed the poor … but have not love, it profits me nothing" (1 Corinthians 13:3).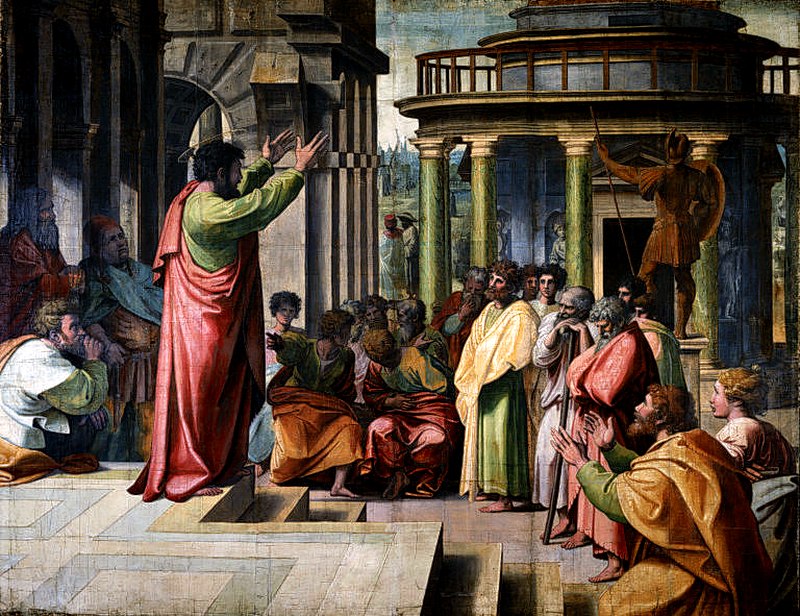 As the Church grew, unequal distribution of alms for Judean and Hellenistic widows required an expansion of its clerical hierarchy in the institution of deacons (Acts 6). St. Stephen, foremost among the first seven, also became the Church's first martyr (martys—the same word as "witness") when a crowd, under the supervision of one Saul of Tarsus, stoned him to death for his testament to the resurrection: "Look! I see the heavens opened and the Son of Man standing at the right hand of God!" (Acts 7:56)
This same Saul inadvertently fulfilled Christ's words that the first disciples would be his witnesses in "all Judea and Samaria." St. Luke records that "those who were scattered" there by him "went everywhere preaching the word" (Acts 8:4). But Christ wasn't done with Saul. From a blinding light, he speaks to him on the road to Damascus, saying, "Saul, Saul, why are you persecuting me?" (Acts 9:4) In Damascus, Jesus calls upon St. Ananias, who is understandably hesitant to help Saul and restore his sight. Yet Christ reassures him that Saul "is a chosen vessel of mine to bear my name before Gentiles, kings, and the children of Israel" (Acts 9:15). 
Saul, whom we know as St. Paul, was no lost cause. Though he "saw no one" (Acts 9:8), he was Christ's star witness "to the ends of the earth." St. Gregory the Theologian perfectly captures his transformation: "If [the Holy Spirit] takes possession … of zealous persecutors, he changes the current of their zeal, and makes them Pauls instead of Sauls, and as full of piety as he found them of wickedness."
In Syrian Antioch, in the midst of liturgy (leitourgounton) and fasting, the Holy Spirit commands the Church to "separate to me Barnabas and Saul for the work to which I have called them" (Acts 13:2)—to preach the Gospel in Asia Minor. Thus, in Pisidian Antioch, St. Paul preached in the synagogue, "we declare to you glad tidings—that promise which was made to the fathers. God has fulfilled this for us their children, in that he has raised up Jesus" (Acts 13:32-33). However, the next Sabbath, when great crowds gathered, the Jews there resisted them. So they resolved, "behold, we turn to the Gentiles" (Acts 13:46). This pattern continues throughout the region. Some in the synagogues accept the Gospel, but others agitate against St. Paul, driving him to preach to the Gentiles instead.
Returning to Syrian Antioch, some Christians from Judea arrive, claiming, "Unless you are circumcised according to the custom of Moses, you cannot be saved" (Acts 15:1). St. Paul and St. Barnabas object that, as St. Paul would later write, "in Christ Jesus neither circumcision nor uncircumcision avails anything, but faith working through love" (Galatians 5:6). The Law was good, but the Gospel is perfect. So they take their dispute to St. Peter and St. James in Jerusalem, where the first ever Church council settles the matter. They compose an encyclical to "the Gentiles in Antioch, Syria, and Cilicia" (Acts 15:23), ruling that Christians do not need to "be circumcised and keep the law" (Acts 15:24) but only to "abstain from things offered to idols, from blood, from things strangled, and from sexual immorality" (Acts 15:29). Who better to deliver this letter than St. Paul?
After doing so in Antioch, St. Paul revisits the Church in Asia Minor and later travels to Corinth, where we learn of his custom to work as a tent-maker. As he says to the Ephesian elders on his way back to Jerusalem, "you yourselves know that these hands have provided for my necessities, and for those who were with me. I have shown you in every way, by laboring like this, that you must support the weak. And remember the words of the Lord Jesus, that he said, 'It is more blessed to give than to receive'" (Acts 20:34-35). How was St. Paul able to give? When the revenue from his trade exceeded his expenses, i.e., when he made a profit. Thus, he was able to provide not only for his own "necessities" but "for those who were with [him]," and he exhorted the Ephesians to do the same.
St. Paul's exhortation comes in this context: "the Holy Spirit testifies in every city, saying that chains and tribulations await me [in Jerusalem]. But none of these things move me; nor do I count my life dear to myself, so that I may finish my race with joy, and the ministry which I received from the Lord Jesus, to testify to the gospel of the grace of God" (Acts 20:23-24). Just as at Pentecost, St. Paul's martyric witness entails material mercy as well.
When St. Paul arrives bearing alms in Jerusalem, Jewish authorities incite the Romans to arrest him. But before the soldiers can flog him, he objects, "Is it lawful for you to scourge a man who is a Roman, and uncondemned?" (Acts 22:25) It wasn't, and the revelation that he was a Roman citizen, whose rights they nearly violated, terrified them. Roman civil rights were regarded as the privilege of citizens, not universal rights. Yet despite his teaching that "our citizenship is in heaven" (Philippians 3:20), St. Paul used his Roman citizenship for the Gospel. The kingdom of God is greater than Caesar, but Caesar got some things right, like due process and transparency (see Acts 16:37), even if only for citizens.
After St. Paul's nephew uncovers a plot to assassinate him, the Romans transfer him to Caesarea, where he eloquently testifies to the resurrection and teaches about "righteousness, self-control, and the judgment to come" (Acts 24:25). However, when his trial stalls, he appeals to Caesar and goes to Rome, where the Jews haven't heard of him and bring no charges against him. Meanwhile, his preaching receives mixed reviews, once again prompting St. Paul to emphasize the transnational nature of the Gospel: "let it be known to you that the salvation of God has been sent to the Gentiles, and they will hear it!" (Acts 28:28).
The rest of the story must be pieced together from the Epistles and Tradition. St. Paul wrote many of the Apostolic Epistles throughout his missionary journeys, which continued after the end of Acts. However, possibly the earliest Epistle is from St. James, who comforted poor Christians oppressed by the rich and "scattered abroad" like the "twelve tribes" of Israel in exile (James 1:1), before he was martyred in Jerusalem. St. Peter also wrote "[t]o the pilgrims of the Dispersion in Pontus, Galatia, Cappadocia, Asia, and Bithynia" (1 Peter 1:1), like St. James employing the motif of exile for our relation to the world, before he, too, faced martyrdom by Nero in Rome with St. Paul. Their letters teach even more about wealth and poverty, the Church, the world, the family, and the state.
As for the other major author of the Apostles, St. John the Theologian, his witness goes beyond his Gospel and Epistles to the Apocalypse of Jesus Christ (Revelation) and a category of Scriptures that, though regarded as canonical, remain Apocrypha in the sense of being "hidden" from public reading in the Orthodox Church. These more mystical texts have as much to say about the present as the future, including our economic life together, and they fittingly conclude our examination of the Bible in my next essay.