Let us hasten to cleanse the pollution of our sins,
Through fasting, charity, and love for the poor,
That we may enter the wedding feast of Christ the Bridegroom,
Who offers us great mercy!
Apostikha from Monday of Cheesefare Week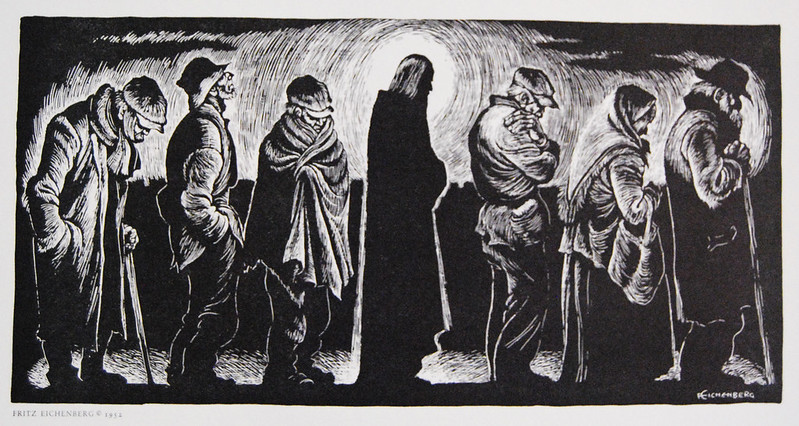 The Lenten Spring has sprung for us Orthodox Christians. We now stand at the end of an intense week of services. Many of us spent our evenings this week hearing the penetrating voice of St. Andrew of Crete calling us to deepen our repentance. This Wednesday, with stomachs rumbling, we laid prostrate waiting for the entrance of the King of Glory. Hopefully for weeks previous to this we have been working on our meal planning, our schedules, and further spiritual disciplines for the Lenten season. If not, we are now scrambling to assemble or figure out how we may best enter into this time of focused repentance. 
As we stand on the threshold of Great Lent the Gospel for Last Judgement Sunday still rings in my ear. This year it struck me just how inward focused I have generally made my Lenten journey. The focus has been on my plate, my schedule, and my internal life. But what does our Lord say to the sheep? 
Come, you blessed of My Father, inherit the kingdom prepared for you from the foundation of the world: for I was hungry and you gave Me food; I was thirsty and you gave Me drink; I was a stranger and you took Me in; I was naked and you clothed Me; I was sick and you visited Me; I was in prison and you came to Me.
And how do the sheep reply?
Lord, when did we see You hungry and feed You, or thirsty and give You drink? When did we see You a stranger and take You in, or naked and clothe You? Or when did we see You sick, or in prison, and come to You?
To which the Lord responds.
Assuredly, I say to you, inasmuch as you did it to one of the least of these My brethren, you did it to Me.
—-
Our Lenten journey should be a continual exodus from ourselves. A struggle against our passions through an increase in prayer, fasting, and almsgiving. If you are anything like me, then you probably spend most of your time consumed with how you are going to increase prayer and manage the fast as much as possible with family life in 21st century America. I will increase my spiritual reading, schedule a confession, turn off the TV, etc. All good Lenten practices.
And yet so often it is the hungry, the thirsty, the stranger, the naked, the sick, and the imprisoned that I forget in all of my planning and Lenten struggle. I forget the essential need to give alms. I forget that Christ dwells in the least of my brethren. 
There is a constant temptation to privatize and "spiritualize" our ascesis. Due to the nature of late modernity, the state of suburbia, and the continued process of alienation brought on by technology we are constantly falling in upon ourselves. In other words, we live in boxes from which we get into smaller boxes so that we can travel to another box. And now we encounter even fewer people as we make these isolated commuting. We are encouraged and even engineered by our economy and our political infrastructure to focus upon ourselves and our desires, needs, and the all importance of our self-expression. Because of this it is very easy for our Lenten struggle to follow these same parameters. 
This is where Orthodox practice and life can become part and parcel of the marketplace's offering of various "mysticisms" and escapes from the contemporary landscape. Hesychia becomes a plan for personal fulfillment. Icons become accessories. Fasting becomes dieting. Prayer becomes self soothing. 
Orthodox spirituality is not one of becoming indifferent to the world or withdrawing from its affairs. We meet Christ deep within our hearts. But we also encounter Christ in the "least of these", in the face of our brothers and sisters. 
St. Isaac the Syrian, one of the great ascetic Fathers of the Church, insists that prayer be accompanied by charity and help given to others. He says" "Nothing can bring my heart so close to God as a good deed." Or: "If you have more than enough for the needs of the day, give it to the poor and then come and offer your prayers with boldness."1
Further St. Simeon the New Theologian says,
Jesus has condescended to assume the features of each poor man and make himself like all the poor, that each one should look on his brother and his neighbor as his very God and consider himself the least of all. We must therefore welcome our brother. We should honor him and put all our resources at his disposal, just as Christ and God empties out his own blood for our salvation.2
St. John Chrysostom goes so far as to say that serving the poor are the healers of our sins. 
For if there were no poor, the greater part of your sins would not be removed. They are the healers of your wounds; their hands are medicinal to you. The physician, extending his hand to apply a remedy, does not exercise the healing art more than the poor man, who stretches out his hand to receive your alms, and thus becomes a cure for your ills.You give money, and with it your sins pass away.3
In this same homily on 1 Timothy St John encourages that we do this giving in person. For it is in the encounter with the least of these that brings the Gospel message home. It is not in the writing of checks or in donations to the Church. Those are good things to do, but they cannot substitute the encounter with Christ in the poor. 
Give not your alms to those who preside in the Church to distribute. Bestow it yourself, that you may have the reward not of giving merely, but of kind service. Give with your own hands…Be thou the dispenser of your own gifts. Your own benevolence and the fear of God appoint you to that ministry. Thus vainglory is excluded. This refreshes the soul, this sanctifies the hands, this pulls down pride. This teaches you philosophy, this inflames your zeal, this makes you to receive blessings. 4
So, we have heard the word of our Lord and of his friends, the Saints. As we continue our Lenten journey let us not forget to give alms. Let us give them from the depths of our hearts, which have been fortified by prayer, and from the abundance left over from our fasting. Let us remember to discover Christ in the "least of these".