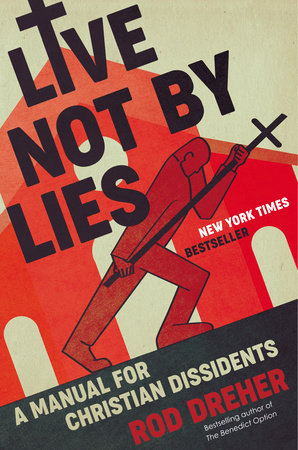 As the title of this review intimates, I liked Rod Dreher's new book Live Not By Lies (2020), but I believe there are some blind spots in it.  Overall, I appreciated the second part of the book more than the first half.  And having read all of his books, I think I'm in a pretty good position to understand his oeuvre and general authorial strengths and weaknesses.  
First, the positive. Dreher is a fantastic storyteller. He has a uniquely powerful ability to weave his own emotions into a narrative to punch it up to a new level.  It made The Little Way of Ruthie Leming (2013) and How Dante Can Save Your Life (2015) masterpieces.  It also makes the second part of Live Not By Lies particularly good.  In this second section, Dreher tells stories of various religious dissidents from former Communist regimes in Czechoslovakia, Hungary, Poland, and the Soviet Union.  The narratives about Father Kirill, the Benda family, Yuri Sipko, and others are poignant and powerful.  At their best, they depict believers who are secure in their faith in Christ, supported in their community bonds, and live lives of rich relational commitment.  This allows them to thereby sustain this faith in the face of horrible institutional hostility and trauma, so that they are purified through suffering and become a witness to a world gone mad.  It calls to mind the passage from Mark 10, where Christ responds to Saint Peter saying, "Verily I say unto you, There is no man that hath left house, or brethren, or sisters, or father, or mother, or wife, or children, or lands, for my sake, and the gospel's, but he shall receive an hundredfold now in this time, houses, and brethren, and sisters, and mothers, and children, and lands, with persecutions; and in the world to come eternal life."  
Dreher doubles down on this message of Christ's blessings and coming persecutions, offering a cultural moment where intact Christian communities may be a witness of salt and light in a world growing increasingly alien to God's values and purposes.  It is a deepening of many of the same themes that Dreher took up in his earlier Benedict Option (2017).  A work with a title drawn from one of the final lines in Alasdair MacIntyre's work After Virtue (1981), where MacIntyre presciently opined that we are in need of a new Saint Benedict to once again create the framework for a shared Christian culture in the west.  At its best, these little vignettes of holy men and women in Live Not By Lies, inspire Christians to acts of goodness, virtue, and to the building up of real communities of blood and sap, much as the stories of Christian suffering and connection from Everyday Saints (2012) or the Gulag Archipelago (1973) do as well.   
And, now, the negative. Dreher is a prophet that focuses narrowly on the left and as a social critic lacks a more global perspective on cultural trends, and his two most recent books trade on these missteps.  While remarking in Live Not By Lies on the rise of left-wing, woke authoritarianism in the west (something he is correct about being afraid of and of it being a dangerous trend), he is not always correct in proclaiming its analogy with the totalitarianism of 20th century Marxism.  
One way the two are similar, is in their public intolerance of dissent, and in their direct attack upon the ideals J.S. Mill proposed in On Liberty (1859), one of the founding documents of liberalism.  Specifically, woke ideology engages in acts such as "cancel culture" and the shutting down of individual opinions at odds with those of their favored group.  An eerily similar phenomenon was also at play in early 20th century Russia in the lead up to the Bolshevik Revolution, as Gary Saul Morson notes in his article, "Suicide of the Liberals."   
Nevertheless, despite the fittingness of an analogy between the two totalitarianisms in this one area, the first part of Dreher's book rests on a false analogy between the totalitarianism of the Soviet Union and the woke culture of today.  Rod tries to finagle his way out of the problem of their dissimilarity by calling today's left "soft totalitarianism."  But anyone with a historical sense, can see the ocean of difference between the actions of Stalin or Trotsky, with their open brutality and class warfare vis-a-vis a transgender activist or corporate CEO who is deeply "hurt" by something improperly said.  The censorship proceeds from different motives and has a different quality and feel to it.  The idiom of the two groups is significantly different as well.  The Marxists of the early 20th century used a pseudo-scientific language of historical, dialectical materialism, but the Social Justice Warriors of today use the language of autonomy, meaning, and religious belonging.
In essence, you can't be properly prescriptive if you don't diagnose the situation correctly.  And as Orthodox Christians, we simply can't afford to evangelize to suffering people inaccurately.  Every human being needs to be offered an encounter with Christ, and to do that, we need to know what kinds of particular passions beset their souls, and thereby blind them from seeing the truth.  The tortured soul of a pre-repentant, Communist, underground spy like Whittaker Chambers (1901-1961), is a very different kettle of fish from a transgender female teenager, who is today taking hormones, and binding up her breasts and perhaps cracking her ribs.  Loving well, means loving people specifically where they are, and offering them real solutions.  
Another failure of Dreher's is the gigantic blind spot in the book that ignores the growing totalitarianism of America's Trumpist right.  Admittedly, Dreher acknowledges this failure, and suggests the importance of adding a chapter about it in the paperback edition. 1 Still, it is a bit surprising that as late as March of 2020, he had still not thought that Trump's movement warranted a mention in the book.  And today, the failure is particularly tragic, for despite the shortcomings of SJWs and transgender activists, these people of the left have hitherto not attempted to stage a coup! Despite his belated diagnosis of the nature of rightwing authoritarianism, Dreher's analysis of this phenomenon is spot on and is a recent display of some of Dreher's best writing. For example, see his "What I Saw At The Jericho March."
None of these criticisms are meant to imply that this isn't a worthwhile book, or that it shouldn't have been written.  Indeed, I'm profoundly glad that it was published, and I'm pleased that it briefly cracked the NYTs bestseller list. Even in the face of the recent ruckus regarding Dreher's giving of the Schmemann Lecture at St. Vladimir's Orthodox Theological Seminary, I think there are incredibly important points being raised by Dreher that should be given the space to be heard. 2  Perhaps in the Schmemann Lecture Dreher will lay out for us the skeleton of his possible chapter critiquing what he saw at the Jericho March and what recently unfolded in the Capitol Building in Washington, DC. Thus, I do wish Mr. Dreher all possible success in his upcoming lecture at Saint Vladimir's and I look forward to reading the expanded paperback edition whenever it comes out.
"I don't know when the paperback version will be out.

Live Not By Lies

is selling well, still, so I imagine it will be some time yet. But when it does come back, I will add a chapter that addresses what the Covid response has taught us about the themes in the book, and what the George Floyd reaction has done as well. And I will also talk about the way the pre-totalitarian phenomena that

Live Not By Lies

identify as primarily on the Left manifested in a major way this year on the Right."  Quote by Rod Dreher, in "

Live Not By Lies: The Right-Wing Version

," January 4

th

, 2021, accessed January 7, 2021.
See Dreher's review of the situation at his blog post, "

The Orthodox Left Wails

."