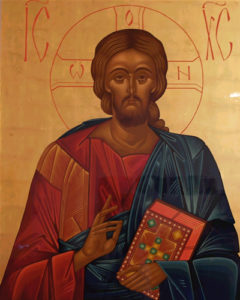 Matthew 18:23-35
          Stories can open our eyes in ways that rational arguments often do not.  Stories draw us in and encourage us to see ourselves in a new light, while arguments often trigger us to defend our point of view.  The Lord often taught in parables, very short stories that get to the heart of the matter, spark our imagination, and call us to see more clearly where we stand before Him.
The first servant in today's parable begged for more time to pay an unbelievably large debt and his master responded with shocking mercy, forgiving the debt completely. But instead of sharing the mercy that he had received with a fellow servant who owed him much less, the man refused to show any compassion or patience at all.  He had the second servant put into prison until he could pay the full amount.  When the master heard what had happened, he had the first servant put in jail until he could repay the massive amount he owed.  Christ concludes the parable with these sobering words: "So also My heavenly Father will do to every one of you, if you do not forgive your brother from your heart."
This parable draws us in to face an uncomfortable truth:  how we treat those who have wronged or offended us reveals the true state of our souls.  Unlike those who understand the faith in legalistic terms, Orthodox Christianity teaches that our Lord's healing mercy transforms us as persons in relation to one another:  if we have embraced His forgiveness, then His gracious divine energies must permeate our lives.  He said, "love your enemies and pray for those who persecute you, that you may be children of your Father in heaven."  To become radiant with mercy to the point we do not limit our love only to people who treat us well is necessary in order to obey Christ's commandment:  "be perfect as your Heavenly Father is perfect." (Matt. 5: 44-48)
If we dare to call upon God's forgiveness for our sins, we will condemn only ourselves as hypocrites when we refuse to forgive others.  He is infinitely holy and we are each the chief of sinners against the Father Who sent His Son for the salvation of the world. (Jn. 3:17)   As those who ask for mercy beyond what we could possibly deserve, how could we possibly be justified in refusing to forgive someone else?   The God-Man enables us to become like Him in holiness, and He forgave even those who rejected, betrayed, and killed Him.  Since Christ has identified Himself with even the lowliest people, how we treat those who have offended us is how we treat our Lord.  Everyone is a living icon of God. As St. John wrote, "If anyone says 'I love God,' but hates his brother, he is a liar.  For anyone who does not love his brother, whom he has seen, cannot love God, whom he has not seen."   (1 Jn 4:20) When we refuse to forgive others, we show not only a lack of love for them, but also for the Savior.
Despite our best intentions, however, forgiveness rarely comes quickly or easily.  Forgiveness is not simply a matter of what we say or how we act, but roots in our hearts, even as murder roots in anger and adultery roots in lust.  Christ calls us to share in His life so fully that we acquire the purity of heart that comes from the healing of all the corruption that darkens our spiritual vision.    A necessary step in embracing that healing is to mindfully turn our hearts away from obsessing about the wrongs of others and holding grudges. We will gain the strength to do so by opening ourselves to the healing power of the Holy Spirit in our lives. St. Paul wrote, "the fruit of the Spirit is love, joy, peace, forbearance, kindness, goodness, faithfulness, gentleness and self-control." (Gal. 5:22-23) As St. Siluoan the Athonite taught, "One can only love one's enemies through the grace of the Holy Spirit." And "He who does not love his enemies, does not have God's grace."
How we respond to those who have wronged us is a test that reveals the true state of our souls in a way that goes beyond all simplistic distortions of the Christian faith.  Regardless of our opinions about anything, how right we may be in any dispute or disagreement, or what warm feelings we may have about Christ, if we are so enslaved to the passions of pride and anger that we hate, condemn, and refuse to forgive anyone, then we have rejected our Lord because we have refused to obey His commandments and to share in His life to the point that we conform our character to His.  We so easily become blind to the image of God in every human person, especially those whom we despise or resent due to our own passions.  In ways too numerous to count, we build ourselves up by putting others down, both individually and collectively.  Doing so is nothing less than repeating Cain's murder of Abel in our hearts.   Apart from the healing power of the Holy Spirit, there is simply no escape from slavery to an endless cycle of resentment and retribution that leads only to the grave.
The Savior endured the full consequences of such depravity in His crucifixion and death in order to provide a path that leads from the grave to the glory of the heavenly kingdom through His resurrection on the third day.  He abides in our hearts through the Holy Spirit through Whom we are able to cry out to God "Abba, Father," for we are not slaves, but beloved children of God, heirs to all the promises to Abraham through faith in Christ. (Gal. 4:6) In order to receive His healing strength, we must open ourselves as fully as possible to the healing power of the Holy Spirit.   He is "everywhere present and fills all things" and we have received Him personally in the holy mystery of Chrismation.  In order to acquire the fruits of the Spirit, we must actively cooperate with God's grace by growing in humility, which means learning to see ourselves as we truly are before God.  That is what the first servant in today's parable obviously lacked.  When we truly know that we are the chief of sinners and recognize that our very existence is dependent upon the mercy of the Lord, then we will no longer be driven to condemn anyone else.
Growing in humility is the only way for us to find healing for our passions, for our disordered desires ultimately root in the pride of refusing to see ourselves clearly before God.  In order to grow in humility, we must develop the holy habit of asking forgiveness of those we have wronged and quickly embracing the struggle to forgive those who have wronged us.  When we find ourselves remembering the wrongs of others, we must pray for God to forgive our sins through their prayers and to grant what is best for them according to His love.  Instead of brooding over their offense, we must mindfully turn the thoughts of our hearts to the Jesus Prayer.
As in all things, we must be mindful, keeping a close watch on our thoughts and desires as we refuse to welcome into our hearts anything that would hinder us from becoming more beautiful living icons of the merciful healing of Christ.  The challenge to forgive others as we have been forgiven is not a matter of religious legalism or mere willpower, but of finding the healing of our souls by the power of the Holy Spirit.  If we acquire the humility to see ourselves as we truly are before the Lord, then we will not become like the first servant in today's parable, but will instead become radiant with the gracious divine energies as we convey to others the same mercy that we have received through our Lord.  That is the only way that we will ever gain the spiritual health necessary to forgive others from the depths of our hearts and enter into His eternal joy.