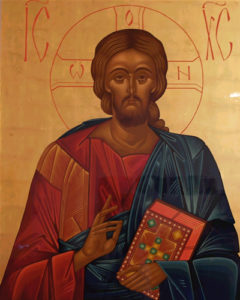 1 Corinthians 4:9-16; Matthew 17:14-23
            Today we conclude our commemoration of the Lord's Transfiguration on Mount Tabor, when the spiritual eyes of Peter, James, and John were opened to behold His divine glory and they heard the voice of the Father say, "This is My Beloved Son.  Hear Him!" (Mk. 9:7)   We are also in the final days of the fast that prepares us to celebrate the Feast of the Dormition or "falling asleep" of the Theotokos.  We honor her as the greatest example of a human person transfigured in holiness. At her Dormition, we see clearly where such a life leads.  The apostles were miraculously assembled in her presence with Thomas arriving three days late.  When her tomb was opened for him to pay his last respects, her body was not there.  Even as she was the first to accept Christ into her life—and even into her womb as His virgin mother—she was the first to follow Him as a whole, complete person into the Kingdom of Heaven.  Her Dormition is an icon of our hope for eternal life as those transfigured in holiness as "partakers of the divine nature" by grace.
In order for us to gain the spiritual strength to follow in her example, we must be completely honest about how far we are from being as fully receptive and obedient to God as the Theotokos.  She freely accepted the astounding calling to become the virgin mother of Savior, the Mother of God. When she said, "Behold the handmaid of the Lord.  Let it be to me according to your word," she offered herself fully and without reservation of any kind.  She was transfigured in a unique way as a living temple who contained the God-Man in her womb.  Having grown up in the temple in Jerusalem in prayer and purity, this young woman was prepared to fulfill her vocation as the highest offering of the Jewish people for the fulfillment of the promises to Abraham for the blessing of the entire world.
Some people wrongly assume that the Theotokos somehow had it easy spiritually and is therefore not a realistic model for us.  That way of thinking forgets that she had to wrestle with the ongoing consequences of the fallen world every bit as much as anyone else.  She was tempted, but said "Yes!" to God with every ounce of her being.  We cannot even imagine the temptations and sorrows associated with fulfilling her unique calling, including seeing her Son rejected, tortured, and killed.  Her transfiguration in holiness occurred in the same world enslaved to the fear of death that we inhabit.  The beauty and strength of her soul were revealed through bitter trials.  She prepared to follow her Son into the joy of the Kingdom of Heaven not by taking an easy path, but by accepting what must have been the most challenging route possible.
In comparison to the brilliant example of the Theotokos, we must confess how far we are from following in her way.  To be honest, we are much more like the disciples in today's gospel reading.  The father of the epileptic son was brokenhearted over the sufferings of the young man, whose seizures put his life at risk by causing him to fall into both fire and water.  He had asked the disciples to heal him, but they lacked the strength to do so.  The Lord responded with words that must have been hard for the disciples to hear: "O faithless and perverse generation, how long am I to be with you? How long am I to bear with you? Bring him here to me."  Then Christ healed the son.  The disciples, being unaware of why they were unable to help in this situation, asked the Lord about it.  He stunned them again by responding that the disciples were powerless: "Because you have no faith. For truly, I say to you, if you have faith as a grain of mustard seed, you will say to this mountain, 'Move from here to there,' and it will move; and nothing will be impossible to you. This kind never comes out except by prayer and fasting."
The disciples' powerlessness in this situation reveals that they were not yet transfigured in holiness.  They had not yet united themselves to Christ such that they were radiant with His gracious divine energies.  The did not yet have true faith, for they had not yet entrusted themselves fully to Him like the Theotokos.   Christ said of the demon that "This kind never comes out except by prayer and fasting." In order to gain the spiritual strength necessary to share personally in His healing of the human person, they would have to open their hearts through spiritual disciplines that are both basic and deeply challenging.  To pray is to be fully present before the Lord from the depths of our hearts.  Paul taught that we are to "pray without ceasing," mindfully communing with Christ at all times.  (1 Thess. 5:17) We typically find it hard enough to skim the surface of prayer by struggling to keep our minds focused on words for only a few minutes, whether in services or our daily prayers at home.  We find it so appealing, however, to focus our minds on other things that cannot heal our souls but do weaken us spiritually by inflaming our passions.  And before those passions, we are often as powerless and frustrated as the disciples.
Christ also spoke to them of fasting because it is a powerful tool for opening ourselves in humility to transfiguration in holiness, for fasting helps us acquire the strength to say "no" to gratifying our self-centered desires so that we can say "yes" to God.  Sin came into the world through the disobedience of our first parents in relation to food.  Our obsession with satisfying our stomachs and taste buds is emblematic of our addiction to getting what we want on our own terms when we want it.  The problem is not with food, drink, or any of the Lord's blessings.  The problem is with how we use them in spiritually unhealthy ways that block us from loving God with every ounce of our being and our neighbors as ourselves.  As with prayer, we usually find it very difficult to embrace even the most basic fasting disciplines.  They are not ends in themselves, of course, but simply initial steps for acquiring the spiritual strength to purify the desires of our hearts for fulfillment in nothing less than God.  That is the kind of healing that we all need in order to become transfigured in holiness.
If we want to follow the example of the Theotokos in becoming fully transparent before the Lord, we must begin by being brutally honest with ourselves.  We routinely fall flat on our faces before temptation.  We regularly disregard prayer or merely mouth pious words with our minds elsewhere.   We are on the prowl for excuses not to fast at all or we do so in perfunctory ways.   We ground the meaning and purpose of our lives, as well as our hope for the future, in passing worldly things that can never heal the soul or conquer death.  We are not entirely without faith, of course, but must reject the illusions that keep us from seeing clearly the weak state of our souls if we are to pursue the path that leads to transfiguration.
In Mark's account of Christ's deliverance of the epileptic, the young man's "father cried out and said with tears, 'Lord, I believe; help my unbelief!' in response to the Savior's words 'If you can believe, all things are possible to him who believes.'" (Mk. 9:23-24) We must have the courage to confess such uncomfortable truths about our relationship to Christ if we are to gain even a small measure of the spiritual strength of the young Jewish woman who entrusted herself fully to Him.  As we will celebrate at the Dormition, her example shows us the path to life eternal through transfiguration in holiness.  No matter how far we are from that path today, no matter how many times we stumble or stray from it, the way to such transformation remains open to us all through the mercy of the Savior.  Even as He chided the disciples for their lack of faith, prayer, and fasting, He foretold His great Self-offering on the Cross and victory over death through His glorious resurrection on the third day.  Let us entrust ourselves to Him in humility, for that is the only way to open our hearts to receive His gracious healing and the transformation of our souls.