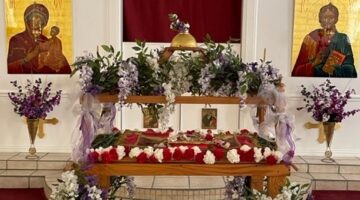 Acts 5:12-20; John 20:19-31
Christ is Risen!  Indeed, He is Risen!
Today we continue to celebrate the most fundamental and joyful proclamation of our faith:  Christ is risen from the dead, trampling down death by death, and upon those in the tombs bestowing life!  He is our Pascha, our Passover, from death to life, for Hades and the grave could not contain the God-Man Who shares with us His victory over corruption and decay in all their forms.  In a world enslaved to the fear of the grave, He has illumined even the dark night of the tomb with the brilliant light of heavenly glory.  As Christ said to Martha before He raised Lazarus, "I am the resurrection, and the life: he who believes in me, though he die, yet shall he live." (John 11:25) Because death did not have the last word on our Lord, it will not, by His grace, have the last word on us or on any who call upon His Name.
When the Savior rose from the dead, He did so as a whole Person with a glorified body still bearing the physical wounds of His crucifixion.  He was born, lived, and died with flesh and blood every bit as much as we do.  Thomas doubted the news of the resurrection because he was not present when the Risen Lord first appeared to the disciples.  He said that he would not believe unless he saw and touched the marks of His torture and death.  When Christ appeared again eight days later, He told Thomas to do precisely that.  Thomas responded by recognizing Him as "My Lord and my God!"
This encounter demonstrates how essential Christ's bodily resurrection is for our faith.  Simply put, there would be no Christianity without it.  The Savior died through a public form of capital punishment on the Cross at the hands of Roman soldiers who knew their grim trade all too well, even as do the professional criminals of today.  It was literally just another day's work for them when they broke the legs of the two thieves in order to get them to die more quickly. They did not break the Lord's legs, however, for those seasoned professional killers knew that He was already dead.  The Roman Cross had apparently made its point yet again about what happened to anyone perceived as a threat to the Empire.  It is hardly surprising that the disciples had fled in fear at the Lord's arrest with Peter denying Him three times, for they had no expectation of His resurrection.  They had wanted a military Messiah to crush the Romans and establish an earthly kingdom, not a Savior Whose great victory would come through public torture and execution by a Gentile army of occupation. Of course, it would be absurd to think that those who had denied and abandoned their Crucified Lord would have later made up a story about His resurrection and then died as martyrs for Him.  The women disciples, who showed greater love and courage by going to the tomb in order to anoint Christ's dead body when all seemed lost, obviously had not anticipated His resurrection either.
St. Paul taught, "[I]f Christ has not been raised, our preaching is worthless, and so is your faith." (1 Cor. 15:14)  The Savior proclaimed His divinity by forgiving sins and saying that He and the Father are one (John 10:30) and that "before Abraham was, I am." (John 8:58)  The high priest asked Him at His arrest, "Are you the Messiah, the Son of the Blessed One?" Christ responded, "I am. And you will see the Son of Man sitting at the right hand of the Mighty One and coming on the clouds of heaven." (Mark 14: 61-62)   If One Who had claimed to be God was wrong in predicting His resurrection and had simply decayed in the tomb like anyone else, there would be no Church and no reason for anyone to remember Jesus Christ today as anything but a failed Messiah with grandiose delusions.
Orthodox Christian faith is not grounded in sentimental memories or warm feelings about an inspiring personality who lived a long time ago, but in the joyful proclamation that "Christ is Risen!" in victory over death as a whole Person.  His bodily resurrection is our hope for "the resurrection of the dead and the life of the world to come," as we confess in the Nicene Creed.  To quote Saint Paul again, "[I]if Christ has not been raised, your faith is futile; you are still in your sins. Then those also who have fallen asleep in Christ are lost. If only for this life we have hope in Christ, we are of all people most to be pitied." (1 Cor. 15: 17-19) If Christ did not rise from the dead as an embodied Person, then St. Paul and all the martyrs were fools who wasted their lives for nothing.  Remember that he became a Christian only after the Risen Lord miraculously appeared to Him in blinding light on the road to Damascus   Apart from the reality of the Savior's resurrection, the conversion of St. Paul from a persecuting Pharisee to the apostle to the Gentiles makes no sense at all.
St. Thomas believed only when he touched the wounds of the Risen Savior's glorified body.  In our reading from Acts, the apostles healed the suffering bodies of many sick people.  The Lord's resurrection reveals the great dignity of the human body, which is destined for heavenly glory. Salvation is not an escape from the physical dimensions of our lives, but requires our purification and fulfillment as whole persons united to Christ. True faith in the Savior demands that we offer every aspect of our existence to Him for healing and transformation, holding nothing back.  Even as He healed the sick and fed the hungry, the most obvious practices of faithfulness involve caring for people in their bodily weaknesses and infirmities.  By showing tangible signs of care for our neighbors, we also touch the wounds of Christ, for He is present to us in everyone in need. In light of His resurrection, the bodily sufferings and struggles of others appear not as irrelevant distractions, but as invitations to manifest a foretaste of "the life of the world to come." Regardless of any context or circumstance, to serve others in ways that ease their bodily struggles is to provide a sign of the fulfillment of God's gracious purposes for all who bear His image and likeness.  If we refuse to do so, then we live as though He were still in the tomb.  Because "Christ is Risen!," we must show our neighbors the care due those who are called to heavenly glory.
In order to follow our Risen Lord into the joy of the resurrection, we must also open our deepest personal struggles and wounds to Him for healing.  Our bodies are not evil, but we have all distorted our relationship to them.  Instead of pursuing a disembodied spirituality that ignores how God creates and saves us as whole persons, we must embrace the joy of His victory over death by living as those who are in a "one flesh" communion with the Risen Lord in every dimension of our existence.  That is the case because we are members of His Body, the Church, and nourished by His Body and Blood in the Eucharist.  We must live accordingly with our bodies every day of our lives. All our relationships, actions, and desires must be healed and reoriented to the Kingdom in order for us to enter into the joy of our Lord's resurrection as whole persons.  That is why we must offer our time, attention, and resources to Him for restoration in fulfillment of our calling to become like Him in holiness.  That is not a disembodied or abstract vocation, but a tangible calling that hits us very much where we live every day of our lives.
Because "Christ is Risen!," we must not use the fact that we have bodies as an excuse to remain enslaved to corruption in any form.  We fall into hatred, greed, sloth, gluttony, drunkenness, vanity, and other sins not because we are flesh and blood, but because we have not opened our personal wounds to the healing of Christ.  In one way or another, we have all refused to enter fully into the joy of the resurrection.  The season of Pascha calls us all to embrace our Risen Lord as the restoration and fulfillment of every dimension of our personhood.  We cannot become truly human apart from Him, for only He has conquered the fear of death that is at the root of our corruption.  We must unite ourselves to Christ in joyful obedience so that His life becomes ours, even as we remain flesh and blood in this world. Then we may say with St. Paul: "It is no longer I who live, but Christ lives in me; and the life which I now live in the flesh I live by faith in the Son of God, who loved me and gave Himself for me." (Gal. 2:20) Yes, great struggle is required in order to unite ourselves to Christ so profoundly.  But it is a struggle ultimately of joy, a struggle ultimately of entering more fully into the gloriously good news of this radiant season of Pascha.  It is a struggle that we must all embrace if we are to respond like St. Thomas when we embrace the God-Man Whom death could not destroy, for "Christ is Risen!"