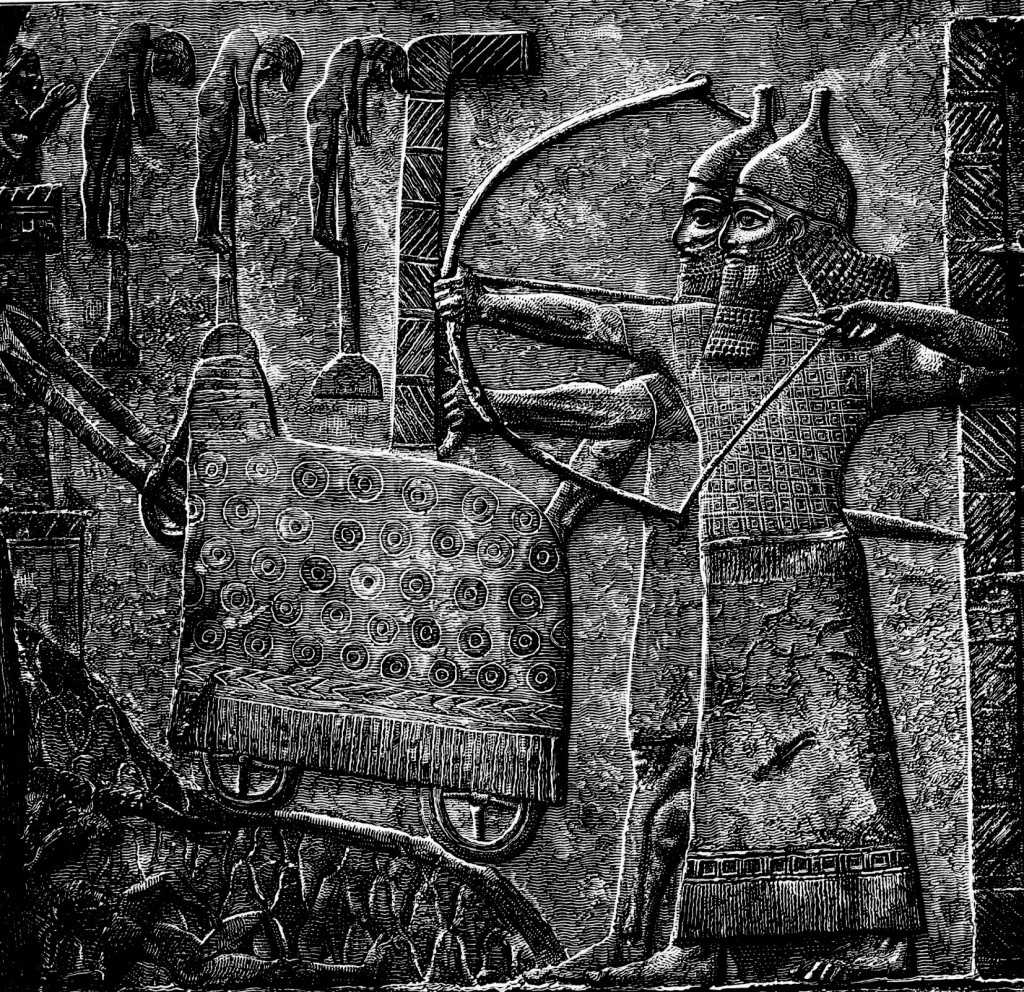 In doing the necessary research for the continuation of this series regarding the "Immanuel Prophecy" in Isaiah 7:14, it became apparent to me rather quickly that the scope of the issue and it's perception vis-à-vis confessional rhetoric would demand far more than a simple scholarly exegesis. For this reason, I would like to make a few remarks regarding the context of the "Immanuel Prophecy" within the oracles of Isaiah of Jerusalem and the nature of prophecy itself as understood within the history of Orthodox Christian biblical interpretation. What follows may seem a bit tedious, but I encourage you, gentle reader, to follow closely, for the payoff is significant for understanding Isaiah 7:14.
Wibbly-Wobbly
When reading the standard scholarly commentaries for this verse, one notices how comparatively little attention is paid to this verse for what may seem to be a matter of utmost importance. Rather, it is only a small component that fits within a much broader context of prophetic oracles that extends from the chapter 7 through chapter 12. Within this section, a number of children are referred to, and our Immanuel and his ˁalmāh mother must fit within this context, which is chiefly concerned with the Syro-Ephraimite War and the looming threat of the Neo-Assyrian Empire in Syria and the Levant.
It is important to understand that prophecy is not a rigid and clear exposition of future events. Instead, it is necessarily vague and thus has the capacity to carry multiple layers of meaning, each one pointing to different events at different times. Prophecy, in terms of the metaphysic of divine revelation and its epistemological ramifications, cannot be constrained to any one time or place.
In a famous scene from the critically acclaimed episode "Don't Blink" of the British sci-fi television series Doctor Who, the time-traveling alien known as "The Doctor" explains the nature of time thusly, "People assume that time is a strict progression of cause to effect, but actually, from a non-linear, non-subjective viewpoint, it's more like a big ball of wibbly-wobbly, timey-wimey… stuff."
Like time, prophecy is similarly "wibbly wobbly:" People assume that prophecy is a strict progression of prediction to fulfillment, but actually, from a non-linear, non-subjective viewpoint, it's more like a big ball of wibbly-wobbly, timey-wimey, bibley-wibley stuff.
This prophetic oracle of Isaiah of Jerusalem was delivered at a specific time (c. 735 BC), in a specific place (at the end of the conduit of the upper pool on the highway to the Fuller's Field, 7:3), and to a specific person (Ahaz, King of Judah). Within this historical context, this prophetic oracle of Isaiah most certainly has meaning. It meant something to Ahaz and Isaiah within the immediate context of the Syro-Ephraimite War. Similarly, it also meant something else to St. Matthew, who quoted Isaiah 7:14 as a prophecy of the virgin birth of Jesus Christ.
Timey-wimey.
While Christians follow St. Matthew in assigning the meaning of the Immanuel prophecy to the virgin birth, this does not change the fact that it had a more immediate fulfillment in the 8th century BC in regard to the Syro-Ephraimite War. If we deny this, or if we neglect to consider this point in our effort to understand it, then we do violence to the text. Now, St. Matthew's appropriation of this verse to the virgin birth stands by itself as St. Matthew's interpretation of the prophetic oracle. It does not depend upon the Syro-Ephraimite War of the 8th century BC, King Ahaz, or anything else, nor does it depend upon our (or a scholar's) opinion of St. Matthew's use of that verse. The same prophetic oracle contains two completely independent "fulfillments" in time within two completely different socio-religious and political contexts.
The Iconicity of Prophecy
What makes prophecy "timey-wimey" is its iconic quality, meaning that it has the capacity to portray a certain iconicity or resemblance to something else (using both C.S. Peirce's and St. John of Damascus' understanding of "icon"). The Immanuel Prophecy, which Isaiah delivered to Ahaz around 735 BC, has the capacity to resemble another event entirely, namely the virgin birth of Jesus of Nazareth in a cave in Bethlehem. It is the resemblance of these two events that makes multiple prophetic fulfillments possible. Now, we must be clear that the virgin birth of Jesus Christ is the prototype, the reality, and the ground, whereas the context of events surrounding the Syro-Ephraimite War is the icon.
Timey-wimey, bibley-wibley…stuff.
So, what of this "icon" in the 8th century BC? What does it mean?
As I noted before, we must consider the entire context of the section of the book of Isaiah stretching from chapter 7 to chapter 12. In chapter 7, we are delightfully given the historical context,
And it happened in the days of Aḥaz ben Yotham ben Uzziah, king of Judah that Rezin, king of Aram, and Pekaḥ ben Ramaliah, king of Israel went up to Jerusalem to wage war against her, but they could not prevail against her (7:1, my translation from the Hebrew).
This event, described similarly in II Kings 16:5-9 and very differently in II Chron. 28:5-21, is known as the Syro-Ephraimite War, which featured an alliance of Rezin, an Aramaean king ruling from Damascus, and Pekaḥ, the king of Israel, who had decided to band together in order to overthrow the hegemony of Assyria, for at this time, the small kingdoms of the Levant were all vassal kingdoms of the Neo-Assyrian Empire or were under threat of soon being so. Rezin and Pekaḥ wanted to force Aḥaz to enter their alliance in order to further strengthen their ability to rebel against Assyria, but Ahaz refused to do so. Alternatively, Rezin and Pekah determined to replace Ahaz with another king, Tabeel (=Ittobaal of Tyre), who would do their bidding.
To this situation, Isaiah delivers three prophetic oracles (7:7-9, 7:14-17, 8:3-4) each centered around a child with a name that acts as an omen. The names are Shear-Yashub, "A remnant will return," Immanu-El, "God is with us" and Maher-Shalal-Hash-Baz, "Hasten the spoil, quicken the plunder."  The "Immanuel" name is then resumed in 8:5-10, perhaps with a new referent, and again, all three children (or names) are resumed in 8:18, a verse familiar to Orthodox Christians, "Behold, I and the children whom YHWH has given me are signs and portents in Israel from YHWH of Hosts who dwells on Mount Zion."
All three of these oracles, as well as other oracular content appended to them, are intended to persuade Ahaz not only to resist the onslaught of Syria and Israel but also not to submit to Assyria for help in resisting them. It is not clear exactly why Ahaz is instructed not to appeal to Assyria for aid, for it is prophesied immediately afterward that Assyria would be used by God to discipline Israel and Judah (8:5-8). It is apparent, though, that Ahaz is to trust in YHWH (7:9b) to defend Judah against Syria and Israel, and when Assyria finally does appear at their doorstep, they are to understand it as a temporary means of YHWH's discipline, which will ultimately "come to naught… for God is with [Judah]" (8:10).
The three children named in this section, then, tell a story (though in a bit of a convoluted order). Maher-Shalal-Hash-Baz portends the coming threat of Assyria, which will not only destroy both Damascus (Syria) and Samaria (Ephraim/Israel), but also will subdue Judah as well. But, in the midst of this, Immanu-El is a sign that God is with Israel and Judah to save them after a time of discipline, after which Shear-Yashub is a sign that a remnant of Jacob will return both to the Land of Israel and to YHWH their God (10:20-23).
In the sometimes confusing organization of the oracles throughout chapters 7-12, the names given to the three children are often explained much later on. In the case of Immanu-El, the immediate context of the prophecy is not clearly related to the name, "Curds and honey he shall eat at the time he learns how to refuse the evil and choose the good.  For before the child knows how to refuse the evil and choose the good, the land before whose two kings you are in dread will be deserted."  Instead, the name Immanu-El is resumed later, explicitly in 8:5-10, and then implicitly, I believe, in 9:6-7, a section which deserves a blog post of its own, which I hope to get to soon.
Some scholars believe that both of these sections refer to the birth of Hezekiah, a pious king who would revolt against Assyria and institute religious reforms in favor of monolatrous worship of YHWH. It is not uncommon for strong royal figures like Hezekiah to take or be given divine titles. In this context, not because he was thought to be an incarnation of a god, but because "God was with him," and the appellations in 9:6 should be read in this vein. Therefore, it is quite likely that the original Immanuel was none other than Hezekiah, a man who, as a pious king of Israel, was an icon of the kingship of Christ and the presence of God mediated through his kingly authority.
Therefore, if this be the case, then we would not expect the ˁalmāh mother of Immanu-El in 7:14 to be virgin. That is to say, within its original context, ˁalmāh, makes sense as a sexually active pubescent girl. However, it is the vagueness of this term, and the fact that it could be understood as "virgin" that allows the LXX translator to interpret it in that direction.
You see, it's all wibbly wobbly, timey-wimey, bibley-wibley… stuff.
What to Take Away
Before we tackle the lexical meaning of ˁalmāh in 7:14, we have to understand the historical and literary context of these prophetic oracles. Isaiah 7:14 does not exist in isolation, in a context-less vacuum, and our neglect of this fact, in spite of our acceptance of it as a reference to the virgin birth of Jesus, shows our ultimate disrespect of the Old Testament as little else than a dispensary of Messianic prophecy. 
Prophecy has the capacity to have multiple referents, both in the immediate context of its delivery and in the far future as understood post facto by those who receive it. We cannot restrict prophetic fulfillment to any one of these periods, but rather we should attempt to understand all of its possible referents.
Iconicity is the patristic hermeneutic that we use to make prophecy refer to multiple fulfillment-events at different times. Yet we must keep in mind that Christ and the Christ-Event is the ground, and the Syro-Ephraimite War and other historical fulfillments are themselves the icons. This sets up a very important philosophy of history within Orthodox Christianity, where history-as-icon becomes a dominant hermeneutic. (This particular point should be stressed considerably, as it is extremely important, yet often overlooked in discussion of the nexus of history and the historicity of the Bible).
The Bible, like time and space, is "wibbly-wobbly" and requires careful study and attention to navigate. If we chart a course too haphazardly, we may end up in a hermeneutical fantasy world of our own creation.