Christ is Risen!
Every Pascha, Orthodox Christians around the world venerate the Paschal icon of the Lord storming hades and breaking the chains of death. That icon provides a visual reminder of a spiritual reality – something that has happened and continues to happen for everyone who sincerely repents and cries out to Christ for release. Here in this life now, even for those living their lives in prison, there is freedom through the resurrection of Christ.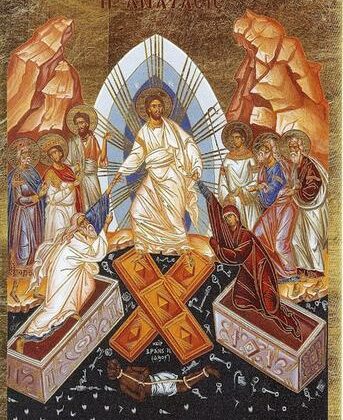 Imagine being only twenty-four-years old and facing the prospect of life in a maximum-security prison with no chance ever of parole. That was the case of Andrei who is originally from the Ukraine. He came to America with the hope of starting a new life. Instead, he started using drugs, committed murder, and was sentenced to life in prison.
It took some time for Andrei to adjust to life in prison with its violence and restrictive conditions. He felt weighed down with guilt, shame, emptiness, and the feeling of being a foreigner in a foreign land. But his life changed when a friend recommended he contact Orthodox Christian Prison Ministry.
OCPM began corresponding regularly with Andrei. We sent him books, a Bible, and icon cards. He completed three of our study courses on the Church and its teachings. And he also received personal letters from OCPM staff who spoke with him about his past, traumas, and circumstances.
"I developed a much better understanding of our faith," says Andrei, "I discovered the beautiful depth of patristic writings, felt the profoundly warm sense of peace when I read St. Isaac the Syrian."
Today, Andrei is 50-years-old. He will never leave prison, but he says he is confident that he can still live a life of peace. "I feel the presence of the Church and the light of the Lord that shines even on this sinner, into this dark depth."
Human beings were never meant to live inside a prison. God created us for freedom, light, joy and relationship with Him. The power of Pascha means that even imprisoned individuals like Andrei can still experience freedom and peace.