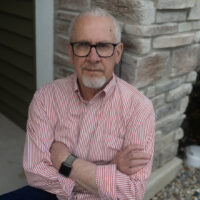 CHESTERTON, IN – John Maddex, co-founder and CEO of Ancient Faith Ministries (AFM), will retire in July 2023, the ministry has announced.
John and his wife Tonya co-founded Ancient Faith Radio and oversaw the company's merger with Conciliar Press, leading to the formation of the present-day organization, of which John was the first CEO.
AFM has experienced remarkable growth under John's leadership, transitioning from an energetic start-up to the premier English-language Orthodox Christian media ministry in the world. Offering live and streaming radio, books, social media, blogs, webinars, retreats, and a thriving online store, AFM manifests the fruits of its mission-driven mindset and the unstinting dedication of its CEO and the team he's developed.
"We see these years at AFM as the greatest fulfillment of our lives and still can't believe that God allowed us to do this," says John. "We have been blessed each step of the way by an incredible board, generous donors, amazing content providers, a fabulous staff, and a gracious and supporting Hierarch (Metropolitan Joseph). The World needs an uplifting and Christ-honoring voice and platform like Ancient Faith Ministries more than ever, and I am convinced that the best years are still ahead for AFM. I'm certain the next CEO will take it much further than I ever could, to the glory of God."
Faithfulness, integrity, and practicality are the hallmarks of John's tenure at AFM, and these traits motivated the retention of Orthodox Ministry Services (OMS) to lead the search for his successor. "We are thrilled to work with John and the Board of Ancient Faith to find a new leader for this growing and vibrant ministry that has been transformational for the Orthodox Church," said Eric Namee, OMS's President.
Together with the AFM board of directors, under board chairman Dn. Tom Braun, OMS will shortly be releasing additional information about the search, together with a path for those interested in applying for this important position.
Metropolitan Joseph, Archbishop of New York and Metropolitan of the Antiochian Orthodox Christian Archdiocese of North America, released a statement on John's retirement saying, "Throughout these eighteen years, with the devoted support of his wife and collaborator, Tonya, John's care and attention to detail have ensured not only the quality of AFM's productions but also—most importantly—their faithfulness to the gospel of Jesus Christ and the Holy Orthodox Tradition. His ministry of spreading the word of God rivals that of any ordained minister."
Thanks to John, AFM has touched the lives of hundreds of thousands of people around the world. The AFM board and staff invite you all to share in our prayers for a joyful and restful retirement for John in the coming years.
Click here to review the position listing for CEO of Ancient Faith Ministries.