"The coming generation shall be told of the Lord, and they will declare His righteousness to a people yet unborn whom the Lord has made." – Psalm 22
Ancient Faith Ministries has an honored past and a thriving present. It's time to work on the future.
Through the grace of God, AFM has become the biggest Orthodox Christian media ministry in English in the United States and probably the world. We work every day to be a platform, a megaphone, a billboard that presents and amplifies the voices of the Orthodox Christian church. With God's help, we keep learning, moment by moment, how best to GO FORTH, bringing the Gospel by means of the gifts He's given us for His glory.
Human beings – people like YOU – are how we can do that. Every podcast you hear is created and produced by people like you, people who dedicated time and thought to this essential ministry. Every book we release is written, sometimes illustrated, and always published by people like you, people who learned the craft and made it serve this essential ministry. Every blog we host was born in the brain of someone like you who wanted to start a conversation about something important and share it with a wider readership.
There is no Ancient Faith Ministries without a steady stream of mission-minded people who have learned the skills and built the relationships needed "…to carry out the Great Commission of Jesus Christ through accessible and excellently-crafted publications and creative media that educate, edify, and evangelize, leading to a living experience of God through His Holy Orthodox Church." (AFM Mission Statement)
There is no us without you.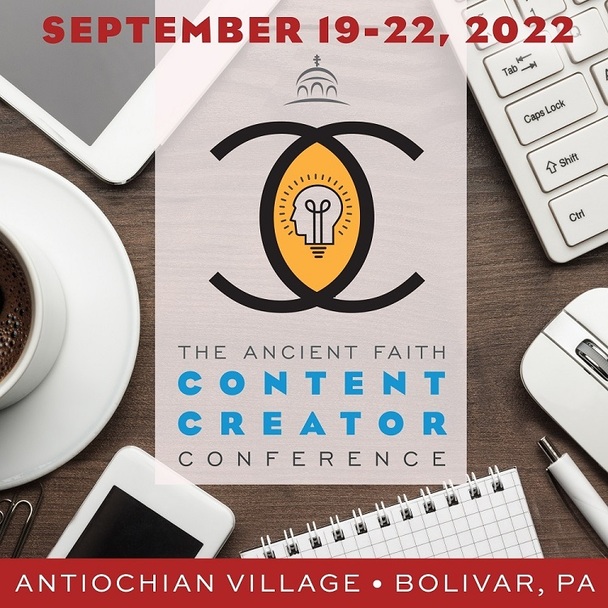 The Ancient Faith Content Creator Conference (fondly known as AFCon) was created to establish an Orthodox-specific professional development opportunity for those wishing to produce books, podcasts, blogs, art, videos, and other media for the Orthodox world. Although the industry and the internet abound with information on these topics, it's mostly intended for secular or Protestant media environments. Some of this teaching is applicable in our setting, but much is not.
AFCon provides direct access to Orthodox media professionals, good teaching from established members of the field, and boundless opportunities to form important relationships with mentors, collaborators, and friends. It is a powerful step through the door into our world, a place to learn and find the way you will blossom.
Give this some thought. Will you be one of the people who writes or illustrates a future Ancient Faith book, hosts or produces a future Ancient Faith podcast or video, launches a future Ancient Faith blog? If you know the answer, come to AFCon. If you want to explore what the answer might be, come to AFCon. If you want to lend the strength of your friendship to this community, come to AFCon.
Come to AFCon. Help us continue the race that is set before us.
REGISTRATION AND INFORMATION AVAILABLE HERE.