Humans of Ancient Faith is a series of mini-interviews designed to introduce you to the many wonderful human beings who make this ministry possible. We asked the same 5 questions in each interview, and let the interviewee choose a sixth question. Today's guest is author, blogger, and podcaster Fr. Barnabas Powell.
++++++++++++++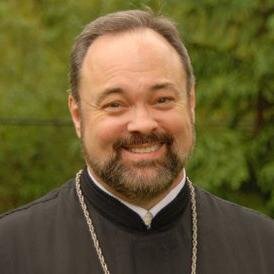 If you were named for your defining characteristic, what word or phrase would be your name?
Preacher! My deepest passion is communication. To be able to share timeless truths in a way that allows others to grasp these cosmic ideas is my hope and prayer. The Orthodox Faith is truly spiritual medicine that heals the human person and allows us to become who we were created to be. That exciting adventure is the true aim of the spiritual life, and communicating this message to a world gripped by delusion and fantasy is a high calling indeed. I can't imagine my life any other way.
What is your earliest specifically Orthodox memory?
I remember a fellow Pentecostal minister talking to me about visiting Russia with a group of Protestant missionaries and him telling me a moving story about leaning his head against a church wall that was more ancient than our Pentecostal movement. Then he told me about a dream he had of being in a church whose walls were covered in pictures and there were men dressed in black at the front of the church praying. He said, in his dream, that the Presence of the Holy Spirit was overwhelming and when he went to where the men were, they looked at him and asked him, "Where have you been?" That lit something inside me that hungered for a Faith with a deeper foundation than my emotions. That man gave me the book The Orthodox Church by Metropolitan Kallistos Ware, and that was the beginning of the end for me.
What's your favorite story about your patron saint?
St. Barnabas was a preacher! But more than that, he was a man who knew the importance of connections. He was the one who introduced St. Paul to the rest of the Apostles, and his ministry among the 70 was as their leader. His body was buried in Cyprus, and when they opened his tomb, they found the Gospel of Mark copied in his own hand laying on his chest. That one discovery meant that the Church of Cyprus was autocephalous and their Archbishop was given the honor of signing his name to official documents in the same ink the Roman Emperor used to sign documents. Sadly, St. Barnabas' tomb and church are on the Turkish-occupied side of Cyprus, and the shrine is in desperate need of repair.
What's the title of a conference Ancient Faith has not yet hosted that you would absolutely attend?
Learning How To Serve In The Divine Council! Seriously, I would still love to see the Men's Conference happen that was disrupted by the Pandemic. I am convinced we need to strengthen our men in the spiritual life so they can lead their families through these perilous days.
What's a book or movie that you'd highly recommend? What did you like about it?
More and more I am re-reading and recommending Wounded By Love to many people. St. Porphyrios strikes me as a particularly powerful example for we Orthodox living in the West at this particular time. His advice about not fighting the darkness but serving the Light fits our need to be salt and light in this current dark age. Instead of kicking against the brokenness of our day, we can ask the Holy Spirit to continue our own formation and transformation by the practice of our Faith to be the example others so desperately need now.
What is the future of Orthodoxy in America?
As I approach the last quarter of my own life, I marvel at how far Orthodoxy has come here in the US. Of course, we are still just a fraction of the population and there is so much more work that needs to be done. But look how far we've been blessed to come! Institutions are being formed. Books are written and podcasts shared and media produced, all in an attempt to introduce this Faith to a wider audience until our Orthodox Faith does what it has always done through the centuries: become an indigenous Faith for the people of this country. As I've said to my own parish community, my goal now is to pour myself into the leadership of our local parish so that we continue to grow and become an example of what Orthodoxy looks like planted deeply in the soil of North East Georgia. Leaving that legacy for my children and grandchildren is my greatest hope and prayer so that they can continue this work and pass it on to their generation.
About Fr. Barnabas Powell
Fr. Barnabas Powell is the priest at Sts. Raphael, Nicholas, and Irene Greek Orthodox Church in Cumming, Georgia. In the course of his long friendship with Ancient Faith, he's been the host of daily podcasts, a live radio show, the author of A Faith Encouraged: A Devotional Guide to Being Orthodox on Purpose, and he blogs daily at Faith Encouraged.