Humans of Ancient Faith is a series of mini-interviews designed to introduce you to the many wonderful human beings who make this ministry possible. We asked the same 5 questions in each interview, and let the interviewee choose a sixth question. Today's guest is writer Dylan Pahman.
++++++++++++++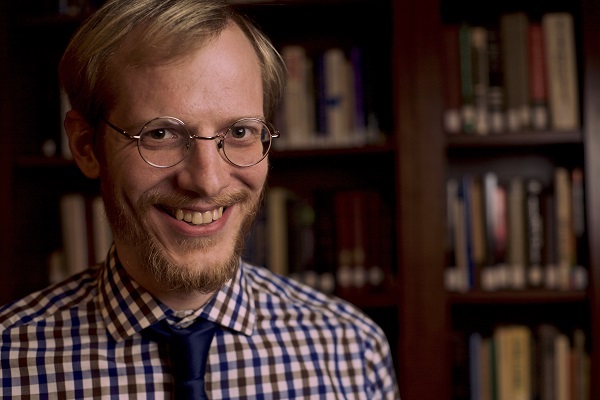 If you were named for your defining characteristic, what word or phrase would be your name?
"Curiosity," I think. (My wife Kelly might say, "Dream-Killer," but I'll stay positive.) I'm an academic, which to me means that I've never stopped being a student. I love learning about basically anything, and when possible I like helping other people learn those same things. I also have the naïve superpower of never presuming that any topic is too hard for me to learn, nor for any other person, for that matter.
What is your earliest specifically Orthodox memory?
It was probably visiting Holy Trinity Greek Orthodox Church in Grand Rapids, Michigan (now my home parish) for Divine Liturgy. I looked up the information on the internet and arrived right at the start of Orthros, so naturally I was one of the only people there. There was, however, a kind elderly couple who beckoned me to join them and helped me through the liturgy book. Afterwards, they insisted that I join them for coffee hour. A month later—the next time I was able to visit—they remembered my name, and I had the sense that they'd been praying for me ever since we'd first met. For the last twelve years, ever since I was chrismated, they've been my godparents, and though I'm likely biased, I believe they are objectively the best possible godparents anyone could have.
What's your favorite story about your patron saint?
My patron saint is St. John of Damascus (December 4). I chose him because he's a Church Father who loves the Church Fathers. His Exact Exposition of the Orthodox Faith is largely a systematic compilation of quotes and summaries of the teaching of the Fathers before him. He was also a hymnographer, composing many of our paschal hymns and, I believe, much of our funeral service. His Three Treatises on the Divine Images helped me get over my last obstacle to joining the Orthodox Church, having been raised in an iconoclastic Evangelical church.
My favorite story about St. John of Damascus, however, is that when he was first a monk his abbot forbid him from writing. However, at the request of a friend he composed a hymn for a funeral or memorial. When the abbot found out, he ordered the Damascene to clean all the latrines until finally the Theotokos appeared to the abbot and ordered him to let St. John write! I know the point of the story is how great his gift of writing was—he was even called Chrysorrhoas ("gold-streaming") for his oratorical skill—but my takeaway is that sometimes in life I need to put aside any sense of entitlement I may have and clean a few latrines. I suspect he'd agree.
What's the title of a conference Ancient Faith has not yet hosted that you would absolutely attend?
"The Kingdom of God and the Common Good: Lessons from the Orthodox Tradition about Faith, Work, and All of Life."
(Ideally this conference would also include some sort of childcare for my four children.  )
We have so many great works of theology, exploring the wonder of the Gospel that the Son of God has become incarnate for us in Jesus Christ, suffered and was buried, and rose again for our salvation. But we need more about what that means for every aspect of our lives: from work to home to even our wonderful Greek festivals—all of it (even cleaning latrines!) can be vehicles of divine love and means of our salvation and theosis.
What's a book or movie that you'd highly recommend? What did you like about it?
The Nickel Boys by Colson Whitehead. It won him the Nobel Prize for Fiction in 2020 (his second time winning, in fact). Based on a real school in Florida that was only finally shut down in the early 2000s, it tells the story of two African American teenagers, Elwood and Turner, sent in the 1960s to a crooked juvenile reformatory called the Nickel Academy, and it details the harrowing trauma and abuse the students there endured. Nevertheless, Whitehead's talent as a writer shines through in his ability to uncover true beauty and even a glimpse of hope in the midst of such tragedy and injustice. Reading it, I was reminded of what one reviewer wrote about F. Scott Fitzgerald's The Great Gatsby: It's as if there's no wasted word in the entire novel. You'll be better for reading it—like Huckleberry Finn-better or To Kill a Mockingbird-better; it's that good.
When did you first know that you wanted to be a writer?
In tenth grade English, we had a short story assignment. I loved it. My story was (accidentally) twice as long as it needed to be. That was when I first knew I loved writing, but later on, I think my senior year, is when I knew I wanted to be a writer of some sort.
A friend got himself into trouble for saying publicly that he wished the long-term substitute choir teacher could stay. He hadn't meant this as a personal attack against the permanent choir teacher she had been subbing for, but it was taken that way and he was required to give an apology. I believed this to be both unjust and pointless, since on the one hand he had nothing to apologize for and on the other a forced apology is no apology at all. So I (rashly, in hindsight) wrote a letter to my high school office, addressing it simply "To whom it may concern," since I didn't know specifically who to contact, and made a case against the forced apology, alluding that it would be a shame if the press heard about this travesty.
I have no idea who read it, but I know that it eventually made it to the principal, because I got called to his office (the only time that ever happened to me). He was red in the face and demanded to know if my friend had put me up to it. I (honestly) took full responsibility for the letter, and backed off when later my friend asked me to do so. But in that meeting with my high school principal I learned a lesson I have never forgotten: Your words have power. The pen, indeed, is mightier than the sword—I'm still surprised no one just threw the letter into the trash and forgot about it. I've tried in my writing since then to use whatever little power my words may have for good. Hopefully at least once or twice I've succeeded.
About Dylan Pahman
Dylan Pahman is a research fellow at the Acton Institute for the Study of Religion & Liberty, where he serves as executive editor of the Journal of Markets & Morality. He is author of the book Foundations of a Free & Virtuous Society (Acton Institute, 2017), an introductory primer on the integration of Christian theological anthropology and modern economics. Here at Ancient Faith, he is currently writing a series of essays on Orthodox Christian social thought for Fr. Daniel Greeson's Every Thought Captive blog and has written in the past for Fr. Andrew Stephen Damick's Orthodoxy & Heterodoxy blog. He has lived his entire life in Grand Rapids, Michigan, where he, his wife Kelly, and his four children, Brendan, Aidan, Erin, and Callaghan, reside. Naturally, he believes Grand Rapids to be the best city in the world and, frankly, the center of the universe. All other cities may as well be alien planets to him.