Humans of Ancient Faith is a series of mini-interviews designed to introduce you to the many wonderful human beings who make this ministry possible. We asked the same 5 questions in each interview, and let the interviewee choose a sixth question. Today's guest is composer Natalie Wilson.
++++++++++++++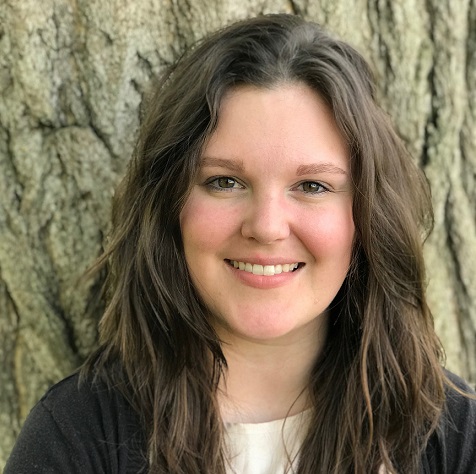 If you were named for your defining characteristic, what word or phrase would be your name?
"Nat Ears." You know, like bat ears, but see what I did there…? As a composer and musician and an aspiring conversationalist with fellow humans, I'd like to say my superpower is listening.
What is your earliest specifically Orthodox memory?
I remember gathering big handfuls of prosphora in my six-year-old hands so I could pass out pieces to my favorite senior friends during Eucharist at my first beloved OCA church, Christ the Savior, in Connecticut where I grew up.
What's your favorite story about your patron saint?
To my small knowledge, I don't think there is much known about St. Anna the Prophetess, but what I love about her story is that she met the Christ child and was close to the end of her long, widowed lifetime when she did. What patience I imagine she must have had. It gives me strength to think of her, pray to her, as I learn to cultivate patience in my own life.
What's the title of a conference Ancient Faith has not yet hosted that you would absolutely attend?
Orthodox Creatives – a conference where doers and thinkers (artists, musicians, writers, etc.) can connect in person, ignite inspiration by way of interaction with the many facets of creative life, and network.
What's a book or movie that you'd highly recommend? What did you like about it?
The movie Secondhand Lions. I love this feel-good, coming of age story where a boy learns from his two diamond-in-the-rough uncles that there is more to life when can you believe in something, even if it might be a tale.
What is one of your impossible wishes?
I think it would be a most fascinating, bewildering, utterly familiar thing to have a conversation with my four grandparents as they were at my current age. What did they dream about, worry about, plan about? How different and yet possibly very similar their cares might be to mine? That thought makes them feel all the nearer to me and makes the veil between this life and the next seem thinner. For perhaps, outside of time, this wish mightn't be so very impossible?
About Natalie Wilson
Natalie Wilson is a composer, pianist, vocalist and sound editor. Born from a family of creatives, Natalie grew up in a home that greatly encouraged exploration in music and arts. She attended the Cincinnati Conservatory of Music for piano performance and completed a year of study there. She decided not to complete the degree, after finding the pursuit of a professional career in piano performance to be threatening to her joy of music.
Continuing to nourish her joy in music from teaching or composing, Natalie married her husband Caleb in 2009. Over the following six and a half years, they had five children. They make their home in Indiana countryside where Natalie (along with Caleb) endeavors to continually fill their house with music.
Shortly after establishing NWComposing in 2019, Natalie began work for the podcast In a Certain Kingdom with Nicholas Kotar, doing both composing work (including scoring and recording) and sound editing for the podcast. Season 1 released in the Fall of 2020, with two more seasons planned for release in 2021. She has done composing work for Ancient Faith Radio podcasts Wander, All These Things, and others.