Humans of Ancient Faith is a series of mini-interviews designed to introduce you to the many wonderful human beings who make this ministry possible. We asked the same 5 questions in each interview, and let the interviewee choose a sixth question. Today's guest is blogger and podcaster Fr. Philip LeMasters.
++++++++++++++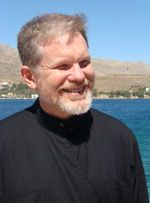 If you were named for your defining characteristic, what word or phrase would be your name?
My name would be "Constantine," but not because I'm an emperor or a saint!  I am, however, pretty constant, being reliable and steadfast in my habits and ways, though hopefully not to the point of being boring.
What is your earliest specifically Orthodox memory?
My earliest memory of Orthodoxy comes from growing up in Beaumont, TX, where even as a Baptist I was aware of the existence of St. Michael Antiochian Orthodox Church.
What's your favorite story about your patron saint?
St. Philip the Apostle led Nathaniel to Christ, and responded to his doubts about the Messiah coming from Nazareth, by saying, "Come and see" in John 1:46.
What's the title of a conference Ancient Faith has not yet hosted that you would absolutely attend?
"A Kingdom Not of This World: Overcoming Current Partisan Divides Through the Unity of the Faith"
What's a book or movie that you'd highly recommend? What did you like about it?
Fr. Christopher C. Knight, Science and the Christian Faith:  A Guide for the Perplexed (St. Vladimir's Seminary Press, 2020).  As both an Orthodox priest and an astrophysicist, Fr. Christopher explains how the dominant ways of understanding the relationship between faith and science do not reflect the fullness of Orthodox sensibilities on topics such as the divine energies, the nous, miracles, and deification. He challenges us to rethink what we thought we knew about science and religion in light of the deepest commitments of Orthodoxy.
How do we avoid identifying Orthodoxy with nationality, ethnicity, and political agendas?
By recognizing that the peace for which we pray in the Divine Liturgy transcends all human boundaries and reveals the inevitable corruption of even our best attempts to order the collective life of humanity according to the ways of the fallen world.
About Fr. Philip LeMasters
Fr. Philip LeMasters is the pastor of Saint Luke Orthodox Church (Antiochian Archdiocese), Abilene, TX.  A bi-vocational priest, he teaches theology and ethics as Professor of Religion at McMurry University, where he joined the faculty in 1995. Fr. Philip also offers hybrid courses as needed at St. Vladimir's Orthodox Theological Seminary, where he served as a member of the Board of Trustees from 2008-2020. He posts homilies and commentaries on Eastern Christian Insights and podcasts them on Ancient Faith Radio. He has traveled to Romania, Syria, Greece, and the Republic of Georgia to present on Orthodox theology and ethics. His most recent book is The Forgotten Faith:  Ancient Insights for Contemporary Believers from Eastern Christianity, Cascade Books, 2013. Fr. Philip is married to Kh. Paige LeMasters, M.D., a pediatrician, and they have two grown daughters, one granddog, and a random collection of cats.  Fun fact: Fr. Philip became a Master Angler of the State of Michigan for catching a brown trout weighing over 18 pounds on Lake Michigan during the Antiochian Archdiocesan Convention in 2019.