Humans of Ancient Faith is a series of mini-interviews designed to introduce you to the many wonderful human beings who make this ministry possible. We asked the same 5 questions in each interview, and let the interviewee choose a sixth question. Today's guest is Archimandrite Jeremy Davis, author of two upcoming Ancient Faith books.
++++++++++++++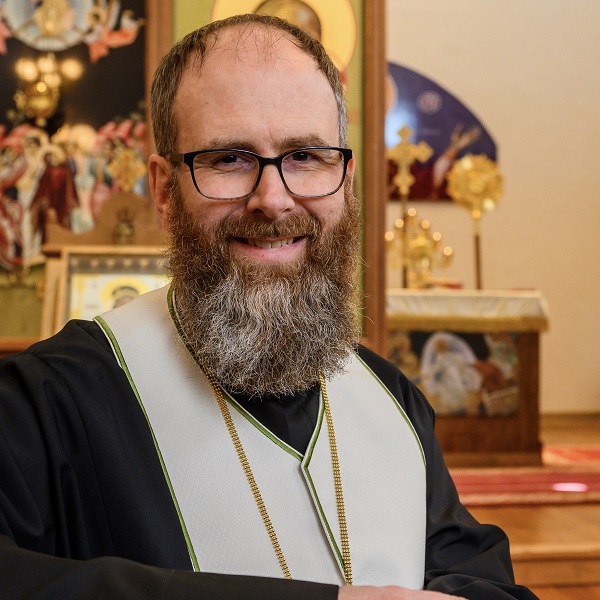 If you were named for your defining characteristic, what word or phrase would be your name?
Meticulous
What is your earliest specifically Orthodox memory?
Attending Divine Liturgy at St. George Cathedral in Wichita, KS, as a senior in college. It was love at first sight, and I was chrismated seven months later.
What's your favorite story about your patron saint?
Before I was born, my parents (without knowing why) felt that God was leading them to name me Jeremy. So when I was chrismated, I cherished that name as a divine gift and adopted the Holy Prophet Jeremiah as my patron saint. After discerning my calling to priesthood and monasticism, I learned that the Prophet Jeremiah was of a priestly family and that he was called by God to remain unmarried (Jer. 1:1; 16:2)! He was also the prophet to whom the Lord said, "Before I formed thee in the womb, I knew thee" (Jer. 1:5). God's providential foreknowledge is amazing (and a little eerie)!
What's the title of a conference Ancient Faith has not yet hosted that you would absolutely attend?
"Finding God in Fiction"
What's a book or movie that you'd highly recommend? What did you like about it?
I'm going to cheat a little and name a series of books: the Master and Commander (Aubrey-Maturin) series by Patrick O'Brian. I love that these twenty books revolve around a friendship between two men and all its ups and downs over a couple of decades. So much media today focuses on romantic love, and I feel like friendship is underappreciated in our culture.
What's your favorite soda?
Bundaberg Ginger Beer, of course!
About Fr. Jeremy Davis
Archimandrite Jeremy (Davis) is currently pastor of Holy Ascension Orthodox Church in Norman, OK. After being raised in Protestant churches, he was chrismated at St. George Cathedral in Wichita, KS, in 1998. He graduated magna cum laude from St. Vladimir's Seminary in 2004 (M.Div.), was tonsured a monk in 2005, and was ordained priest in 2006. He is the author of two forthcoming books from Ancient Faith: The Cellarer's Celery (a children's picture book) and The Welcoming Gift: Sacrifice in the Bible and Christian Life (for adults). In late August, he will be moving to Englewood, NJ, to assist Metropolitan JOSEPH at the Antiochian Archdiocese headquarters. You can connect with Fr. Jeremy on Facebook here.