Humans of Ancient Faith is a series of mini-interviews designed to introduce you to the many wonderful human beings who make this ministry possible. We asked the same 5 questions in each interview, and let the interviewee choose a sixth question. Today's guest is author Melissa Naasko.
++++++++++++++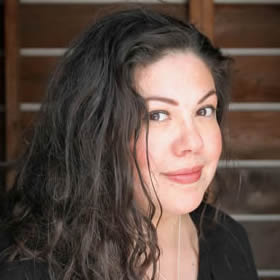 If you were named for your defining characteristic, what word or phrase would be your name?
Oh my gosh, this requires a lot of introspection, honest introspection! I don't know if others would agree with how I think I am perceived, I only know the view from inside my own head, but I do know what I try to accomplish. My major life goal is to love people in such a way that they feel cared for and valued. I once knew an old woman whose nickname was "Lovey," and I never did know her real name. I think that would be a name to be proud of.
What is your earliest specifically Orthodox memory?
I distinctly remember my first time in an Orthodox Church. We were at the church where a college friend of my husband was very involved before he left for seminary; he is now a protopresbyter. The friend gave us a tour, pointed everything out, and explained it with so much patience. I was raised Catholic, and my father's mother was always very concerned about the proper way to make the sign of the cross. The proper way in her mind was the Roman manner. That day, he taught me how to make the sign of the cross in the Orthodox manner. I made the conscious decision to not cross myself the way my grandmother had always taught me. It was a small moment, but for me it was enormous. This was life-changing.
What's your favorite story about your patron saint?
I was named after the Grand Duchess Elizabeth whose relics were in the altar where I was received. I didn't know anything about her before then and had to learn about her afterward. I don't have a lot in common with her, and I didn't choose her, so I have to be intentional about understanding her more and more. Favorite is a hard way to describe the moment that I go back to again and again because it is a hard moment, but it really speaks to her character. When her husband, Grand Duke Sergei, was assassinated with a nitroglycerin bomb, she went out into the street and gathered the splintered bits of his remains as well as his medals. She just went out and picked them up and was apparently level-headed in managing the chaos. She even comforted her husband's driver and promised him that the Duke was well cared for and under God's protection, which was true but not in the way that driver had hoped for. He died three days later. I think about this often. I could never be equal to her name.
What's the title of a conference Ancient Faith has not yet hosted that you would absolutely attend?
"Living Bifurcated Lives" How to nurture the writer in us when we have day jobs.
This is so hard since one of the ways that we recognize our identities and those of others is by what our day jobs are. This is problematic because this is not always what identifies us, what is significant about us, or what defines us.
What's a book or movie that you'd highly recommend? What did you like about it?
I always have many recommendations, but the one I have been making lately is Search for the Wilderpeople. It is a film from New Zealand and phenomenally well written with an enormous amount of subtlety and nuance; it doesn't try too hard. It is what it is. I love that what I thought the film would be about turned out to be wrong. It ended up being a completely different plot.
While I am at it, I have a book recommendation, too. I have been thinking about aging and who I am as I age and about how the older people I have known were different when they were younger. I absolutely loved The Curious Charms of Arthur Pepper by Phaedra Patrick. There are some moments when a reader might worry that it could be a compromising book, but it always unfolds better than that. I love that it makes me think more about the older people around me and how they arrived at the people they are now.
Identify a moment in a book when you found something of yourself in the plot or a character.
In Lewis Carrol's Alice's Adventures in Wonderland, Alice's governess is reading to her, but Alice keeps asking questions that aren't answered in the book such as what do the people live on (eat). That is so me. I love people, and I always find their lives interesting, and I just want to know those details. I can't walk down a city street without wondering about the people in the cabs, the ones rushing down the street past me, and even those working and living in the buildings around me. I just want to know what they live on.
About Melissa Naasko
Melissa Elizabeth Naasko is the wife of a priest attached to a ROCOR monastery. They have eleven children and a hobby farm where they raise their own meat and dairy. Melissa Elizabeth writes and speaks on Orthodox fasting and parenting and is the author of Fasting as a Family and a major contributor to Seven Holy Women, both from Ancient Faith. She is currently writing a personal memoir on moving to the farm entitled Coming to Idyll Hands Farm.