Humans of Ancient Faith is a series of mini-interviews designed to introduce you to the many wonderful human beings who make this ministry possible. We asked the same 5 questions in each interview, and let the interviewee choose a sixth question. Today's guest is podcaster Richard Barrett.
++++++++++++++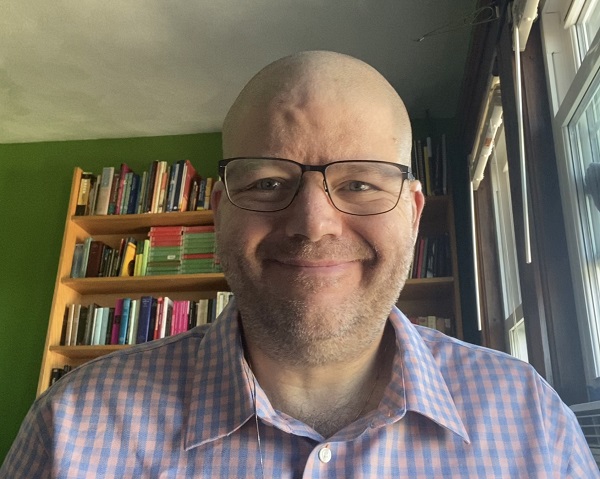 If you were named for your defining characteristic, what word or phrase would be your name?
"Sheer and utter lack of awareness of when to quit."
What is your earliest specifically Orthodox memory?
Singing the program "Taverner/Tavener" with Cappella Romana and Tudor Choir in 1997, my first exposure to the sound world and liturgical texts of the Orthodox Church, as well as my first time meeting people I knew to be Orthodox.
What's your favorite story about your patron saint?
St. Richard of Wessex (+722 A.D.)'s Vita is pretty short, and it isn't all that episodic. So here's the whole thing (a draft translation, by me).
THE LIFE OF SAINT RICHARD
In the flesh, blessed Saint Richard was born to a family of nobles, but in the soul, he was filled full with the grace of a far nobler quality. His uncle was the English King Offo, and after Offo's death as well as that of his father, Saint Richard assumed the throne. Even if the kingship was his by birthright, Richard had more than sufficient virtues to merit it regardless, and his people compelled him to take the throne. For Saint Richard was handsome in body and devout in soul, strong with weapons, victorious in war, righteous in judgment, discreet in counsel, a defender of orphans and widows, a distinguished lover of the churches of God, a joyful defender, a most generous giver, taking accusation seriously, and being yet a most gentle comforter.
These and other markers of virtue made him powerful, and thus he ruled his kingdom with vigor, being greatly feared by all enemies and loved with great affection by his own people. And so, while Saint Richard governed his realm well, he found himself pondering which of his worldly merits could lead nonetheless to his eternal death rather than life, in his soul he kept recalling the famous teaching of the Lord: "Whoever of you does not renounce all that he has cannot be my disciple" (Luke 14:33) and also "Every one who has left houses or lands for my name's sake, will receive a hundredfold, and inherit eternal life" (Matt 19:29). And, relinquishing his kingdom and everything that he had for God's sake, he resolved to go on pilgrimage with his sons, Saint Willibald and the blessed Winnibald, to pay homage to the holy shrines in Rome and Jerusalem.
The times and seasons passed quickly, and the time to depart that Richard and his sons had agreed upon drew near, so they prepared to leave. When they were ready and the appointed day came, they set out with a company of fellow pilgrims. They first arrived at a place known by the old name of Hamaleamutha, near the port which is called Hamwich. Once they were there, they found a ship that could take them across the sea. They paid the fare to the captain and boarded the ship; there was a calm sea and creaking oars. And because the Enemy of the human race always seeks to oppose the saints of God, many obstacles stood before Saint Richard.
There were hard waters, and they stirred to raise a turbulent and terrible sea storm, and the sailors and all on the ship feared they were in danger. But the blessed Richard sensed the temptations of the devil and trusted strongly in God's mercy nonetheles. He prayed, and the ship came upon a most peaceful sea. When the ship had crossed the sea's formidable and dangerous waves, with the waters stirred up and threatening with each wave, winds filled the ship's sails and secured it on its course, they saw dry land. And immediately rejoicing, they disembarked, made camp, and pitched tents on the bank of the river called the Seine, near the city which is called Rouen.
After resting for some days, Saint Richard, his sons, and their company once more continued their pilgrimage. Thus they prayed at many shrines of saints that were on the way, and eventually they left from there by ship and they arrived at Gothonicum. They traveled awhile, and after they had arrived at the city which is called Lucca, Saint Richard began to fall seriously ill and was no longer able to travel. His departure day quickly drew near, and in failing health and heaviness of limbs, he summoned his sons Willibald and the blessed Winnibald to his side. He faithfully instructed them to remain steadfast in love and to continue their service to God with good strength. Thus, after partaking in the Holy Body and Precious Blood of our Lord Jesus Christ, Richard departed joyfully to the Lord on the seventh of February.
His sons, attending to him with devoted love, utmost faith, and respect for their father, immediately wept and grieved in great mourning. They wrapped the their wonderful father's body elegantly, celebrated his funeral rites with honor, and they buried him most solemnly near the shrine of the blessed Frediano. For the blessed Richard, this was the greatest cause for rejoicing, since he did not succumb to death but rather escaped it, and he did not lose his life but rather transformed it. He is lost to the sight of humanity, but he is offered to the contemplation of angels. He is buried under the earth, but he is received in heaven. He is shut in the tomb, but he is magnified in the kingdom of God.
How desirable for the holy faithful people of God is that day when we fall asleep! On that day, even if we die to the world, we nonetheless are born joyfully in heaven. And therefore, in the holy Church, that day is not considered the day of death but of birth, since after the death of the flesh we begin to possess the eternal joys of our birthright, as the prophet testifies: "He gives sleep to his beloved ones" (Ps. 126:2), that is, the inheritance of the Lord. The Apostle desired that day when he said: "My desire is to depart and be with Christ" (Phil 1:23). And the psalmist: "My soul thirsts for God, the Mighty, the Living. When shall I come, and appear before the face of God?" (Ps. 41:2) Thus, while it is time for us to work, let all us faithful not be idle on our last day of this life; let us rather be strong to enter the new life with joy.
What's the title of a conference Ancient Faith has not yet hosted that you would absolutely attend?
"Restoring the Full Order of the All-Night Vigil in American Parish Practice and Why it Matters"
What's a book or movie that you'd highly recommend? What did you like about it?
A book of poetry: American Psalm, World Psalm by Nicholas Samaras. A lovely exploration of modern themes through the eyes of a psalmist of today.
What part of our services that is usually cut do you think should be restored?
The full order of the canon at Orthros. Especially with all of the metered translations now available, it's the most fun part of Orthros you're not doing.
About Richard Barrett
Richard Barrett is protopsaltis and choir director at Holy Dormition Greek Orthodox Church in Somerville, MA. He has studied Byzantine chant with Dr. Ioannis Arvanitis, Dr. Grammenos Karanos, and John Michael Boyer. He holds a performer's certificate in Byzantine music from Holy Cross Greek Orthodox School of Theology, and sings regularly with professional vocal ensembles such as Cappella Romana and Psaltikon. He has served as an invited clinician, speaker, and singer at Orthodox churches and sacred music conferences throughout the country. Since 2016 he has served as Chant Liaison to the Executive Board of the Metropolis of Boston Federation of Greek Orthodox Church Musicians. Richard is the Artistic Director and co-founder of the The Saint John of Damascus Society, and also the Executive Director of AGES Initiatives. He co-hosts A Sacrifice of Praise on Ancient Faith Radio. Richard lives in Boston with his wife and their two children.