Humans of Ancient Faith is a series of mini-interviews designed to introduce you to the many wonderful human beings who make this ministry possible. We asked the same 5 questions in each interview, and let the interviewee choose a sixth question. Today's guest is author and blogger Anna Neill.
++++++++++++++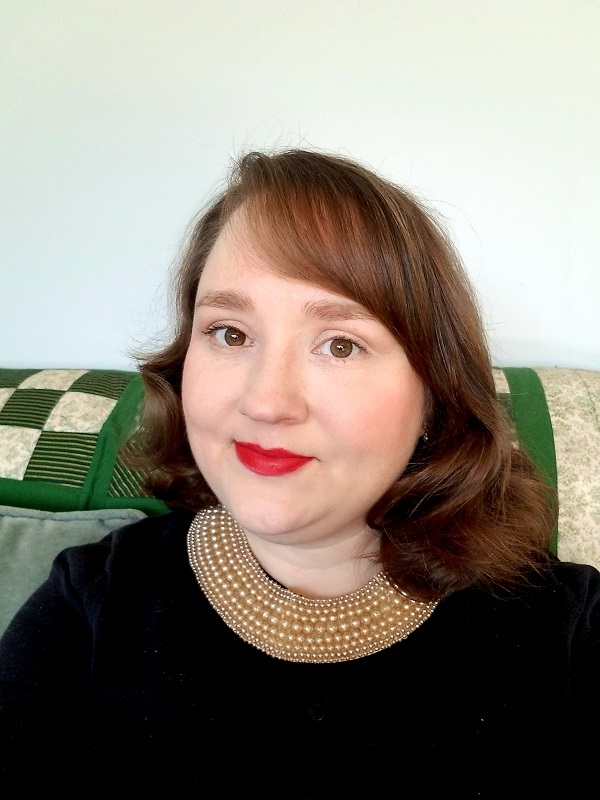 If you were named for your defining characteristic, what word or phrase would be your name?
Unwavering. When I take on anything new, whether learning or doing, I follow through to the end, even through much adversity. I take commitments seriously. To use Biblical language, I take a long time to size up the cost, but once I sign on the line, I am in 100%. I took nearly three years to work through my catechumenate! This characteristic can be a double-edged sword at times. Once I make plans, I have a difficult time being flexible around unforeseen events. I feel rotten if I can't keep all my swirling responsibilities on track. Thanks to my husband who came up with this word to describe me.
What is your earliest specifically Orthodox memory?
As a convert, this is a deeply rooted and treasured memory. My mother would take me as a young girl to the festivals at the Annunciation Greek Cathedral in Columbus, Ohio, around the time they were building their new sanctuary. I remember being in awe of the golden mosaics of the Theotokos. My Protestant religious upbringing was quite spartan in comparison. There was an icon or stained glass window of St. Barbara (my mother's name) where we lit candles. That annual visit to the Church was enough to plant a seed of possibilities that would not grow in me until adulthood when I wanted to expand my knowledge of "What else is there to Christianity?"
What's your favorite story about your patron saint?
St. Anna, the grandmother of our Lord, lived a generous life with her husband, Joachim. They lived on a third of their income, gave a third to the poor, and a third to the temple. God blessed that generosity with continuous abundance in their flocks of animals. I admire that trust in God's provision.
What's the title of a conference Ancient Faith has not yet hosted that you would absolutely attend?
At the women's conferences, there has been space and informal groups for crafting, which I know has launched many useful networked relationships. There is a Content Creator's Conference for writers and audio/visual producers. I would like to see a weekend camp for Creative Makers, to learn how to use their talents for the Church community in other avenues than strictly liturgical arts. There would be a two-fold purpose – networking and increasing skills in both their craft and in small business management.
What's a book or movie that you'd highly recommend? What did you like about it?
I would recommend The Splendid and the Vile: A Saga of Churchill, Family, and Defiance During the Blitz, by Erik Larson. The book takes several diaries of younger people in and around Churchill's circle and weaves together their experiences in the opening year of WW2. I enjoy complex narratives that show both the 'man on the street' perspective and the decisions of leaders at the top in historical events. There was plenty of tension in the book from the perspective of the unknown outcomes in the moment.
If you could go back in time and live in a certain era, where and when would you go? 
I would dearly love to be a Time Lord, able to stop in at any time and place to satiate my curiosity about so many people and events. I would not like to live in any era except my own for the obvious reasons of what I would have to give up: sanitation, medical care, and personal freedoms. Those stipulations aside – I would love to hear certain orators deliver their famous speeches: the Stoic philosophers, Sojourner Truth, Theodore Roosevelt to name a few. I want to sit with craftsmen and women to see their techniques firsthand rather than what our best guesses have been in attempting to recreate their handiwork from surviving records. I would love to hear how music was performed. I would like to record voices and speech patterns that we only know in writing.
About Anna Neill
Anna Neill is a librarian by trade and a writer, historian, and all things crafter on nights and weekends. She was a joint author in The Seven Holy Women book project in 2020. She continues her passion for exploring the significance of women saints in the life of the Church through her other blog, The Brown Dress Project. Anna and her husband live in North Carolina with one fluffy cat and a massive garden.