Humans of Ancient Faith is a series of mini-interviews designed to introduce you to the many wonderful human beings who make this ministry possible. We asked the same 5 questions in each interview, and let the interviewee choose a sixth question. Today's guest is Stewardship Calling host Bill Marianes.
++++++++++++++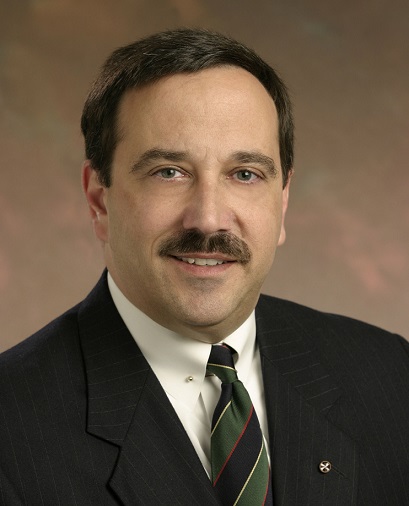 If you were named for your defining characteristic, what word or phrase would be your name?  
ICE = Innovation – Creativity – Enthusiasm
What is your earliest specifically Orthodox memory? 
Walking to our poor, little Orthodox church on the deep Southside of Chicago with my Yiayia (paternal grandmother) EVERY Sunday from when I was old enough to walk.
What's your favorite story about your patron saint? 
"It is said that after an earthquake in Caesarea, St. Basil worked for days without sleep, digging through rubble with his own hands to save those trapped; he helped the injured and urged everyone to share their food with those who had none.  Basil stood by the people and encouraged them throughout the catastrophe." Working 4 days without sleep is my style also.
What's the title of a conference Ancient Faith has not yet hosted that you would absolutely attend? 
If we are Christ's church, why are we not growing rapidly in our Jerusalem of America?
What's a book or movie that you'd highly recommend? What did you like about it?  
Start With WHY and its "how to" sequel Find Your WHY. They describe the essence of my Stewardship Calling ministry: "To help people and parishes discover and live their stewardship callings so that they can have a "good account before the awesome judgment seat of Christ"  (Ephesians 4:1 and II Corinthians 5:10)
Ask a question of your choice.
If today were the day was the day you stood before the awesome judgment seat of Christ what would your answer be if our Lord asked you "What have you done with My church under your watch given all of the gifts over which I have allowed you to be a steward?"
About Bill Marianes
For the last 15+ years, Bill has crisscrossed the United States logging well over 350,000 miles inspiring and training Parishes, clergy, and laity to understand what true Christian stewardship is, how to live their stewardship calling and reorganize and re-energize their Parishes using best practices. Bill has been blessed to lead the development of strategic plans for church jurisdictions, ministries and parishes that cover over 26% of all Orthodox Christians in America and has delivered training for well over 600+ Parishes. His programs and materials are available at his always-free website: www.stewardshipcalling.com. Prior to retiring early to start his full-time volunteer Stewardship Calling ministry, Bill was a partner at two global law firms, specializing in corporate work and mergers and acquisitions.
Bill has 2 Stewardship Calling live internet radio shows and podcasts on the global Ancient Faith Radio platform: ( https://www.ancientfaith.com/radio/live ) that air the 1st Wednesday of every month and any month that has a 5th Sunday.
Bill is also a founding member of a new, nonprofit, pan-Orthodox Christian ministry support and venture philanthropy fund, Orthodox Ministry Services who's WHY is to help transform and improve Orthodox Church organizations, parishes, and ministries in order to strengthen the Body of Christ.
https://orthodoxministry.org/