Humans of Ancient Faith is a series of mini-interviews designed to introduce you to the many wonderful human beings who make this ministry possible. We asked the same 5 questions in each interview, and let the interviewee choose a sixth question. Today's guest is author and podcaster Rev. Dr. Alexander Goussetis.
++++++++++++++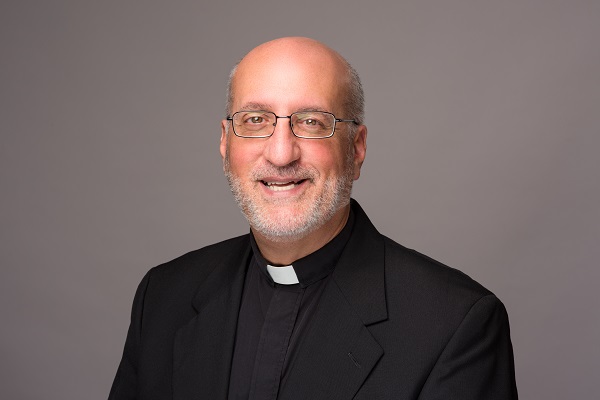 If you were named for your defining characteristic, what word or phrase would be your name?
It depends who you ask! People have told me that I exude a peacefulness and put others at ease. Yet, I often feel anxious, perhaps a result of not trusting God enough in my faith journey.
What is your earliest specifically Orthodox memory?
This one is easy! I vividly recall a Holy Thursday evening service when I was four years old. In a darkened sanctuary, with only a few lit candles providing light, and with the faithful kneeling and quietly sobbing, I remember the priest chanting solemnly, processing around the church with the crucified Christ on the large cross. I was completely captivated and absorbed in the moment, a memory I draw from often.
What's your favorite story about your patron saint?
St. Alexander served as Patriarch of Constantinople in the 4th century and was present at the 1st Ecumenical Council in 325 AD. The main controversy of the time surrounded the heretical teachings of a rogue priest named Arius. Arius and his followers taught that Jesus was a created being and not of one essence with the Father, thus rejecting the basic Trinitarian formula of Father, Son, and Holy Spirit. Ultimately, the council, led and guided by the Holy Spirit, discerned that Jesus is fully divine and human, as stated in the Nicene Creed.
But the drama with Arius continues. Following the Ecumenical Council, Arius and his teachings were condemned by the Church. Later, Arius desired to be received back into the communion of the Church. Arius did not, in fact, repent of his heresy, but was deceptively attempting to re-enter the Church and continue causing confusion. St. Alexander had discerned all this deception and persisted in his refusal to admit Arius back into the Church. St. Alexander locked himself in the Church of St. Irene in fervent prayer that God would take him from this world rather than that he be forced to restore someone to communion whom he feared was only feigning repentance. As it happened, Arius died on his way to the Church, before he could be received back into communion.
St. Alexander was a fervent defender and protector of the Church, a person of high moral principles, and a spiritual man of prayer.
What's the title of a conference Ancient Faith has not yet hosted that you would absolutely attend?
 The Works of Bob Dylan: Spiritual Significance and Relevance for Orthodox Christians Today
"In the fury of the moment / I can see the Master's hand / In every leaf that trembles / In every grain of sand" Lyrics from Every Grain of Sand
What's a book or movie that you'd highly recommend? What did you like about it?
My goodness, too many to name!
Let's start with October Sky, a film about a small group of young boys from the coal regions of West Virginia, who develop a passion for rockets in the late 1950s, just as the Soviets are advancing in space exploration. I remain inspired by the characters in the film who overcame minimal encouragement, support, and resources to achieve great successes in life. The virtues of persistence, discipline, patience, mutual support among the boys (and one lone teacher) provide such a model for our young people today.
What's your second favorite film?
My second choice (for now!) is a film titled The Intouchables (not The Untouchables with Costner and Connery). This French film, with English subtitles, features a young African who becomes a caretaker for a white paraplegic. The narrative of their developing bond of friendship is both funny and poignant. The impression that remains with me is that people with completely different backgrounds – in this case, race, class, wealth, education – can find a place of common ground and reciprocity. We could use more of that in our world today.
About Rev. Dr. Alexander Goussetis
Rev. Dr. Alexander Goussetis serves as director of the Center for Family Care of the Greek Orthodox Archdiocese. He is a graduate of Drexel University, Holy Cross Greek Orthodox School of Theology (M.Div.), and Andover-Newton Theological School (D.Min. in Psychology and Pastoral Counseling). Fr. Alexander has served more than twenty years as a parish priest and authored four books on Orthodox life and faith, including Practicing Prayer: A Daily Workbook. He hosts the podcast on Ancient Faith Radio entitled Family Matters. Fr. Alexander is married to Presbytera Lisa, and they have three children – Julia, Nicholas, and Sophia.