Humans of Ancient Faith is a series of mini-interviews designed to introduce you to the many wonderful human beings who make this ministry possible. We asked the same 5 questions in each interview, and let the interviewee choose a sixth question. Today's guest is author Brandi Willis Schreiber.
++++++++++++++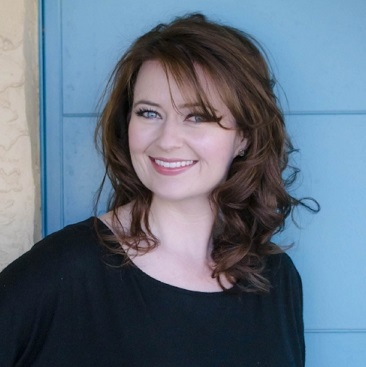 If you were named for your defining characteristic, what word or phrase would be your name?
I had to seek help with this question! Why is it so hard to answer these things about ourselves? My family said "deep" and "introspective," so I am going to go with that!
What is your earliest specifically Orthodox memory?
My earliest Orthodox memory is the first time I stepped into an Orthodox Church – our parish in Lubbock, Texas, where I still attend – in 2009. I'll never forget how the lights, smells, and colors especially all flooded my senses at once. Candles flickered, icons glistened, everything seemed to be more deeply saturated (it struck me later how bare and stripped down all my previous worship experiences had been compared to this). I didn't know where to look first. It was at once overwhelming and strangely welcoming … as if I had just come home. I had, in fact, come home. Less than a year later, my husband and I were chrismated into the Orthodox Church.
What's your favorite story about your patron saint?
My patron saint is Saint Tamar – or Tamara – Queen of Georgia. I chose her (or did she choose me?) because she was a woman whose strength, intelligence, and faith inspired me. Saint Tamara was the first woman to rule Georgia "in her own right" after her father, the king, died. In fact, she was given the title "king." This was in the 12th century! How cool and unusual is that? I think most people are familiar with English history and the triumphs of Queen Elizabeth and her golden age, but Georgia had its own golden age, as well, during Saint Tamara's rule. Saint Tamara's greatest accomplishment was defending Christianity in her country. She was also noted to be extremely pious, and coinage from that time proclaimed her as "Champion of the Messiah." I can't imagine the incredible pressure that a female ruler would have had at this time, and her commitment to her faith – through the grace of God and through her belief in God – is what impresses me the most.
What's the title of a conference Ancient Faith has not yet hosted that you would absolutely attend?
The Shepherd and the Lamb – Raising Children Under Christ's Staff
This would be a conference (open to families!) in which we could attend sessions, activities, and events to learn about how to raise our children in the Orthodox faith. It would be an opportunity to hear speakers on this topic; learn about how to incorporate prayer and devotion in our children's spiritual and intellectual development; play (and learn) faith-centered games and activities; hang out; eat together; make friends; and network with other Orthodox families. As a new mom, I NEED HELP!
What's a book or movie that you'd highly recommend? What did you like about it?
Oh, this is such a hard question for me because there are so many! For Orthodox and non-Orthodox alike who are interested in prayer (the foundation, in my opinion, of a life of faith) I highly recommend Beginning to Pray and Courage to Pray, both by Metr. Anthony Bloom. He "puts prayer in your face," if you will, along with all its challenges and consequences. I also loved a series of books on contemplation by Martin Laird: A Sunlit Absence: Silence, Awareness, and Contemplation and An Ocean of Light: Contemplation, Transformation, and Liberation. Both of these are beautiful books on the idea of stillness and being in the presence of God. They are small books but packed with insight – the kind of books you want to savor. And lastly, anything by John O'Donohue, particularly his book of poems, To Bless the Space Between Us: A Book of Blessings (U.S. version … the U.K. version is called Benedictus: A Book of Blessings). John O'Donohue was a Catholic priest and author on Celtic spirituality, among many other things, and this book of poems (blessings) is a balm.
Is it wrong to also suggest A Long Walk with Mary: A Personal Search for the Mother of God for those wanting to explore how to incorporate devotion to Mary in their own lives? 😉
What's one crazy bucket list item you would love to complete before you die?
Walking the Camino de Santiago in Spain! Or swimming with sharks.
#HumansofAncientFaith
About Brandi Willis Schreiber
Brandi Willis Schreiber is a longtime West Texas native and published author of poetry, fiction, and creative nonfiction, including most recently her spiritual memoir, 
A Long Walk with Mary: A Personal Search for the Mother of God
, released by Ancient Faith Publishing this year. A convert to Eastern Orthodoxy, she attends St. Andrew Greek Orthodox Church in Lubbock, Texas with her husband, David, and baby, Rex.