Humans of Ancient Faith is a new series of mini-interviews designed to introduce you to the many wonderful human beings who make this ministry possible. We asked the same 5 questions in each interview, and let the interviewee choose a sixth question. Today's guest is Fr. Andrew Stephen Damick, our Chief Content Officer.
++++++++++++++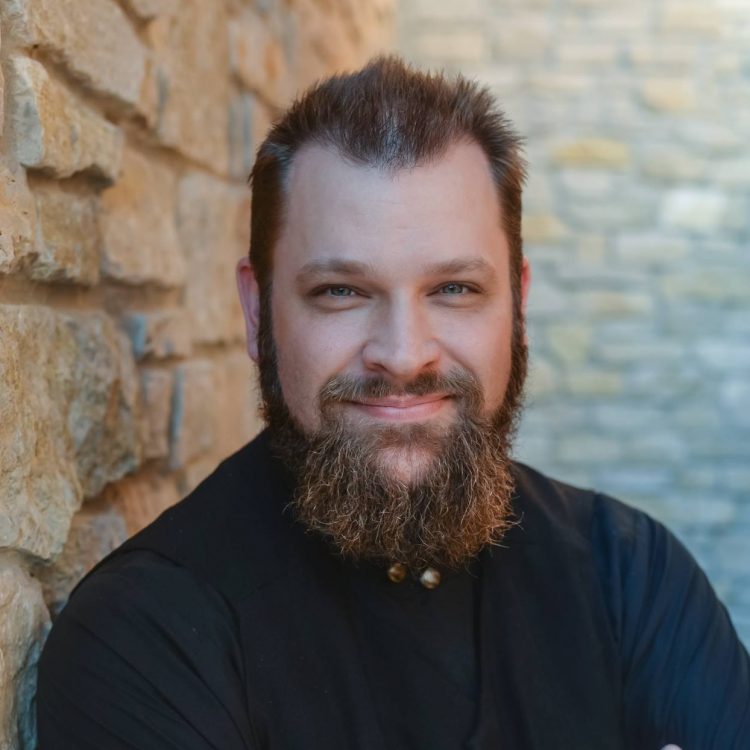 If you were named for your defining characteristic, what word or phrase would be your name?
Curiosity.  Which actually does happen to be my name, or so I have been told.  My family name Damick was actually Domeika in our ancestral Lithuania, a name that might come from dometis, a Lithuanian word that means being interested in something or caring about it.
What is your earliest specifically Orthodox memory?
When I was beginning to question the religious tradition of my childhood (Evangelical Protestantism), an old friend and I had a conversation over Italian food on Hillsborough Street in Raleigh, North Carolina.  One of us said something about the Orthodox Church, and to this day I do not remember what was said or whether it was him or me who said it.  But it stuck in my head, and I went shortly to AltaVista (which dates this memory!) to look up whatever that Orthodox Church thing was.
What's your favorite story about your patron saint?
The Apostle Andrew doesn't come up much in the Gospels.  His older brother St. Peter seems to get all the spotlight.  As is the case with so many second-born sons, well, I knew what this was like growing up. My family was not Orthodox when I was born, but my parents told me that they did indeed name me after the apostle and not some other person (despite my maternal grandmother claiming at one point I was named for her father's middle name, which my mother did not even know was Andrew). And they also told me that I was named Andrew because St. Andrew brought his brother to Jesus (John 1:42).  I have ever since seen this as a blessing pronounced over me by my parents that it was my task to bring any brother or sister whom I may meet to Jesus Christ.
What's the title of a conference Ancient Faith has not yet hosted that you would absolutely attend?
"The Ancient Faith Cinematic Universe:  How I Learned to Stop Worrying and Love Re-Enchantment"
What's a book or movie that you'd highly recommend? What did you like about it?
O Brother Where Art Thou may possibly be the most perfect film ever made or at least the most perfect I have seen.  It is not necessarily my most favorite film, but its use of language and narrative, not to mention being a Mississippi-style take on The Odyssey, well — it is hard to do better.  And the music is unforgettably poignant and powerful.  And, I ask you, what is more amazing than a Cyclops Bible salesman?
What do you wish everyone would realize?
That the world written about in the Scriptures is real and accessible, that Christ in His love died for us even while we were yet sinners, and that we have been given everything that we need in order to lay aside all the vanities of this world and live in Paradise.
#HumansofAncientFaith
About Fr. Andrew Stephen Damick
The Very Rev. Archpriest Andrew Stephen Damick is Chief Content Officer of Ancient Faith Ministries and has been contributing podcasts, documentaries, books, blogs, video and live talks to AFM since 2009, joining the staff full time in 2020. He served in parish ministry for 13 years, the final 11 as pastor of St. Paul Orthodox Church in Emmaus, Pennsylvania. He has a keen interest in scripture, liturgy, history, literature, language, story and culture. Fr. Andrew lives in Emmaus with his wife and children.