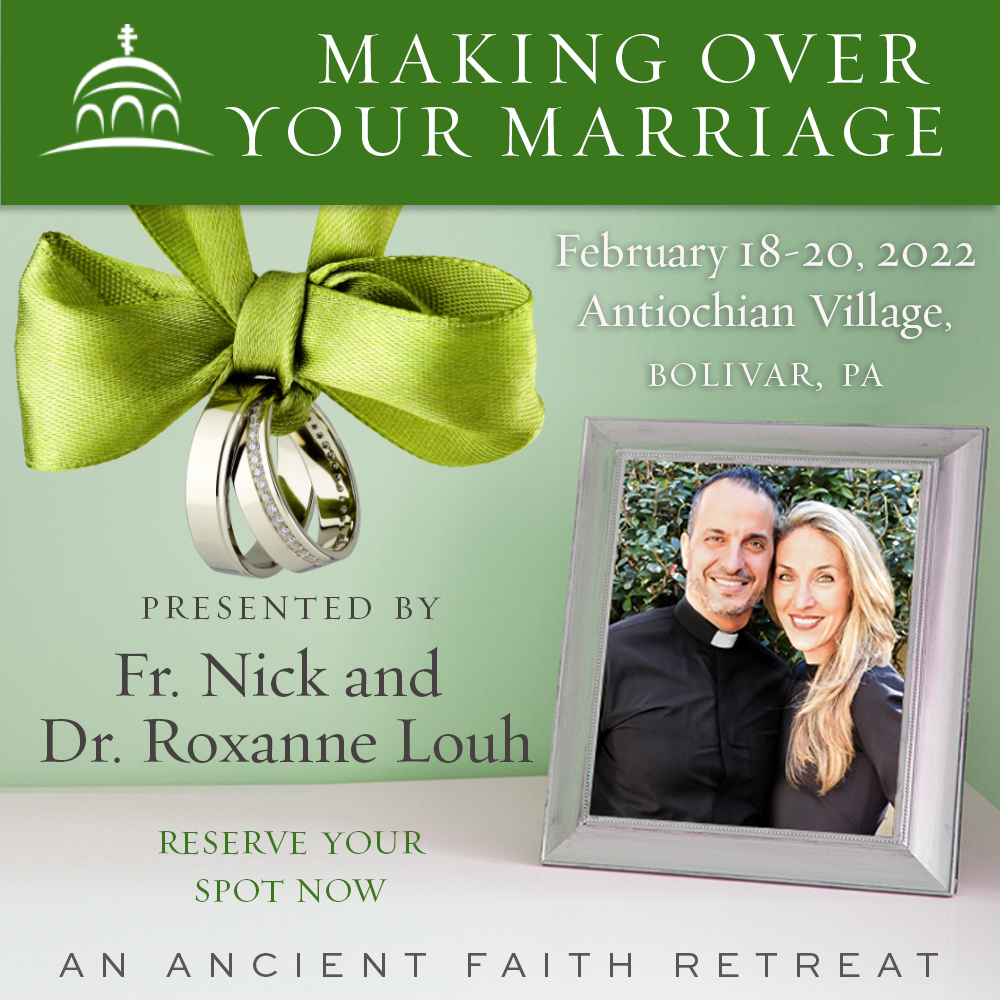 We are delighted to announce that registration is now open for the first in-person Ancient Faith marriage retreat! The retreat will take place February 18-20, 2022, at Antiochian Village Conference and Retreat Center in Bolivar, PA.
We have asked Rev. Dr. Nicholas and Dr. Roxanne Louh to lead our retreat, building on the theme of Making Over Your Marriage. When Christ came into this world, He never stood up and simply said, "I love you." He showed us by His actions that love is sacrificial, unconditional, and without blame or judgement. Through His example and the keys He provides to His purpose for us, we can cultivate the spiritual virtues we need to build a good marriage. Thus, we invite you to step away from your daily life for a weekend of learning, worship, and rest. Come prepared to understand and set aside obstacles, and to regain your inspiration to strive toward a blessed and joyful union in Christ.
A full schedule of sessions appears below, and questions may be directed to retreat coordinator Melinda Johnson at email hidden; JavaScript is required. Please note that no part of this event will be recorded, and sessions will NOT be available on air or for purchase after the event. You must attend in person to participate. Space is limited, and we strongly encourage you to register as soon as possible.
SCHEDULE
Friday, February 18
3:00 PM           Guest check-in begins
5:00 PM           Vespers (Sts. Peter and Paul Chapel)
6:30 PM           Dinner (The Cedars Dining Room)
8:00 PM           Session 1: Your Personality and Your Marriage 
Saturday, February 19
7:00 AM          Matins
8:00 AM          Breakfast
9:15 AM          Session 2: God's Blueprint for Lasting Love
10:30 AM        Break
10:45 AM        Session 3: God's Blueprint for Fighting Right
12:00 PM         Lunch
1:30 PM           Breakouts. Women with Dr. Roxanne and Men with Fr. Nick
3:00 PM           Couples time – no session, relax, nap, process, walk the prayer path, etc.
5:00 PM           Vespers (or supplication service at the grave of St. Raphael, weather permitting)
6:00 PM           Banquet Date Night – Get dressed up for each other!
7:30 PM           Wine, Cheese, and Renewing You – Book signing and social time with the Louhs
(Antiochian Village Bookstore and Lobby)
Sunday, February 20
8:00 AM          Matins
9:00 AM          Divine Liturgy
9:30 AM          First airport shuttle (leaves from the front desk)
11:00 AM        Brunch
12:00 PM         Guest checkout, last airport shuttle (leaves from the front desk)