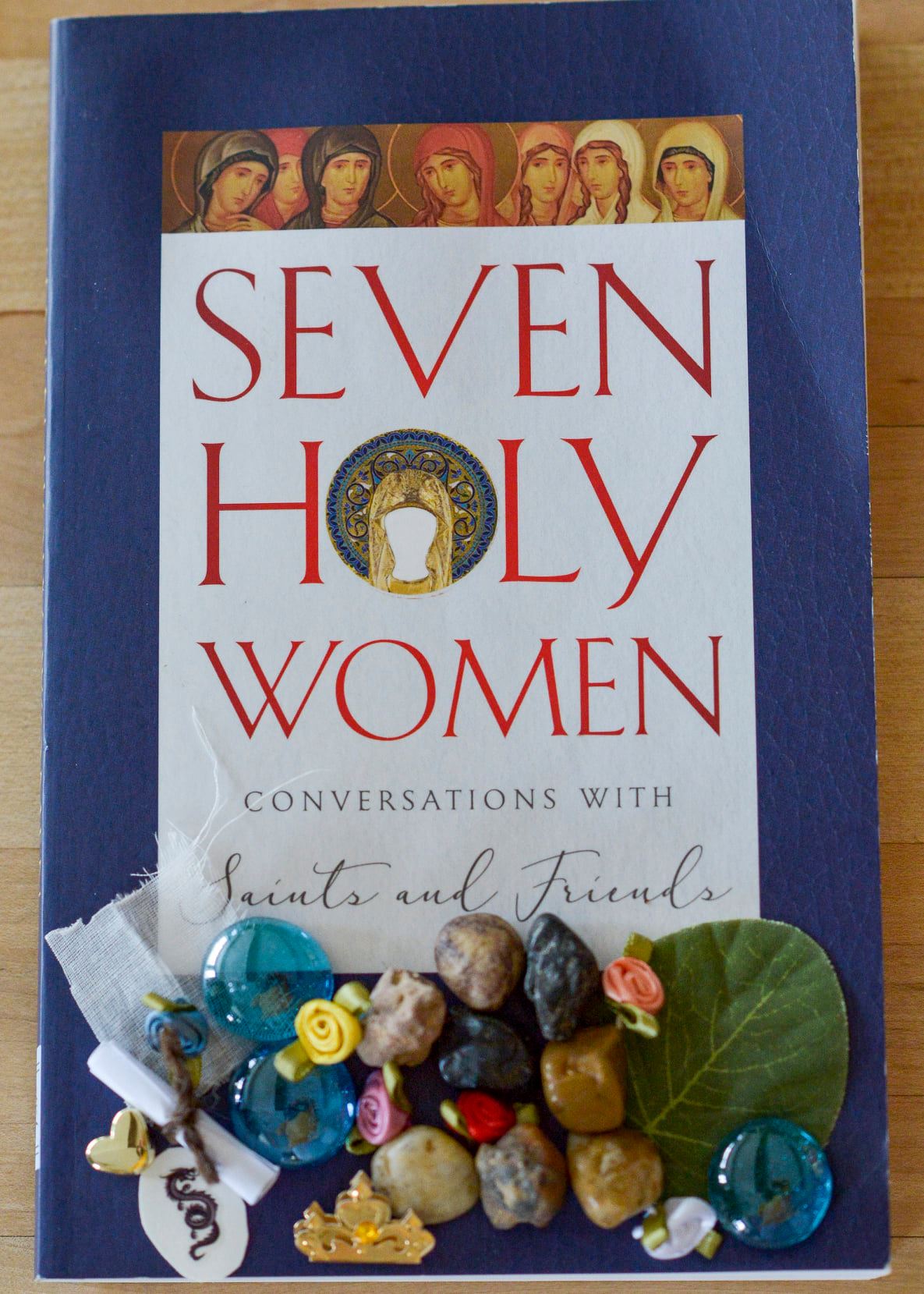 For the past three weeks a dozen women have gathered to read, journal and discuss our journey through Seven Holy Women: Conversations with Saints and Friends. Just as we were about to begin, an idea sprang up in my morning thoughts…
What if we filled a jar with small items that reminded us of each chapter? This jar would represent our "home"; we'd admire what's inside remembering each Saint (along with ourselves), and be encouraged to open and share with others.
Reading through the pages of Seven Holy Women brought to mind a gem of a book I read as a young girl, Hinds Feet in High Places, by Hannah Hurnard, an allegory where the main character, "Much Afraid," gathers stones from each place she stops. The motion of gathering has compelled me ever since reading that book, and more so as an Orthodox Christian woman reading Seven Holy Women. Our collection of beginnings and endings are perpetually in motion, we gather and we share, again and again. It is, as Molly Sabourin wrote in the chapter Leaf: Saint Ia, "being eternally minded." What's left is to do the next best thing…what does this place and time make possible? Often, it's to share, to encourage while loving (beginning with myself) along the way. We can only do what's in front of us, steadfastly living in the now-moments.
So, what can you gather to place into your "home" jar? That's up to you. What things remind you of Seven Holy Women?
Our jars are but examples, and can be filled with as much or as little as you'd like. I went with a small jar, something that could sit upon a window sill, at a computer desk, nestled as you rest on your nightstand, on your bath vanity as you brush your pearly whites, or tucked in your purse for safe keeping. Perhaps you're able to make a few extra and share with friends. There are no wrong or right ways to fill your "home" jar.
But this is what we did:
Saint Morwenna*: Stones (of course) to remind us to keep building ourselves and others up in the Kingdom of Heaven. We also added a small golden heart, to remain in permeable love.
Saint Kassiani: A gold crown (for not choosing the golden apple).
Saint Ia*: A leaf for Faith to grow with hopeful journeys in all that we surrender to God.
Saint Nino: A small scroll – for our calling, our dreams to be written down-to trust in God's will and not our understanding, patient in the fullness of His time.
Saint Piama*: A small piece of flax or linen to encourage us to be prayerful; fashioning our hearts to be stitched with love for ourselves and others. That our prayers "availeth much".
Saint Margaret: A dragon (sticker or small figurine) – to keep fighting this Good and Holy fight
Saint Casilda: Flowers, to gather and share for all mankind.
*we added (3) small blue beads since a few stories took place near the sea and St Piama's miracle with the river.