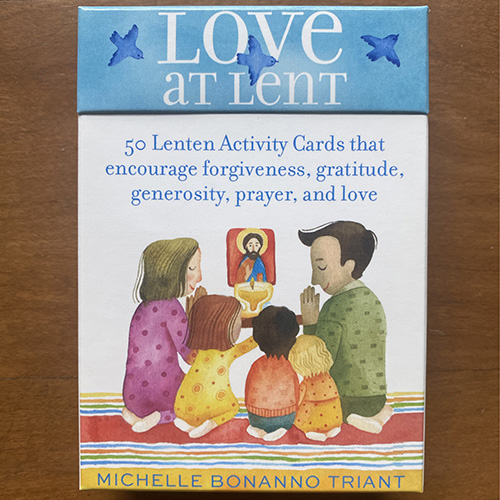 Available now for preorder is the perfect gift for your family this Lenten season: Love at Lent is a colorful box filled with activity cards to be drawn at random each day of Great Lent, designed to encourage kindness, humility, and mindfulness for the whole family during this special time in our faith. 
Orthodox Christians are asked to fast, pray, repent, and give as we prepare for the Resurrection of our Lord and Savior, Jesus Christ. It is the ultimate time of renewal and awareness.  
But how can we involve the younger members of our community, instilling in them the tenets of Lent–prayer, fasting, and almsgiving? How can we give them something positive and meaningful so they grow strong in their faith? Love at Lent is for our children, so they are invested, supported, inspired, and encouraged as they journey through this most important season.
What is the history behind Love at Lent?
I started Love at Lent three years ago when my eldest daughter was three and my youngest was a newborn. I felt my daughters were too young to fast, and too young to understand the meaning of Lent. I wanted to give them something they could do, every day, to signify the importance of this time. I wanted to find fun but impactful ways to teach them to love, to give, to think of others, to practice forgiveness, and to enjoy dedicated, intentional family time. I shared our tasks with family and friends, and was amazed and inspired by those who began practicing Love at Lent in their own homes.
Can't I just create my own?
Of course! But when I started this project three years ago, the feedback I received most often was that parents were just too busy and overwhelmed to create a box and fifty tasks. The published Love at Lent kit makes this project readily available and accessible to all.
Who can use Love at Lent?
Love at Lent is ideal for families, Sunday School programs, Church School classrooms, youth ministries, and as a gift from godparents, grandparents, family, and friends.
What is the ideal age group?
Any age will benefit from daily acts of love and kindness during Lent, but this box will appeal specifically to children ages 2-10. 
Do I have to be Orthodox to participate?
Absolutely not! Anyone who celebrates Lent will find this a worthy experience for their family. I have had many people write in to say they have used Love at Lent during their child's birthday month, as an idea similar to an Advent calendar leading up to Christmas, or whenever they feel they need to bring connection and focus back onto the family unit. Love at Lent is extremely adaptable to suit the specific needs of your family.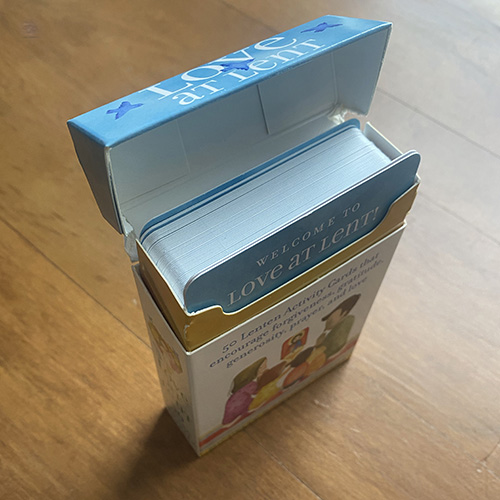 Can the tasks be done virtually during the pandemic? 
Love at Lent is IDEAL for this continued challenging time, as we seek the comfort and closeness of our loved ones and of our wider community. All of the tasks can be completed remotely. 
I'm busy and exhausted. Do we have to do these every day?
No way. This project should never be a burden. The tasks are very simple and certainly can be done every day, but every family should do what feels right. I recommend developing a routine for drawing your tasks so it feels consistent for your little ones and gives them something to look forward to. I've had some families draw their task once a week, and some only do this project during Holy Week.
Do I need to buy one for each child in my family?
No, the activities are designed for the family to complete as a unit. I do recommend writing down your experience in a journal or on the back of the cards, and saving them as keepsakes. It's fun to look back on your journey together. 
How would you recommend incorporating this into our Sunday School program?
There's no perfect way, but I've found a lot of teachers like to choose 3-4 tasks ahead of the lesson so that he or she may prepare any materials needed. Be sure to talk about why the tasks are important and the lessons to be taken from them. 
How can we order these for our homes and for our Church bookstores?
Visit www.loveatlent.com or go directly to the Ancient Faith Store to pre-order now! 
Life with young children is joyful and chaotic, and we can easily get caught up in our routine. Let a few precious moments of the day be spent with intent toward nurturing our relationships with one another and with God. This experience is for you, to make it as unique and exclusive as you wish. I am eternally grateful to you for joining me in sharing Love at Lent. Most of all, have a wonderful time learning and exploring! Please feel free to visit the Love at Lent website or on social media to share your family's adventure, engage with other families, and find additional samples and ideas. Blessed Lent to all.