Welcome to the first edition on this blog of the Ancient Faith Radio Monday newsletter! Subscribe to our email list to receive the weekly lineup in your inbox. We'll keep you posted on the live shows airing each week, as well as new podcasts and special events.
3 New Podcasts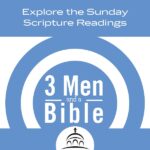 3 Men and a Bible: Exploring the Sunday Scripture Readings. Join Fr. Panagiotis Boznos, Nick Lionas, and Steven Christoforou for their weekly Orthodox Christian Bible Study. They're three friends who hang out every week and explore the Sunday Gospel and Epistle readings. LISTEN NOW.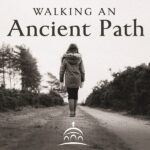 Walking an Ancient Path: Living and Learning Orthodox Christianity. Blogger, freelance editor, and regular gal-in-the-pews Lynnette Horner hosts Walking an Ancient Path: Living and Learning Orthodox Christianity. Episodes will explore the joys and struggles of prayer and worship, sacraments and everyday ascetic practices, and the cultural adjustments on the journey into Orthodoxy (whether taking first steps or traveling deeper into the Faith). LISTEN NOW.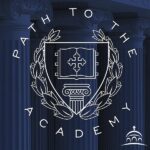 The Path to the Academy: Conversations on Orthodoxy and Education. Dr. Cyril Jenkins hosts a series of interviews with Orthodox educators and youth workers on what education is and why we need to spend time thinking about it. LISTEN NOW.
LIVE SHOWS
There are 4 live shows this week! Remember, you can hear our live shows on the Ancient Faith Radio app or on our website. During the show, call 1-855-AFRADIO (1-855-237-2346) with questions or comments. All programs are recorded. Listen to previous episodes at the links provided.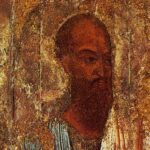 Search the Scriptures LIVE with Dr. Jeannie Constantinou. Monday, 8 PM ET/1 AM GMT. Tonight on Search the Scriptures LIVE, we will continue our study of Romans. Paul was free to communicate with the Church of Rome since it had no apostolic founder (he was "not building on another man's foundation"). But did the absence of an apostolic presence create a specific need that Paul felt called to fulfill for the Church of Rome? As we continue in chapter 1, we will encounter St. Paul's "thesis  statement" for this epistle: "For I am not ashamed of the gospel."  Why does Paul feel the need to begin his discussion with such a surprising statement? Were the Roman Christians ashamed of the gospel? And if so, why? Listen to previous episodes here.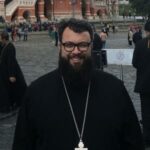 Ancient Faith Today LIVE with Fr. Tom Soroka. Tuesday, 9 PM ET/2 AM GMT. Fr. Thomas discusses Orthodoxy's role in addressing the rapid social and political changes in society with commentator and pastor Fr. Daniel Greeson. Listen to previous episodes here.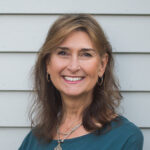 Everyday Orthodox with Elissa Bjeletich. Sunday, 7 PM ET/12 AM GMT. Live on Sunday, January 24 — meet Cynthia Damaskos! You have probably heard of her work at Holistic Christian Life and Filled with Less. Now get to know the woman behind these wonderful Orthodox whole health resources! Listen to previous episodes here.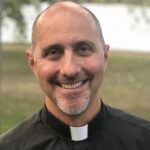 Orthodoxy Live with Fr. Evan Armatas. Sunday, 8 PM ET/1 AM GMT. Join listeners and guests from around the world for great conversation with Fr. Evan Armatas as he takes your questions about the Orthodox faith. Listen to previous episodes here.
Upcoming Event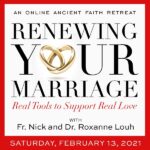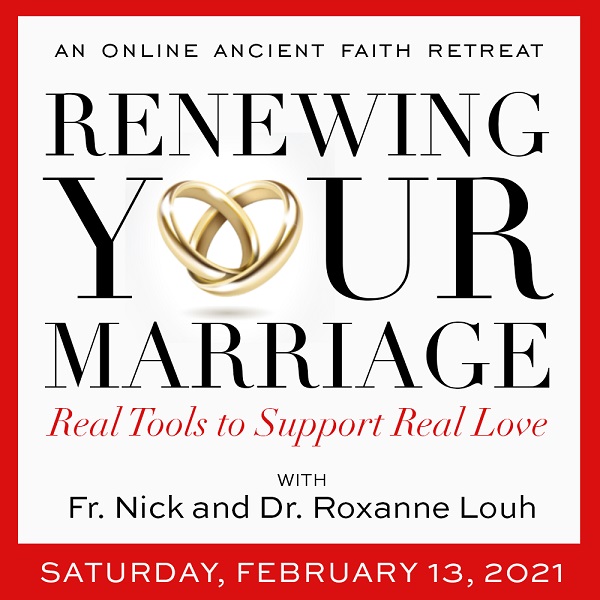 Marriage is hard work. Sometimes, it's harder than it needs to be because we don't have the right tools to help us in our struggles. Join Fr. Nick and Dr. Roxanne Louh for a life-giving online marriage retreat. Drawing on faith and psychology, the Louhs will help you understand what makes couples argue and how you can turn those hard times into strengths. As you learn more about the mind and heart of your marriage, you'll be more able to renew the love that forms the foundation of your relationship.
REGISTER NOW.