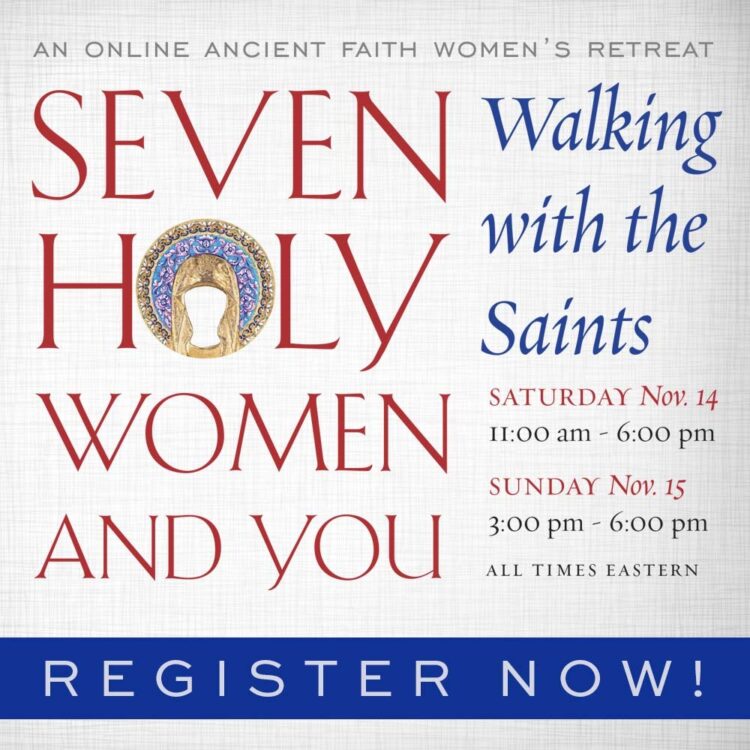 This year, the beloved Ancient Faith Women's Retreat is moving online for a special journey into the lives of seven women saints and the ways they foster our own spiritual identity. Created as both a deeply personal and enriching communal experience, our live, interactive webinar retreat will feature the writers of Seven Holy Women: Conversations with Saints and Friends. A copy of the book is complimentary with each registration package.
We are delighted to announce the full schedule for this online retreat, together with a complete list of speakers.
Saturday, November 14
Note: All times are given in Eastern Standard Time (GMT-4).
11:00 AM – Welcome (Melinda Johnson)
11:10 AM – First session: Stone – Laura Jansson
12:00 PM – Break
12:10 PM – Second session: Song – Georgia Briggs
1:00 PM – Lunch break
1:30 PM – Third session: Leaf – Molly Sabourin
2:20 PM – Break
2:30 PM – Fourth session: Dream – Anna Neill
3:20 PM – Afternoon break
4:00 PM – Fifth session: Dragon – Katherine Bolger Hyde
4:50 PM – Break
5:00 PM – Sixth session: Flower – Melissa Naasko
5:50 PM – Dinner break
7:00 – 9:00 PM – Evening social time (optional) – Summer Kinard and Melissa Naasko hosting
Sunday, November 15
3:00 PM – Seventh session: River – Summer Kinard
4:15 PM – Break
4:30 PM – Panel discussion (All speakers)
5:45 PM – Closing: Melinda Johnson
Haven't registered yet? Click HERE.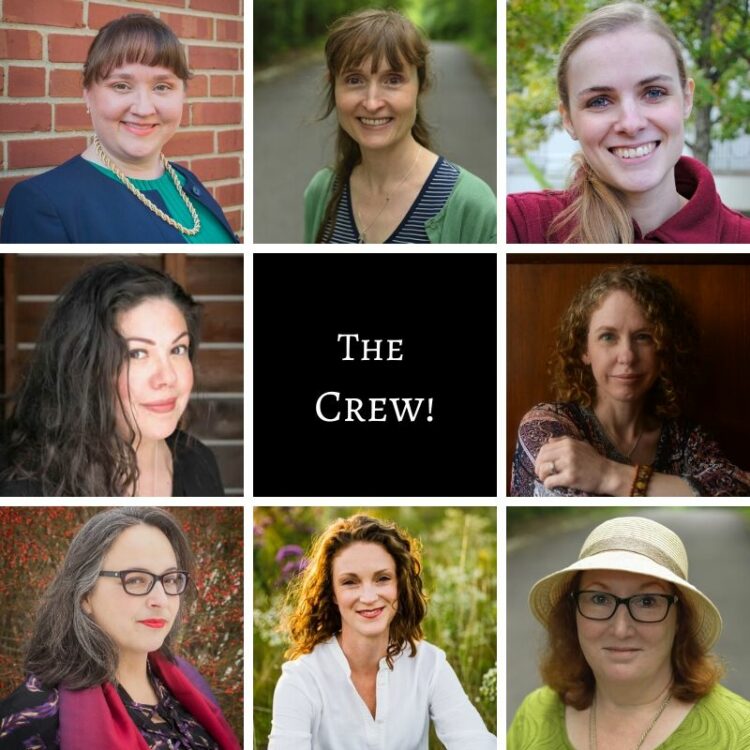 About the Speakers
Melinda Johnson
Melinda earned an MA in English literature from the College of William and Mary and a BA in English with minors in journalism and education from the University of Richmond. She is the author of Letters to Saint Lydia (Conciliar Press, 2010), The Other Side of the Bonfire (Lingua Sacra, 2012), Shepherding Sam (Ancient Faith Publishing, 2016), The Barn and the Book (AFP, 2018), Piggy in Heaven (Paraclete Press, 2019), and Painting Angels (AFP, 2020), along with numerous essays. She has led parish, regional, and national retreats for women, teen girls, and Orthodox writers and podcasters, and as the marketing director at Ancient Faith Ministries, she works with Orthodox creatives and researches Orthodox market trends and voices daily. Melinda is a wife, mother, daughter, sister, and friend, and she belongs to a corgi named Ferdinand.
Laura S. Jansson
Laura is a puddle-stomping, tea-brewing, pen-chewing, dough-punching Orthodox Christian. For the past decade and a half, Laura has been supporting growing families as a doula and childbirth educator and has attended scores of births. Her book, Fertile Ground: A Pilgrimage Through Pregnancy (AFP, 2019), is a spiritual guidebook for the journey to motherhood for women who want to spend their pregnancy growing in faith as well as in girth. Laura was born in California and has lived in Fiji, Germany, and Serbia. She holds an MA in theology and philosophy from Oxford University and currently resides in the UK with her husband, four children, and an elderly mutt who thinks he is still a puppy.
Georgia Briggs
Georgia Briggs grew up near Birmingham, Alabama, listening to her father tell stories stolen from Shakespeare, Bronte, and Orwell. After college, having failed to find Deeper Magic in a wardrobe, she stumbled upon it in the Orthodox Church. In 2016 she released the novel Icon, her first publication with Ancient Faith. Now Georgia divides her energies between her family, iconography, and writing. She enjoys singing in the choir at Saint Symeon Orthodox Church in Birmingham.
Molly Sabourin
Molly is a natural-light portrait photographer living in northwest Indiana, where she pours most of her energies into seizing each new day, being a supportive wife and mom, challenging herself artistically, and loving the person in front of her. When she's not behind her camera, Molly is a project manager for Holistic Christian Life and a freelance writer. Her work has been featured as both a podcast and blog on Ancient Faith Radio, and her book, Close to Home: One Orthodox Mother's Quest for Patience, Peace, and Perseverance, was published by Ancient Faith in 2008.
Anna Neill
Anna Neill is a historian, librarian, and artisan who works out her salvation within the mission parish of St. Raphael of Brooklyn (Antiochian) in Fuquay Varina, North Carolina. She earned her BA in history from Hollins University and her master's degree in library and information studies from Wayne State University. She writes for The Brown Dress Project, a blog exploring Orthodox women saints throughout the ages of the Church. Anna and her husband dress in handsewn costumes and participate in early American living-history events along the East Coast. Her favorite role is as godmama to a family of little boys who eagerly anticipate the new bag of library books she brings each week to Liturgy.
Summer Kinard
Summer Kinard is a Greek Orthodox Christian, mother of five autistic children, tea lover, classically trained soprano, and author of short stories, four novels, and curricula for active learners. Summer received her master of divinity (summa cum laude, 2003) and master of theology (2005) degrees from Duke University Divinity School. She writes about the practicalities of autistic and spiritual life on her websites and offers free downloads of prayer aids for Christians with communication challenges. Her book Of Such Is the Kingdom: A Practical Theology of Disability (AFP, 2019) draws together her study and experience to show how welcoming families with disabilities into the fullness of church life is vital to our salvation. Summer is grateful to be a witness to the transforming grace of God.
Katherine Bolger Hyde
Katherine Bolger Hyde serves as editorial director for Ancient Faith Publishing. Katherine is the author of the Crime with the Classics traditional mystery series for adults, as well as the young-adult fantasy The Dome-Singer of Falenda (Waystone Press, 2019) and the picture books Everything Tells Us about God (AFP, 2018) and Lucia, Saint of Light (AFP, 2009). Her third picture book, tentatively titled A Taste of Paradise: Stories of Saints and Animals, is due from AFP in 2021. Her own resident animals, two cats, tolerate the existence of far-from-sanctified Katherine and her husband in the redwood country of California. Katherine has four grown children and four grandchildren.
Melissa Elizabeth Naasko
Melissa Elizabeth Naasko is the wife of a priest attached to a ROCOR monastery. They have eleven children and a hobby farm and raise their own meat and dairy. Melissa writes and speaks on Orthodox fasting and parenting and is the author of Fasting as a Family (AFP, 2016). She is currently writing a personal memoir, Coming to Idyll Hands Farm, for Waystone Press.