When Seven Holy Women was just a gleam in the eye of Khouria Melinda Johnson, she gathered around her a group of seven not-especially-holy women and started doling out saints. Each one of us authors was to write about one of the venerable figures Melinda had identified; each one of the saints was a lover of Christ from another age, honored by Christians in both East and West – lesser-known and deserving of greater acclaim. Sure enough, I had never heard of Morwenna, who was entrusted to me.
Research was tricky. I found that little had been written of this fifth-century saint, but there was one book, written not by a fancy professor but by Maureen Wilson, also known as Mo: a retired school-teacher from London who had a holiday home in Cornwall, the land where Morwenna ministered. Once Mo's children had flown the nest, she had time to pursue a developing interest in her local saint, and in 2014 published her findings with a small press. Sadly, you won't find this book on Amazon; I had to send off to a Christian bookstore in a Cornish village for a copy.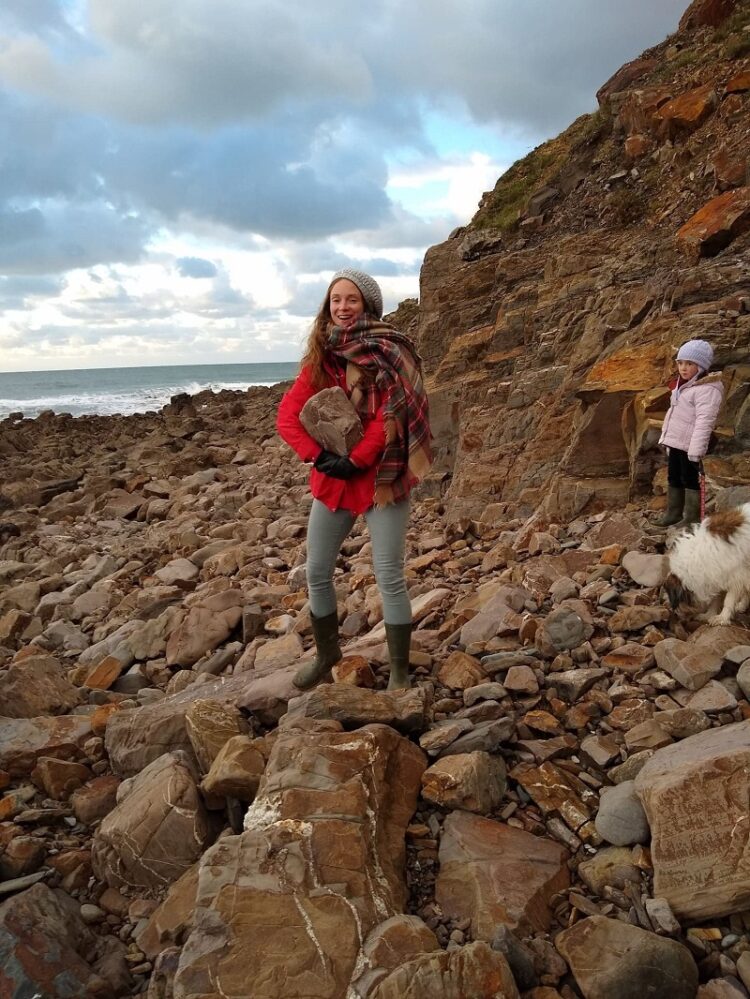 On the pages of Mo's book, Morwenna began to spring to life. I read it in one sitting; I turned down edges; I highlighted sections. My copy was dog-eared by the time it accompanied me on my Cornish pilgrimage, a four-hour drive from Oxford where I live to Morwenstow, the village named for Morwenna. Clutching Mo's book on the same windy cliffside which Morwenna had scaled, carrying stones to build the church that now stood at my back, I knew I would need to seek out the author who had come to know this saint so well. What had got her so fascinated by a saint most of us had never heard of? How had she developed such an affinity for Morwenna that she could interpret her life for others?
It was tricky to track Mo down, but eventually the storekeeper who had sold me her book put us in touch. Here is the conversation that ensued.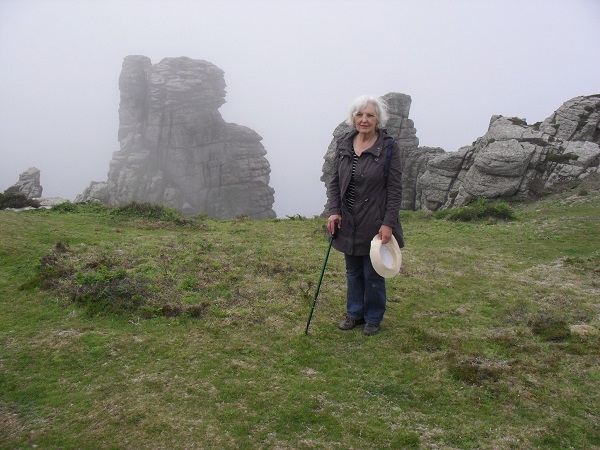 "It was Morwenna's calling to endorse, expand and strengthen Christianity, laying foundations for a more lasting and durable faith… Morwenna and her spiritual family appear to have achieved their goal by bringing a good proportion of southwest peninsula inhabitants to a firm Christian faith by the end of the sixth century… There is also no doubt that the area to which she dedicated her life remains influenced by her work to this present day."
– Maureen Wilson, in Unveiling Morwenna (2014, Quicksilver Publications) p10, 86, 90
Laura: St. Morwenna seems to have been a Welsh missionary to Cornwall. Where are you from?
Mo: I was born in London [in] January 1945, the daughter of a Londoner and Canadian GI who died four months after my birth in a car accident in Enschede, Holland. All my childhood and adult life I have lived in London, but thirty-three years ago my husband and I bought a cottage in Cornwall, the county we had come to love through earlier camping holidays with our two sons. The cottage is in the village of Kilkhampton, Cornwall, and has become our much loved second home.
Laura: Why do you love that part of England?
Mo: We love the scenery, the people and the Cornish way of life. Much of the scenery in Cornwall is rugged, with some beautiful rock formations, and natural water features. Even on a rainy windy day, you feel close to the spirit of the Creator who made the world.  Most of the genuine Cornish are descended from farmers, miners and fishermen, and have personalities that reflect the Christian teaching they have inherited from their church and chapel-going ancestors.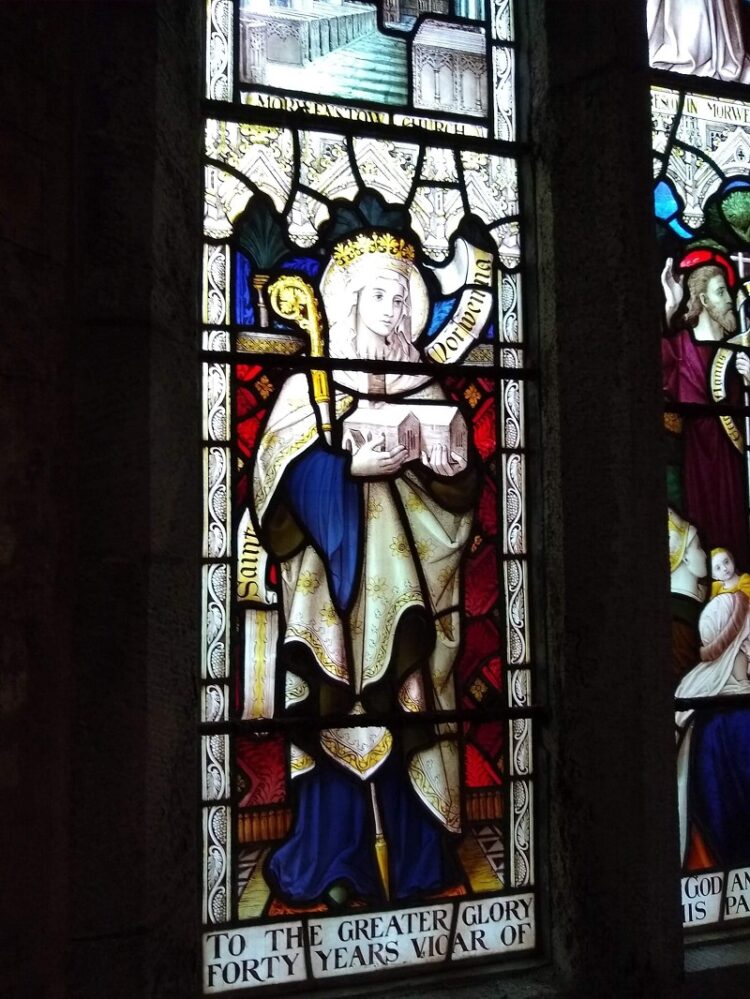 Laura: How did you first become aware of Morwenna?
Mo: The name Morwenna is found on several premises and businesses in the West Country, and several girls continue to be named after her. Recently there was a fictional young Cornish doctor's receptionist called Morwenna, featured in the TV series Doc Martin. [There is also a character from the BBC series Poldark, set in Cornwall, who shares this name. – Laura] It did not take long for me to realise that Morwenna has a place deep in the Cornish psyche.
Laura: What prompted you to commit time and effort to researching her life?
Mo: I am not a natural author and my literacy skills leave much to be desired, but being an art student in London in the 1960s I acquired a flair for getting down to the truth, and basics. When I retired from teaching, with my two sons off my hands, I needed something to get my teeth into, and researching the life of Morwenna was one of the projects I decided to pursue. To do this, I spent several enjoyable hours in the British Library, where Karl Marx once studied, before this library was renovated and moved. I was able to search out books there that had information relevant to the time, period and culture of Morwenna. I also set about finding local guide books and legends that referred to the saint to give some further background information for me to consider.
Laura: How would you summarise what you learned about St. Morwenna and her times?
Mo: I have learned that many of the myths and legends linked to saints seem to have had some actual foundation, for instance I believe the legend about Morwenna and some of her fellow female saints arriving to their mission field "floating across the sea on a leaf" refers to the Welsh herbs they brought with them to set up small herbal businesses to support their missionary work. Similarly some of the male saints arrived across the sea on a stone, indicating they brought materials and skills to support a stone masonry business for income. I was particularly surprised to learn how advanced and sophisticated the organisation and communication of these early Christian communities was – the training and evangelism was extremely well planned and directed. In my opinion, the churches of Britain today have retained little of the foresight and intelligence practised by their fifth and sixth century predecessors.
Laura: Is Morwenna a historical figure to you, or something more? You clearly surmised the circumstances surrounding her life. Have you also developed a sense for her as a person?
Mo: My impression of Morwenna is conjectural, based on my own experience of people with similar vocations today. I think she must have been very determined, someone who would not be put off by criticisms and other people's disparaging remarks. She must have had a good intellect to find resolutions for the many adversities, obstacles and hardships she faced in her missionary work. But I also think she must have had a sense of humour, and learned how to relax and recharge her emotional and spiritual batteries with friends that she took with her to her retreat in Marhamchurch. There is some evidence to suggest she went there for a break around about the time of her birthday.
Laura: What is it like to live in a place so imbued with Christian history, where saints walked?
Mo: I am very much at ease in Cornwall, and continue to admire the heritage left there by the saints. Unfortunately hospitals are far apart in this region and my husband now finds it difficult to get the medical support he needs on occasions; he is depending more and more on the treatment and transport he can access more easily in London, but even he enjoys returning as often as possible to the wooded valleys, ancient track-ways and rugged moors of Cornwall – and getting away from the hyperactivity and stress of the city.
Laura: Are there any other saints in whom you have a particular interest?
Mo: Any individual who contributed to the wealth of Christian faith left in this country is of interest to me, particularly the Celtic saints, but I am afraid much of my attention is now focussed on what I consider to be the misguided and often erroneous teaching and actions of many present-day Christian leaders and communities. The self-sacrificial, dedicated pastoral care from highly motivated saints such as Morwenna is hard to find these days (but then perhaps I am just getting old and negative!).
Laura: What lessons does St. Morwenna's life have for your own?
Mo: My faith is weak, and I fail in many areas of my Christian walk. I have been called a hypocrite, and unfortunately this is often correct, but if Morwenna has taught me anything it is that it is not me who matters anyway, but my continued effort to try and show others the relevance of Christ to their lives.
Seven Holy Women: Conversations with Saints and Friends, of which Laura is one of 8 co-authors, is available HERE. Laura is also a featured speaker at the Seven Holy Women and You: Walking with the Saints online women's retreat. Learn more HERE.