We're very excited to be hosting the relaunch of Ancient Faith Today LIVE beginning Tuesday, January 14, 2020 at 9:00 pm ET. We're working diligently to develop important topics and book interesting guests for our curious and informed listeners! Because it's a weekly live call-in show, everyone will have an opportunity to join the conversation.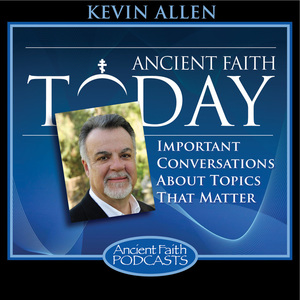 It's an honor to be picking up the mantle of our dear friend and colleague, Kevin Allen, who fell asleep in the Lord in August of 2018. Kevin's gifts and contributions were numerous. The first show he developed, beginning in 2007, was The Illumined Heart, a precursor to the call-in show, Ancient Faith Today, which began in 2012. Both shows demonstrated his skill as a trained journalist and his breadth of experience as a religious seeker for truth.
Kevin, always respectful and professional, asked questions of his guests that we wanted to know. He meticulously researched the topics of each episode, and they remain a highly valuable resource for seekers and believers. His own experience and curiosity leave us with a treasure of rich discussions on such varied topics as the finer points of Orthodox theology to the intersection of Christianity and politics. In all of it, Kevin's faith in the Lord Jesus Christ, as the summit of his own search for the knowledge and experience of God, was deeply evident.
In God's own wisdom, one might look back to see that Kevin himself was being prepared to bear the cross of ALS (Lou Gehrig's Disease) which progressively weakened his strong bass voice as well every muscle in his body. His faithful witness to Christ's victory over the sting of death became a silent testimony to his trust in God. The voice that we loved to hear, though silenced, is an enduring sound for which we will be forever grateful.
Join us on Tuesday, January 14 at 9:00 pm ET as we engage a challenging topic that was most important to Kevin: Orthodox Unity. We'll dedicate our first show to him and evaluate where we're at on this uniquely important subject. You can listen and join the conversation at https://www.ancientfaith.com/radio/live or via the Ancient Faith Radio app. You can record a question for us, send us an email at email hidden; JavaScript is required, or we encourage you to call in live at 1-800 AFRADIO (1-855-237-2346) during the show. You can also follow us at https://www.facebook.com/AncientFaithToday for the latest updates on the show, to post your own comments, and get news about upcoming shows and topics. We look forward to being with you every Tuesday at 9:00 pm ET!