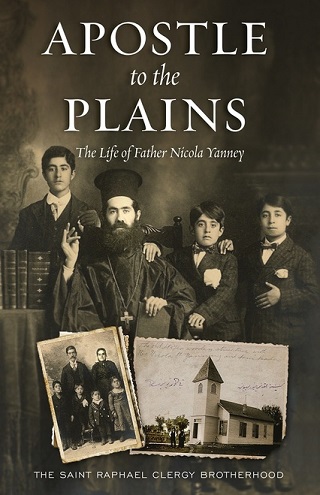 Do you want to read a story about how the Suez Canal, Asian silk production, and Ottoman persecution drove two Lebanese Orthodox Christian newlyweds to the Great Plains of America in 1892? How an immigrant couple with no knowledge of English who grew up with daily views of the Mediterranean arrived in Nebraska in midwinter? Or how they settled on lands that had witnessed the Battle of Massacre Canyon between the Sioux and the Pawnee only twenty years earlier, with Pawnee Sky Chief cut down by his Sioux enemy while cleaning a buffalo?
Then this is your book. In fact, aside from the interesting backdrop, I think every Orthodox Christian in North America would benefit from reading Apostle to the Plains: The Life of Father Nicola Yanney. Orthodox Christians who are descended from "ethnic" migrations will see echoes from their own family's experience in this book, and all Orthodox Christians will develop a further appreciation for the early struggles of immigrant Orthodox who built many of the parishes that now dot the American landscape.
Giving Up and Embracing
"Unlike the limestone homes of [Lebanon, the Yanney's sod house in Nebraska] was made from thick slabs of earth cut from the prairie … cool in the summer and warm in the winter. The inside, however, was cold and damp … when it rained, drops of mud fell from the ceiling." 
It is remarkable how much Nicola and Martha Yanney gave up to build a new life in America. Times in Lebanon were so tough that they and many other immigrants gave up so much – their native language, the Mediterranean climate, cultural traditions, and longstanding social networks.
The remarkable flip side to this was what the Yanneys embraced: living in a sod house, peddling wares for weeks at a time across the Plains, and sending their children to schools that were quite unlike the Balamand monastic community that offered schooling and that was a short walk from their native village.
The Yanneys' lifestyle change was profound. For weeks at a time, Nicola would leave his wife and growing family to peddle wares throughout the Midwest states, riding trains and walking across prairie and farmland in order to deliver and sell products. This was a time before the Sears Roebuck catalog really got going, with men like Nicola Yanney serving as the equivalent of today's next-day Amazon delivery service. In short: Nicola and his family's daily life was spent making a living and putting food on the table. Has anything really changed?
Yet while great change marked their new life in America, it is clear that there was one thing that Nicola was unwilling to give up from Lebanon: the spiritual practices and beliefs of his Orthodox Faith. Emblematic of this was the secondhand Arabic Bible that Nicola had picked up after their arrival in America. This book helped them maintain their Faith in the strange confines of their "soddy."
An Unexpected Visit in the Dead of the Night
"In the middle of the night, Nicola awoke startled. Outside, and coming closer, he heard the sounds of gunfire and shouting. He sprang from his bed and raced to the window. Beneath the full moon, he saw a crowd of men approaching their soddy."
Thus begins what is one of the more profound passages in the book, an experience that was spiritual in nature. To state any more than this would, I think, ruin one of the most beautiful parts of Apostle to the Plains – you have to read it for yourself. And yet, while Nicola and his family's experiences are an anachronistic tale to those of us living in an Internet-based world, there are many parallels.
Chief among these parallels is the experience that God sometimes seems distant to us. We all have felt this. In the Yanney family's case, they raised a family for seven years in the plains of Nebraska before they had the opportunity to baptize their children, have their confessions heard, or partake of Holy Communion. Today, it is a nearly unthinkable situation to have to endure.
Aside from the remarkable story of how the Yanneys were able to, after seven long years, once again resume a sacramental life in the Church, this book offers another unique item: a peek behind an icon. While most Orthodox Christians in America are familiar with the visage of St Raphael of Brooklyn on icons, Apostle to the Plains provides us details about St Raphael's personal interactions with his flock, both as archimandrite and bishop, including with the Yanneys. Through the pages of this book, we have the opportunity to see these figures as "real people" just like us, but whose lives were nothing less than heroic.
Priest as Heroic Figure
"Martha and Nour had not even been able to receive Holy Communion before they died, nor did they have a proper funeral. The promises that had enticed the young couple to America now seemed empty. Always a deeply religious man, Nicola realized that his pursuits in the New World had been fleeting and vain. A deep sadness gripped him as he struggled to keep his farm and his family afloat." 
The death of Nicola's wife Martha led to him accepting ordination to the priesthood, and thus began a remarkable missionary life across the Midwest, from the Dakotas to Wisconsin, from Minnesota to Colorado and Oklahoma.
For nearly 20 years after his ordination, Fr. Nicola traveled constantly throughout the Midwest, hearing confessions, presiding over Divine Services, and performing baptisms and weddings. Having suffered without priestly care for so many years, he understood the spiritual needs of Orthodox Christian immigrants who lived all over the Plains states. He did all this before the interstate highway system was introduced, traveling by train for months at a time while his boys remained at home, in school and at jobs, in Kearney, Nebraska.
I myself cringed when reading about his wintertime travels. He would travel by carriage in the North Dakota winters to serve Orthodox Christians in far-flung areas. Even Fr. Nicola's summertime travels must have been hard; a cross-country driving experience with my own family made me consider Fr. Nicola's efforts more deeply.
A few years ago, my wife and I were driving across South Dakota with our daughters when, to our astonishment, we noticed a supercell thunderstorm immediately to our north. As Easterners, we had no idea whether to panic or calm down, so we defaulted to what seemed our only option: outrun it. For 50 minutes, I drove 100 miles per hour with a death grip on the wheel buffeted by massive winds, the minivan silent with individual mental prayer. While the storm didn't turn into a tornado, it is something I kept recollecting when reading this book. In the Plains, there is nowhere to hide, but Fr. Nicola traveled incessantly.
On page after page, the authors and compilers of this book document the heroic deeds of Fr. Nicola to serve a flock that covered thousands and thousands of miles. To be truthful, at certain moments, his efforts almost became mundane in the telling. But isn't that much of life? Mundaneness is, for better or worse, what we seem called to do. Aside from this, Fr. Nicola's unusually heroic deeds have a parallel in the selfless service today of our priests – and their wives and families. If I could be so bold, I would call Fr. Nicola the "patron saint of priests" for his nearly inhuman efforts on behalf of his widespread flock.
Earthly Blessings vs Heavenly Rewards
"Father Nicola's sacrificial death was followed by the decline of his community and troubles in his family. The legacy of Fr. Nicola … is the legacy of martyrdom." 
Those seeking the message of the prosperity gospel will be disappointed with the ending of this book, which does not include a Disney-like resolution for Fr. Nicola, his family, or his community. Indeed, most people reading this book won't expect such a "result." And yet, when writing this review, I found myself personally incapable of addressing this aspect of the book even though, to me, it is a crucial part of the story.
While I am not a proponent of the prosperity gospel, the ending of this book forced me to confront an assumption that I didn't realize I had until now: that I have expected at least SOME kind of earthly blessings from this life. So, to me, while Fr. Nicola did experience domestic, family, and priestly happiness in his life, the martyric aspect of his life and his family's later struggles almost seemed to me to be unfair. I was, truly, at a loss for words to explain this. Sometimes, our life experience is not enough to understand or explain.
And then I read Presbytera Katherine Baker's recent article, "Is God Indifferent to Our Suffering?" Those familiar with Katherine's story know that her earthly challenges make many of our own pale in comparison: losing her beloved priest-husband in a car crash, with six young children to care for. In this article, she tells us about a car trip with her children that helped me understand the relation between God's seeming indifference to our earthly suffering and His love for us. Or, as she quotes the Apostle Paul: "The sufferings of this present time are not worthy to be compared with the glory which shall be revealed in us." (Romans 8:18). Her words suffice where mine fail.
So, I ask the reader to read Katherine's short but powerful essay which, after reading Apostle to the Plains, explains better than my own words ever could the ultimate meaning behind Fr. Nicola Yanney's heroic and sacrificial life on the Great Plains of America. His earthly life and deeds are still apparent today and should inspire generations of Orthodox Christians to come.