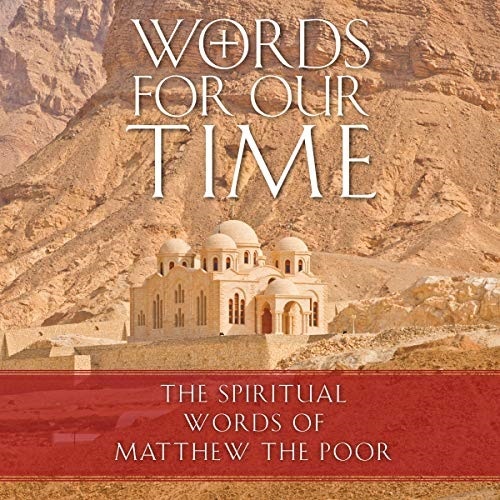 An Orthodox priest once told me, "Finding Orthodoxy is the easy part. The hard part comes when you begin to learn the depth of what our faith means.  Each time you step into the next level of relationship with Christ, you will see a new and greater depth which you must traverse to continue the journey."
Reading and listening to Words for Our Time: The Spiritual Words of Matthew the Poor has come to me at a great juncture in my walk with Christ.  In a time where life and wisdom has been diluted to a soundbite or meme, it is wholly refreshing to be in the presence of Matthew the Poor's words of peace.
Each chapter's topic is expressed in entirety with understanding, compassion, and conviction.  It's as if a master chef has sat down at the kitchen table to teach a toddler how to butter toast. Not with airs or condescension, but instead with joy that this sacred start be passed on to the next generation.  Matthew the Poor's love for humanity and his convictions about God are expressed deeply through his words.  He yearns for us to embrace the love Christ has for us. The peace beyond understanding flowing from our relationship with Christ became palpable.  And, for the first time in my life, I understand how self-denial and turning our passions to Him helps mold our faith in Christ.
At one point, this book began to scare me. Words of Our Time quickly exposed the discrepancy between where I am in my relationship with Christ versus where I could be. It gave me an opportunity to see what faith is without the walls of the church house to hold it together, without the confines of liturgy and vespers. Instead, it places you in a sunrise chat with a church father where he gives you enough spiritual fodder to chew on well past the sunset of the day.
Listening to this book was like sitting with someone who does not hide his flaws, but instead lays them at the feet of our God in order to step closer and closer to His image.  In a world where popular culture rules more and more of our lives, Matthew the Poor's words are juxtaposed, sitting quietly at the forefront of a monastery sharing the simple love of Christ with all who care to sit a spell and ask a question.
As I continued to listen to this audiobook, the spiritual walk ahead of me was no longer scary.  Instead, I felt the strong desire to just take the next steps God directs me to take with full knowledge that it may not be easy, but I am never alone.
This book lives up to its name, Words for Our Time, authored by someone who is close enough to our present day to understand the shoes we walk in. The depth of Matthew the Poor's biblical knowledge is astounding.
The audiobook has a great sound quality and the reader, Kristina Wenger, has a pleasant voice.  She is easily understood at up to 2x's. Though with this manuscript, I found the material to be too deep to fully appreciate at the higher speeds.