On November 14-17, we will joyfully gather at Antiochian Village for the second annual Ancient Faith Women's Retreat! This event sold out several times over when it debuted last year, and we're nearing 70 guests already this year. If you have not yet purchased your ticket (or want more information), click HERE.
We are delighted to welcome four wonderful women as our speakers and leaders: Mother Christophora, Pres. Dr. Jeannie Constantinou, Pres. Dr. Roxanne Louh, and Molly Sabourin. In addition, the retreat will be hosted by Melinda Johnson on behalf of Ancient Faith Ministries.
What will our speakers be talking about this year? Keep reading and find out!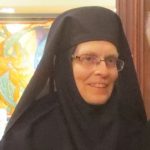 Mother Christophora. Women Disciples of Christ in the 21st Century.
Among the women who followed Christ during His public ministry were the Myrrh-Bearing Women. During the Paschal season, we sing about them in hymns such as this: "The women who had run to His tomb with good intentions knew that the purpose of their group would be changed. 'No longer will you carry myrrh! Instead, you will preach to the apostles: He Who was hidden in the earth is risen from hell! Initiate them into the mystery of Him Who became Man for us!'" How do our lives change as we follow Christ? Has your mission changed over the years as you have become more faithful in your dedication to Christ and His Church? What are particular challenges in following Christ as a woman of the 21st century?
Mother Christophora has served as abbess of the Orthodox Monastery of the Transfiguration in Ellwood City, PA for over 30 years. She has done extensive speaking throughout North America at retreats and conferences. As the abbess of the monastery, she is responsible for the administration and spiritual direction of the community of 10 nuns and its offering of daily prayer, hospitality, and public outreach. Before becoming a monastic at age 29, she worked as a counselor and program administrator in the addictions field.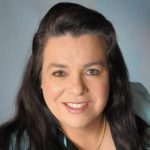 Jeannie Constantinou: Thinking Orthodox.
What does it mean to have an Orthodox "phronema," that is, to "think Orthodox"? Why does it even matter? This presentation will discuss why an Orthodox "phronema" is important to our salvation and how we can be Orthodox inwardly rather than simply adopting outward behaviors. We will investigate how the Orthodox mind differs from a Western Christian mind and from the mind of "the world," and we will discuss some practical advice for acquiring a specifically Orthodox mentality.
Dr. Eugenia Constantinou holds several degrees in theology including Master of Theology degrees from Holy Cross Greek Orthodox School of Theology and Harvard Divinity School, and a Ph.D. from Université Laval where she specialized in the Apocalypse in the ancient Church. For twenty years she has taught theology and biblical studies at four graduate schools of theology, including Holy Cross and the Patriarch Athenagoras Orthodox Institute, and on the undergraduate level at the University of San Diego, and she has been a regular speaker at retreats and conferences for over forty years. Her long running podcast, "Search the Scriptures," on Ancient Faith Radio has an international following, and last year, she began a live Bible study podcast, Search the Scriptures LIVE!, on Monday nights at 5 PM Pacific/8 PM Eastern. Her most recent book is Thinking Orthodox: The Orthodox Mind and Methodology (coming from Ancient Faith Publishing Fall 2019).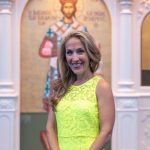 Pres. Dr. Roxanne Louh. Inner Voices, Inner Guide: Your Thoughts and Your Faith.
Pres. Roxanne will speak to the practical aspects of implementing our faith in daily life, such as listening to the voices within that guide us and applying Christ to that process so that our faith becomes what guides the thoughts and choices we make.
Dr. Louh is a licensed psychologist in private practice in Jacksonville, Florida, where she lives with her husband, Fr. Nicholas Louh, and their children. She is a published blogger for Family Life Ministry, co-host of the live Healthy Minds Healthy Souls program on Ancient Faith Radio, and a television and film guest expert on various topics.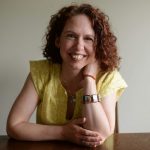 Molly Sabourin. Filled with Less.
Molly's workshop will explore the lessons she has learned on her journey toward minimalization, more specifically, the decluttering of her home, her habits, and her heart. She will discuss what the Church can teach us and how she can help us move from aimless consumption to intentional simplicity, productivity, and peace.
Molly Sabourin is an author and blogger for Ancient Faith Ministries. She is also a portrait photographer and the co-founder of "Filled with Less," a movement promoting simplicity, intentionality, and transcendence. She is a mother of four and attends St. Elizabeth Orthodox Church in Chesterton, IN.
We look forward to spending quiet, fruitful time with you at the start of the Nativity Fast, learning from these four women and from all of you as we enjoy fellowship, worship, and peace.
See you in November!