We asked Nikki Johnson, mother of two, to review our new release, A Child's Guide to Confession. We're delighted to share her thoughtful response.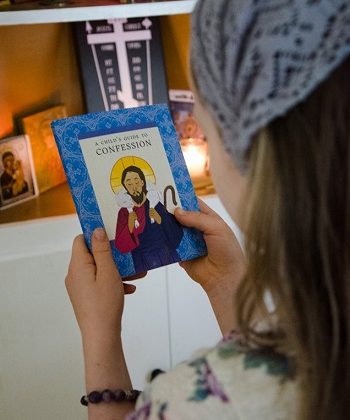 There are already a few reviews out there that do a great job of describing the contents of A Child's Guide to Confession, but I will add a few personal reflections from practical use. I have two children in the target age for this guide, and we put it to practical use almost immediately upon receiving the book, as one of my kids had a confession scheduled a few days afterwards. Since then, both kids and I have spent some time with it.
My kids especially appreciated the self-examination questions, which help with introspection and examination of conscience and focus first on love and our failures to love perfectly, rather than on sin. My son said that every question it asked could be asked of himself, and doing that made him think of sins to confess. That's precisely what it is meant to do. In short, it gets the child to the same place as some of the more traditional approaches that go in detail through the Ten Commandments or the seven deadly sins, but in a more gentle way.
My kids have also enjoyed the selection of prayers and Psalms. I know that at one point when one of my kids was struggling with feeling badly about having done something, I suggested that the child pick a prayer from that book to pray before going on with the day, and that's what we did. It makes a nice addition to our collection of prayer and sacramental aids for kids.
As a parent, I was grateful to find the shift in focus in a book that is useful for our youngest kids going to confession, because the traditional guides, which appropriately explore the entire range of human depravity, cover some ground that I don't think most of our younger kids need to cover quite yet in any detail. When a child is old enough to need to start worrying about the uglier details of some of the Ten Commandments, they may be ready for one of the more traditional guides, and might even find that this book feels a little too cute for their more sophisticated tastes! I think the transition will happen quite naturally for most families, and that a lot of adults (with less investment in feeling grown up in their older age!) will enjoy using the book, too.
I was also glad for the opportunity this book gave me to be able to give more of the preparation process over to my kids themselves, because the more their confession is their own and not a result of my prodding or asking leading questions myself, the better! The child who had prepared with the book without my help was well-prepared, so we have a winner!
The pages are thick and glossy, and the illustrations are lovely. My one concern is that the binding is stiff enough that the pages want to stay shut, which means that little hands may want to force it open. That will probably change with use, and I will be curious to see how well the binding holds up to wear. In the weeks we have spent with it, however, I find it to be altogether lovely!
A Child's Guide to Confession is available from the Ancient Faith Store.