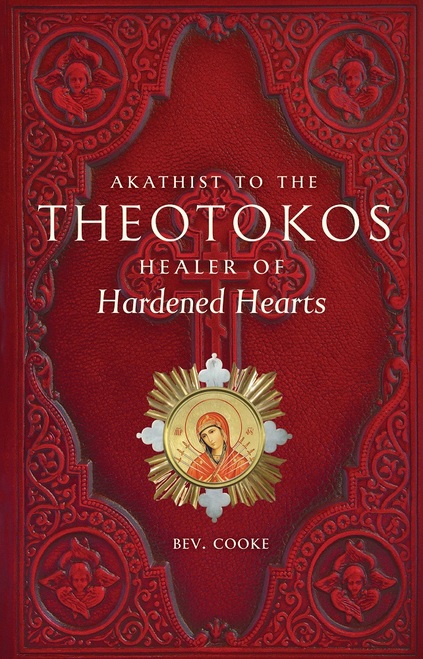 There are already Akathists out there that deal with the topic of hard and evil hearts. What made you decide to write one of your own?
About ten years ago, our parish was just about destroyed, and I, along with the rest of the community, was badly wounded by what happened. As collateral damage, my oldest friendship was irreparably broken. I was angry, bitter and hurting, and a friend suggested I pray one of those Akathists. The problem was, though, that the Akathist I found was poorly translated and I had a lot of trouble with the way it was structured. Every time I tried to pray it, I ended up wanting to edit it and rewrite it. So, eventually, I sat down and started writing one of my own.
That was 10 years ago – what took you so long to get it finished?
I had to write it three or four times, each time healing somewhat from my own hardened, bitter heart and getting closer to what I wanted to say in it. I knew that until I did heal, I wouldn't be able to forgive the people who had hurt me and my brothers and sisters in our parish, that I was damaging my relationship with God. I knew that I couldn't grow spiritually until I had dealt with the emotions and wounding that had happened. So each draft helped to get me closer to a place of forgiveness and peace.
What were your sources for the Akathist?
The Gospels, of course, but I also read and reread the Protoevangelium of James, for the parts of Mary's life before she had Jesus. I read a number of books about her – The Harp of Glory; On the Mother of God; Mary, the Untrodden Portal of God; Orthodox Feasts of Jesus Christ and the Virgin Mary, and Mary the Mother of God, which is a collection of sermons by St. Gregory Palamas. I also found Jaroslav Pelikan's Mary through the Centuries and Frederica Mathewes-Green's The Lost Gospel of Mary very helpful and insightful.
Why did you write it to the Theotokos?
I've always revered the Lady Theotokos Mary because of her loving heart and her amazing courage. The Akathist I tried to pray talked about the events of Jesus's life, but not from Mary's point of view. Many of the Ikos and the Kontakion didn't even mention her, they just paraphrased the Gospels. I thought that was a shame because Mary had an immensely hard life that took an amazing amount of courage to live. She could have ended up a bitter, angry, and resentful old woman, but she didn't. Her heart was tender and open to God's love all through her life.
Think about it – Mary was effectively abandoned by her parents at three years of age. We know she was well looked after, and loved by the temple people, but at three, how would she feel, being dropped at the temple, and her parents just walking away? She could have been seriously damaged, but she wasn't – she danced for joy on the steps.
Then Joseph rejected her – he didn't want to marry her because of the gossip and mockery he felt he'd experience – an old man marrying a teen-age girl! He wanted to put her away when she became pregnant. And the gossip and scandal that must have occurred through the whole time she was carrying her son: that would hurt anyone.
Then, after Jesus' birth – wow! To be told that a sword will pierce your heart because of your son, and he's not even a month old! I wanted to show people how it might have seemed from her perspective: seeing Jesus mocked by the townspeople he'd lived among as a child and young man, the horror and pain of watching him be arrested, tortured, and killed: standing there all day long, watching him die, slowly and painfully, and to see a soldier stick a spear into him at the end! How could anyone survive that, and not be permanently broken? Especially when she didn't know, as we do, what would happen on the third day. Her son dies, and it's all been a waste. But she didn't think that. She trusted in God and kept her heart open and loving. She experienced things that we all have, abandonment, betrayal, death of the ones who hold our hearts, but she forgave and loved and served those who hurt her.
But how can she understand our own hearts, if hers was never hard?
We don't know that she didn't struggle with bitterness and anger and loss of hope. She was fully human, and fallen, just like us. The difference was that God had her in his mind from forever, and she knew his love the way we are supposed to, the way we're meant to – so I'm sure she had her moments, but she could overcome those times and keep loving, keep trusting, and allow her heart to be wounded, over and over and over again, because she knew God had it all in hand, and she trusted His love for her. Mary can understand because she's experienced those hurts, those betrayals, those swords in her soul, and she loves us with a mother's love. A mother who wants us to know and experience God's love the way she always did.
The Akathist to the Most Holy Theotokos, Healer of Hardened Hearts is available from Ancient Faith Publishing.