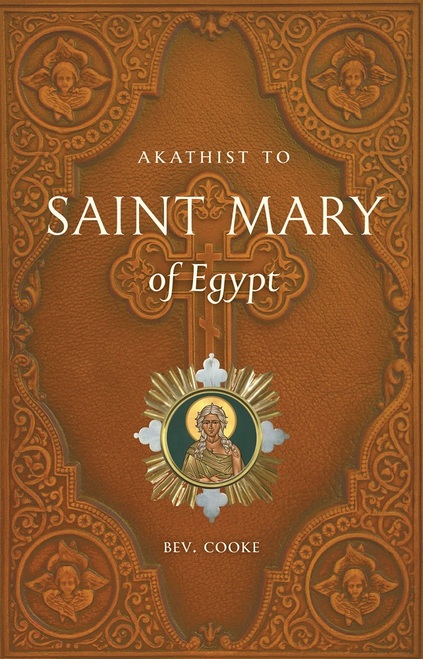 St. Mary of Egypt is one of the most important saints on the calendar – so important she gets an entire Sunday in Lent dedicated to her, in addition to her feast day of April 1. She's a major part of the Canon of Repentance that's said at the beginning and ending of Lent. So why write an Akathist to her, since we already have so much about her?
Around the turn of the century, over 70 drug addicts and prostitutes disappeared from the downtown eastside of Vancouver, a city near where I live. Something in the news stories about the disappearances caught my eye, and I found a web site that named all the women and had information about them from their families and friends.
It was a site that tried to show them as people. Human beings with friends and families. People, women mostly, who ended up selling their bodies as a last resort, a way to support their habit or a place they ended up because they had no good choices and no good options. They came from all walks of life and ethnicities. They were housewives from the upper-middle-class suburbs, daughters from middle-class homes, women and girls from poor homes, abused girls who had nothing but bad choices in front of them. They all were loved and missed by someone. They weighed on my mind and heart.
I began praying for them, but simply saying "Lord have mercy" wasn't enough, and I thought about praying an Akathist to someone for them – and who better than a woman who had run away from home at 12 to work the streets before God caught her and saved her? The problem was that I couldn't find one to her and even my bishop wasn't aware of any that existed. So he gave me a blessing/obedience to write an Akathist to St. Mary of Egypt. I finished it, he approved it, and it was first published by Alexander Press in 2011.
Do we know what happened to these women?
Not all of them. Some of them changed their names, moved away, and started a new, better life. But 49 of them were killed by one man. The RCMP (Canadian police) found the DNA of 46 of them on a farm not far from Vancouver. The owner of the farm was arrested and found guilty of the murder of 20 of them. The charges for the other 26 were stayed. He was sentenced to life in prison (Canada does not have the death penalty) with no possibility of parole for 25 years – the longest sentence for murder in Canadian history. Before his trial, he confessed in prison to an undercover police officer to the murder of 49 women, all sex trade workers.
How did Ancient Faith come to publish the Akathist?
It went out of print, and I think the publisher has retired. I noticed that Ancient Faith was getting into the edges of liturgical publishing, and talked to them about Akathists back at the first Ancient Faith conference in 2016. I was looking the Akathist over for possible revisions, and getting the permissions from Alexander Press to submit it to Ancient Faith when the #metoo movement exploded, and I realized that this Akathist and this saint were perfectly suited to victims of sexual assault, and repentant predators, too.
How can that be? St. Mary was a prostitute, but was she a victim of sexual abuse, too?
You could make an argument that prostitution is, by definition, sexual abuse, but it was more than that. St. Mary left home at 12, specifically to go to Alexandria to sell her body on the streets. She gave away her favors for seventeen years. Somebody from a loving and safe home doesn't do that, so I suspect that she was sexually abused before she ran away. Like a lot of the women from the downtown eastside, she had only a set of bad choices in front of her. And by her own admission, she forced young men to her will, even when they tried to resist her. So she knows that kind of abuse from both sides.
Why her? Why now?
Mary knows, I think, better than anyone, what it feels like to be subjected to sexual assault and abuse, whether it's as a child and teenager, or by forcing someone to your will, whether they want it or not. She says she was consumed by lust, and I often wonder if deep inside herself, she felt forced into it by that demon. Not so much by whoever in her family may have hurt her, or the men in Alexandria and on the ship who used her, but by the drive of the lust.
She knows what it's like, not just from the victim's point of view, but from having forced men into sex with her, much as many women are forced or coerced into sex by men they know and trusted. She's been a victim, and a predator.
The problem is huge, as we've learned from the #metoo movement. It's happened, not just to scores of women, or hundreds, or even thousands. It's happened to millions of women, and it's happened to men. The damage done by sexual abuse and assault is horrendous, and a lot of times, it's never healed, because it's kept a deep, dark secret. Often victims just can't bring themselves to talk about it. Mary knows about that, and understands it. She can pray to God as someone who has been through what these victims have, and knows it all, first hand. She can love and understand the victims and the abusers as no one else except God can.
The Akathist to St. Mary of Egypt is available from Ancient Faith Publishing here.