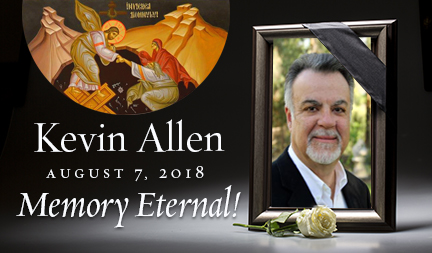 With sadness and in the hope of the resurrection, we honor the repose and remember the life of our dear friend, Kevin Allen. Kevin was born on December 11, 1949 and reposed on August 7, 2018. He served faithfully as a board member of Ancient Faith Ministries as well as a member of St. Barnabas Antiochian Orthodox Church in Costa Mesa, CA. He is best known for his outstanding content on Ancient Faith Radio.
Many of you have read the story of his illness and attendant spiritual journey and have stayed in touch with him, in person, online, and in your hearts. We know that your company was always precious to him and to his family. Please join us now in offering the Orthodox prayers for the newly reposed on his behalf.
O God of spirits and of all flesh, Who hast trampled down death and overthrown the Devil, and given life to Thy world, do Thou, the same Lord, give rest to the souls of Thy departed servants in a place of brightness, a place of refreshment, a place of repose, where all sickness, sighing, and sorrow have fled away. Pardon every transgression which they have committed, whether by word or deed or thought. For Thou art a good God and lovest mankind; because there is no man who lives yet does not sin, for Thou only art without sin, Thy righteousness is to all eternity, and Thy word is truth.

For Thou are the Resurrection, the Life, and the Repose of Thy servants who have fallen asleep, O Christ our God, and unto Thee we ascribe glory, together with Thy Father, who is from everlasting, and Thine all-holy, good, and life-creating Spirit, now and ever unto ages of ages. Amen.
Apart from the wonderful gift of his friendship and perspective, Kevin Allen also brought his considerable talents as a program host to Ancient Faith Radio. In many respects, he may be considered the father of Orthodox live radio programs, and our experience with Kevin inspired us to grow our live show lineup.
May his memory be eternal.