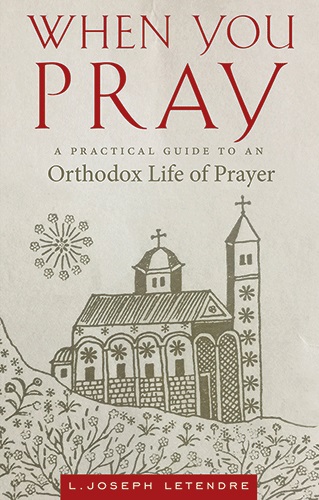 Sometimes, the most powerful and effective books are the ones that are short, simple, and full of practical ideas. Examples such as Tito Colliander's The Way of the Ascetics and Metropolitan Anthony Bloom's Beginning to Pray are compact, portable, and filled with encouraging suggestions for ways to make small but meaningful life changes.
When You Pray: A Practical Guide to an Orthodox Life of Prayer – a new book by author L. Joseph Entendre – is no exception. Originally a series of talks on prayer given to members of the St. Moses the Ethiopian Community (a group of incarcerated Orthodox Christians at Indiana State Prison), the book serves as a practical guide to prayer that can be applied by anyone in the Church, from the neophyte inquirer to long-time Orthodox believers. At 65 pages, the book does not focus on extensive personal stories, but instead breaks down its thought on prayer into a set of short but attention-grabbing chapters. The brevity of the chapters is an asset, not only for the reader, but also for anyone who is looking to help others learn how to pray.
In keeping with the brief nature of the book itself, the lessons throughout When You Pray focus on simplicity, particularly in prayer. One of the core principles throughout the book can be best summed up in a sentence from Chapter 5: "Pray as you can, not as you want; do fewer things better." Readers are encouraged to go slowly, rather than diving into hundreds of Jesus Prayers or kathismas, and the text is clear in its focus: pray frequently and consistently, but do not overdo it. This message is well-stated, and is one of the book's best takeaways.
In another section, "Pray Frequently," Letendre asks readers to focus on thinking of "a short, simple prayer we can use at any time, at any place, and in any circumstance." By thinking of multiple types of prayer, including short Gospel and Psalm verses, moments of saying grace, and the Jesus Prayer, the book seeks to expand the reader's view of prayer, creating a stronger toolkit to be used in everyday practice. The book is such that it – like the prayers that it promotes readers to engage in – can be used at any time, any place, and in any circumstance. Perfect for a backpack, desk, or travel bag, When You Pray is easily transported, accessed, and utilized in any Orthodox home or setting.