Ancient Faith Ministries is blessed with an excellent board of directors. They bring diverse and relevant expertise, deep conviction, and unfailing support to our ministry, and we are thankful for their wise counsel and friendship. Many of our readers and listeners do not know who serves on our board, although you'll see familiar names here, so today we have the pleasure of introducing our Board of Directors to you!
Dn. Michael Hyatt – Chairman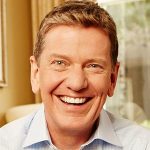 Dn. Michael is the Founder and CEO of Michael Hyatt & Company, an online leadership development company dedicated to helping high achievers win at work and succeed at life. Formerly the CEO of Thomas Nelson Publishers, Dn. Michael is also the New York Times bestselling author of Platform: Get Noticed in a Noisy World and the co-author of Living Forward: A Proven Plan to Stop Drifting and Get the Life You Want. He serves as a Deacon at St. Ignatius Orthodox Church in Franklin, TN. He and his wife of 38 years, Gail, have five daughters and eight grandchildren.
Dn. Tom Braun
Dn. Tom is the owner of a civil engineering company in southern California and a financial seminar speaker. He is also the son of Fr. Jon Braun, one of the Campus Crusade evangelicals who came to Orthodoxy in the 70s. His wife Wendy is a choir member and chanter at St. Barnabas Orthodox Church in Costa Mesa. They have three children.
Dennis Awad
Dennis is the owner and President of Zack Electronics INC., a leading supplier of Audio/ Video/ Broadcast products in southern California. Dennis and his wife Angela are members of St. Nicholas Antiochian Orthodox Cathedral in Los Angeles and have 6 children and 6 grandchildren. In addition to serving on the Ancient Faith Board, Dennis is on the board of Project Mexico & St. Innocent Orphanage.
Panayiotis (Peter) Kanelos
Panayiotis is the President of St. John's College in Annapolis, MD and was formerly dean of Christ College, the Honors College of Valparaiso University in Valparaiso, Indiana. He also serves on the Executive Board of the Board of Trustees for Hellenic College/Holy Cross, where he oversees the institution's financial operations and chairs the Academic Affairs Committee. He is married to Christina and has a daughter and a son.
Brandon Baca
Brandon is a member of St. Elijah's Antiochian Church in Oklahoma City. He co-founded Kevo Properties, a real estate company which went from 4 to 235 realtors in 6 years. He is also an Executive Sales Coach experienced in small business development as well as personal development. He and his wife Andrea have 5 children.
Fr. Thomas Zell
Fr. Thomas is the pastor at St. James Antiochian Orthodox Church in Modesto, California, and the Dean of the Northern California Deanery of the Antiochian Archdiocese. His Khouria Carla Zell serves on the staff of Ancient Faith Ministries. Fr. Thomas and Kh. Carla have a long history with Ancient Faith Publishing back when it was known as Conciliar Press, and they were part of the large group of Evangelicals who came into Orthodoxy together 30 years ago.
John Maddex
John is CEO of Ancient Faith Ministries and has 40 years experience in broadcasting, having served at the Moody Bible Institute and Focus on the Family. He was responsible for Moody's 35 owned-and-operated radio stations for much of that time. John has served on the board of the Fellowship of St. James, which publishes Touchstone and Salvo magazines, as well as the National Religious Broadcasters. He and his wife Tonya live in Chesterton, Indiana, and have two adult children and eight grandchildren.
Fr. Nabil Hanna – Spiritual Advisor
Fr. Nabil is the pastor of St. George Antiochian Orthodox Church near Indianapolis. He is married to Elaine, and they have three grown children. Fr. Nabil was born in Alexandria, Egypt and emigrated to the United States with his parents and two sisters in 1968. He grew up in Portland, Oregon, and graduated from Lewis and Clark College in Portland with a degree in chemistry in 1981. He worked as an engineer for the Intel Corporation for five years.