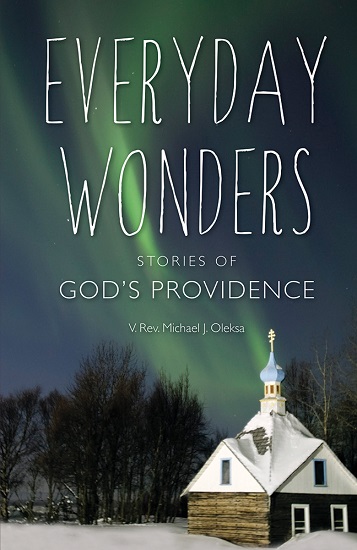 Sometimes a person's life and work are based around the curiosities of their childhood. Those moments of intrigue and wonder, however small in scope they may be, can shape an entire life.
For Fr. Michael J. Oleksa, that moment came in the third grade, when he learned about Alaska: a place where a love for indigenous American culture and Orthodox Christianity come together. This sense of journeying and wonder greatly shapes Fr. Michael's latest book, Everyday Wonders: Stories of God's Providence. Part spiritual memoir and part travel essay, Everyday Wonders is a series of stories that not only tell of Fr. Michael's journeys in North America and Europe, but also themselves comprise a longer-lasting life journey of a parish priest, college professor, seminary dean, and diocesan chancellor.
As a young catechumen in the late 2000s, everyday memoirs of faith life were a way for me – a trained folklorist captivated by the power of individual experiences – to better understand how our faith is lived. Nearly a decade later, I find that such stories are equally powerful, because they have a way of hooking the reader into the beauty of the everyday. Within the stories found in Everyday Wonders, this is definitely the case. I learned about Fr. Michael's journey to Alaska, his sense of curiosity, and his willingness to embrace the unfamiliar for the sake of his work.
The accounts of well-known Alaskan Orthodox figures, such as St. Herman of Alaska and Matushka Olga Michael, are greatly enhanced by Fr. Michael's personal stories. Readers will be captivated by the sheer number of coincidences, close calls, and moments of resilience from struggle. I especially felt drawn to the story of a particularly close call in 1971, when an unexpected delay involving the re-painting of a matushka's house ultimately saved Fr. Michael from perishing in an Alaska Airlines crash near the capital of Juneau. The book is full of such stories; one moment, you are reading about something unfortunate, and the next moment brings forth an account of resilience, grace, or – as the title might suggest – providence.
One of the most intriguing parts of this book is how Fr. Michael explains his work on, and with, the Native Alaskan Orthodox communities. Besides being a scholar of Aleut identity, he is someone who works directly with indigenous communities, and it is unique to read a book in which the author is not only on the ground with everyday citizens, but is also renowned for his scholarship on those communities. As a folklorist-by-training, I know that sense of groundedness is key to solid community-building and cultural sustainability, and Everyday Wonders succeeds at telling stories that uplift indigenous Alaskans, as well as plead for improved recognition of their historic and contemporary contributions to both Alaskan and American society.
Small-world stories are narratives of people discovering connections, familiarities, and coincidental convergences. Fr. Michael's experiences, both home and away, are connected by these small-world stories. His quest for a doctoral degree in theology, after initially experiencing some stumbling blocks, goes forth through a chance opportunity to visit the former Czechoslovakia – where Fr. Michael would eventually complete his doctorate. By day, I work in a museum that promotes Czech and Slovak culture, and I had just completed a public talk on Czech and Slovak saints, so reading about his studying in Presov, Slovakia during the Communist era amused and intrigued me. What is even more amusing in reading the different stories is how Alaska serves as a point of connection when Fr. Michael visits Eastern Europe. Alaska, like Eastern Europe, plays a major role in the spread of Orthodoxy, and their roles as spiritual heartlands for Orthodoxy further connect the stories of Everyday Wonders.
This is a book that is highly accessible, and would appeal to a wide variety of readers, ranging from teenagers to older adults. But what is very valuable about this book is that, while it consists of many different stories, it is also a highly engaging read for anyone interested in learning about where the life of a priest may take you. Childhood interests, a desire to serve the Church, and a sense of wonder can all come together in one life's work, and that is one of the biggest lessons that I have learned from reading Everyday Wonders. A sense of wonder can bring a person all around the world, into a series of both fortunate and unfortunate events, and somehow they all connect together seamlessly. Books such as Everyday Wonders also have the capacity to bring non-Orthodox readers into the world of the Church, through demonstrating how our faith, culture, and theology are lived on an everyday basis. This is a book that could easily be read and embraced by non-Orthodox readers who desire to learn more about the faith, the life of Orthodox believers in Alaska, and how the small events of life prove to often be the most moving.