How does your priest get ready for Divine Liturgy? It's an Orthodox tradition to view preparation for church as the "first procession" in the service, the journey from ordinary life into the sacred space where we will enter the Kingdom. As a lay person, you know what you need to do to get ready – you might change your clothes, round up your children, find a prayer rope or an icon for a special service. But what about your priest? Have you ever wondered what he's doing before the service begins?
We're blessed to count a number of Orthodox Christian priests among our group of podcasters, authors, and bloggers. So we asked three of them this question – how do you get ready for Divine Liturgy? Here are their answers.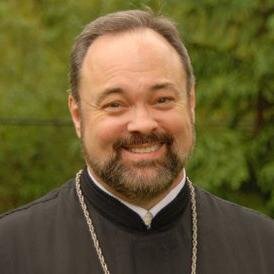 Fr. Barnabas Powell (Faith Encouraged)
Someone once said "The quieter you become the more you can hear!" That's why, as I prepare myself to celebrate the Liturgy on Sunday, I have a strict discipline of silence when I rise. Usually, I'll get the news of the day, or have my Alexa give me my morning briefing. But not on Sundays. On Sundays, the day begins in silence with the alarm set to vibrate. No conversation. And even the ride to Church is silent as the radio is off and my mind is quiet before I enter the altar. It is in this practice of silence that I am most prepared for the focused and saving work of the Divine Liturgy.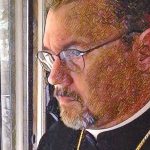 Fr. John Guy Winfrey (In Search of Authenticity)
Most people are surprised how early I have to get to the church to serve Orthros (Matins) and Divine Liturgy on Sunday. I try to get there about two hours before Orthros begins. So, I'm usually up by 6:00 in the morning to shower, get dressed, and drive to the church. Of course, I don't get my usual cup of coffee so I probably move a little slower than I normally do. Arriving at 7 o'clock, I first go into the church and venerate the icons and the holy table. I spend some time in quiet time in prayer as part of my preparation for serving. Then it's time to start getting busy.
I prepare my Orthros (Matins) book for the morning with all of the hymns that we will be singing that day. I print out a little sheet with the saints to be remembered at Orthros and Liturgy. The Gospel book gets marked. Water is put into an electric tea kettle and transferred into a thermos when it's hot (altar servers don't have to fear forgetting to get it hot on time). The bread is placed on a cutting board and moved to the prosthesis table. The censer is emptied of last night's burnt-out coal, and a new coal is placed in it for Orthros.
I try to spend a little bit of time looking at the Apostle reading and the Gospel for the day and refresh my mind about the sermon. Sometimes I will look up a few new things for the sermon and read a little from one of the fathers about the theme or text. I'll think about the introduction and the closing to be certain I know where I'm going with it later. Then I try to commit it all to memory.
Finally, I go into the church to say the Kairon prayers before the icons of the iconostasis, light the candles, get vested with the assigned prayers, and begin to prepare the bread for the Liturgy by doing the service called the Proskomedia. Some find it surprising that when I make my commemorations for Liturgy, I remember at every Liturgy I serve everyone I have baptized, married, and buried since I was ordained 20 years ago. I remember each parish I have been privileged to serve as a Priest, too. With the completion of the Proskomedia, we have to start Orthros immediately. Sometimes, I have to admit, I am still doing commemorations after I have started Orthros.
It takes time to prepare and serve Liturgy. Then I am standing, concentrating, praying, preaching, sometimes directing servers for the next 2 and a half hours. This is why I, and all of the priests I know, have absolutely no energy left following coffee hour (where there is usually nothing left for us to eat and break our fast — and often no coffee either, so we continue to stand and talk to our faithful for the next hour). Perhaps surprising, but I wouldn't live any other way.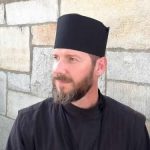 Fr. Anthony Perkins (Good Guys Wear Black)
As with all priests, I get up really early (like, 4:00 AM) so that I won't be rushed and can take my time with everything from my morning prayers to my shower; the Divine Liturgy exists outside time, and I find that this eases my transition into that reality (it also guarantees that I'll get to shower when I want; something that is never guaranteed in a large family). During this time I am intentionally slower, quieter, and more deliberate in all of my thoughts and actions, to include my interactions with family.
I live about 15 minutes from the parish, and I use that time to further the transition by praying the Communion Prayers along with a recording of them (we take two cars; I don't see much of my family at church until Communion and coffee hour). Once I arrive at the church, I follow the script that the Church has provided to move priests from life in the world to service at the altar (well, aside from the little things that need attention before hand; see "slower, quieter, and more deliberate" above). The entire script is effective, but the part that usually moves me the farthest is praying the specific prayers for each vestment as I put it on. The closest I had to this transition before ordination was how I felt each time I put on my Army uniform (I'd stand a bit taller and my attitude would change). The only thing that might make this time even more effective would be some good Iron Man music (the scenes where the parts of his armor fly onto his body pretty much always comes to mind as I vest).