My adventure to the Ancient Faith Writing and Podcasting conference began the Monday before, as I lay with my arms above my head, hearing the words of the CT technician, "I promise, no matter what you feel, you will not pee yourself." The funny thing is, this wasn't the first time I had heard this in my life, as I had experienced this test many times before. Again, I experienced the high of the saline being pushed through my veins, something that has almost become comforting, because of its familiarity. Then the rush, from toes to head, of a feeling of burning and a taste of metal. In these moments of helplessness, you are at the mercy of the technician, and you also have a lot of time to think, and pray. This time, my prayers was twofold, "Please just let this not be another obstruction, at least for the kids," and "I have been planning on this trip for so long; if it is an obstruction, just help me be able to get there." Then thinking of Christ's own sufferings, and how little mine compared, I thought, "But whatever Your will is, so be it. I think I'm ready to just accept whatever comes now."
Thankfully, I did not pee myself, nor did I have an obstruction this time. However, God saw fit for my symptoms to continue, the pain, fatigue, and nausea that had been my consistent friend for months now. My husband diligently drove the whole way, and like Sam and Frodo, I wouldn't have gotten far without him. Driving through mountains, and cotton ball clouds, I worried about how I might get through the next few days. As a young girl, I was nothing but social, but as illness has crept over me through the years, I have become more and more a sort of want-to-be recluse. But the spirit of my young self remains, itching to create and to connect with people. This was the perfect opportunity to satisfy that eager young girl, so I had to go.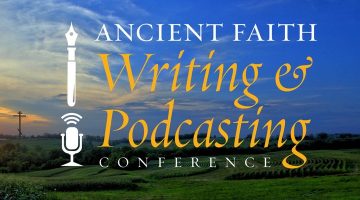 The first person I met was Melinda Johnson. Anyone who meets her knows she is energy incarnate. But she is not only that, she is also welcoming and warm, and instantly I knew that this was going to be something that was going to be good for both my body and soul. My husband and I walked around Antiochian Village, a place I had dreamed about going to for a very long time. As we walked through the museum, we happened upon Father Andrew Damick, and I had a bit of a fangirl moment. I had seen his "5 Misconceptions about the Orthodox Faith" and was a fan from the first moment of the video. I could tell from the video that he was commanding, and seemingly larger than life, but standing looking down on me, he seemed even larger, or I smaller. Then suddenly, he told me he knows my Dad and has stayed in my home, and suddenly I remembered how small the Orthodox world really is.
It wasn't long before I became so fatigued, nauseated, and in pain that I felt I was going to faint. But something pushed me to go on, to go to dinner and to meet the beginnings of a wonderful group of people. I met writers, illustrators, podcasters, teachers, all Orthodox, with such fervor for Christ's sake that it was infectious. I immediately felt at home, and able to push through my aching body.
As a priest's kid, it is at church where I feel the most at home. Surrounded by the icons of the saints, the rising of the incense, and the hymns being chanted so beautifully, I forgot myself for a moment. It was in that moment, even though I had not met many of the people attending, that we were yet of one heart.
That night and the next day were punctuated with talks given by Bill Marianes, Dr. Albert Rossi, Nicole Roccas, and Caroline Langston, all so different in character, but all with such pearls of wisdom. All seemed to prop up our hearts to push on for Christ's sake in our work.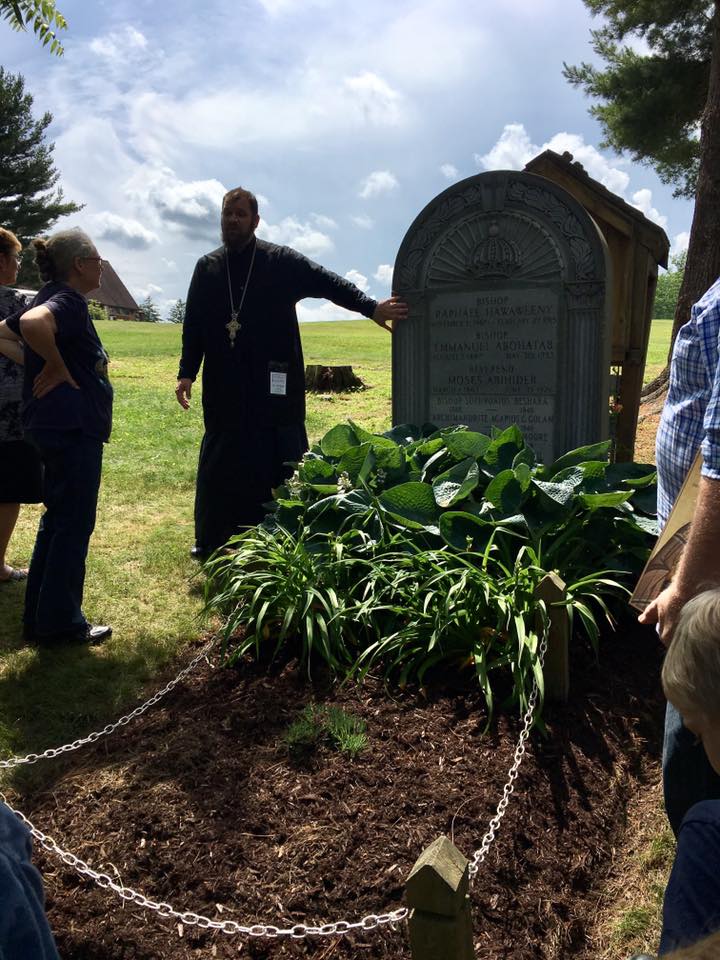 The culmination for me was the visit to St. Raphael of Brooklyn's grave. What is it about being in the presence of a saint that brings such joy and peace to one's own heart? Standing together, we sang, led by Father Andrew. This was a turning point for my soul and body. I left feeling much lighter and in less pain. Perhaps it was a healing, passed to St. Raphael for his love of people and his flock? Or for the coming together of us all, for "…where two or three are gathered together…" Matthew 18:20.
Then we were led to the church to honor the relics of the Apostle Paul, and St. Moses the Black, the latter which was emitting a fragrance, a simple blessing of our coming together.
The last talk on Friday was given by Nathan Hoppe, missionary and husband of Lynette Hoppe of blessed memory. It was her book, and the saintly death of my friend Anca, which impressed upon me the meaning of physical suffering, and has lead me through many dark moments. Seeing him in real life was nothing short of a miracle for me, and a reminder. He spoke of the need for support of Orthodox missionaries, with currently only 20 missionaries in the field from all North American Orthodox jurisdictions combined. His fervor for Christ to be brought to all people was palpable. All our eyes were suddenly opened to the need of more support for missionary work, such a great need, a command from Christ Himself.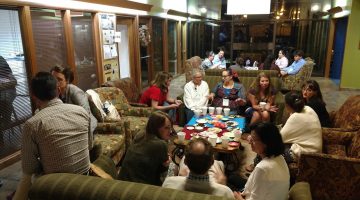 That night, we all gathered together, to sit and talk late into the night. We shared our creative endeavors, our personal stories, and many laughs, over tea and cookies. But as I have found so often, there is something so amazing about when Orthodox people gather together; it is often like they have belonged together always.
But no matter our differences in backgrounds, interests, or language, or if we were podcasters, children's writers, or theologians, we all shared something in common: our love for Christ and our need to creatively provide others with resources to bring them closer to Him. I would say also that we share our own desperate need to create to become closer to Him.
Upon leaving, my symptoms had dulled to a whisper for now, and I sadly hung on to the last few moments with my new-found friends and collaborators. This was a conference that had restored my soul and creative mind. It would be a reminder, as I sat alone in the wilds of Virginia, that I was not alone.
When we finally returned to our home in Virginia, to the joy of our children, I came to my garden in full bloom. It had seemingly been waiting for weeks, each bud anticipating something. Then there it was, every color imaginable before my eyes, awakened now, and all working together for God's glory in a beautiful symphony of color. I was home, but this time refreshed and splashed with color.