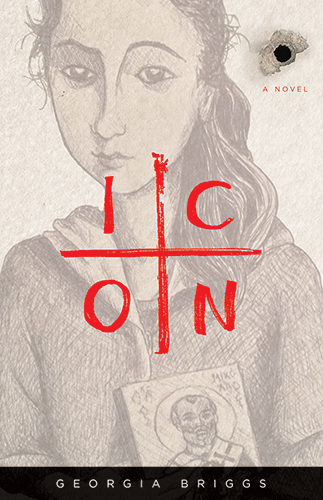 There are times when a book feels so right and so true that it takes a place not just in your heart, but insinuates itself into your entire being. That is Icon: A Novel, by Georgia Briggs.
One of the major attractions of the book was how normal and thrilling it felt to be reading a book of fiction and seeing little pieces of my life in it. I can read about Orthodox lives and people, yes, but the books are generally from another nation and another time – and in the day-to-day lives of the book's characters, there is little that resonates with my cultural touchstones and routines. I can read secular fiction and feel at home in the secular world the characters inhabit – I know the books they read, I'm familiar with the TV shows and top ten songs on the radio, but even if religion is mentioned, it's not MY faith and that faith doesn't intersect the everyday world of the characters the way our faith intersects our everyday lives. In Icon, I not only get the references to Lois Lowry's The Giver, and Speak by Laurie Halse Anderson, and the references to MacDonalds and Egg McMuffins, and to the secular Christmas that we all complain about every year, but, joy of joys, I get the references to fasting and how good meat tastes on Pascha. When the hymns are sung, I hear the melodies in my head, because I sing those at Liturgy, too! It felt as though finally, someone saw the world the way I did, and wrote about it. It felt like my world, my reality, my life.
That was the tip of the iceberg. Then it got better.
On one level, Icon can be read as a mid-grade/young adult dystopian novel. It's slightly futuristic (but at the same time, it feels very much a story of right here and right now), with an all-too-plausible premise in which our current culture combines the worst of that "feel good, be tolerant and accepting of everything" mentality with the equally strong intolerance and suspicion of the "other," with predictable results. As long as you're completely secular and keep your religion so private nobody knows about it, you're fine. Those who insist on believing, who stand apart from the bland lip service of "acceptance" and "tolerance," are sacrificed on the altar of that intolerant tolerance.
It's the combination of the two cultures – secular and Orthodox – that is part of the strength and the power of this book. Euphrosyne, or Hillary as she is called in the new world order, is off balance and isn't sure what is truth and what are lies. All she knows is that in one horrific moment, she lost her family and her reality, and the rest of the book is her groping to find or return to something true and real.
This book brings home, in a visceral way, the experience of today's martyrs. By marrying the reality of our lives in our culture with the slightly futuristic world in which religion is the only sin, Icon makes the modern Christian persecution real in a way none of the pictures on TV and social media can. We can see the images, watch the videos, and agonize as our brothers and sisters in faith are blown up, gunned down, and beheaded because they will not proclaim Allah, they will not burn the incense, and they will not say all religions are a private and personal matter, to be kept only in our minds and hearts and never shared with anyone. But Georgia brings the pain, the blood, and the sacrifice home to us, to our neighborhoods and to our living rooms: from the broken figure of Jesus in a thrown-away Christmas creche to a hurried and paranoid Paschal breakfast in a MacDonald's drive-through, while covered in the blood of your martyred family.
And it got deeper, and still more compelling.
On another level, this book is about being an icon of Christ, of standing as firm as the hardwood upon which our icons are written. It's about being the salt and the beacon, even if we aren't aware that's what we're doing. It's about seeing that saints are made of the same stuff we are, and are as weak, as doubting, and as broken as every single one of us, and that sometimes, what makes a saint isn't their incredible faith and strength, but their confusion, their doubt and their stumbling through the dark toward a distant, faint light with no assurance that it's not just another train barreling down the tracks toward them.
I don't think this book could have been written by anyone but an Orthodox Christian. The power and strength of Icon is the effortless way Georgia Briggs combines all three of those threads: the culture of our faith with secular culture and the power and true meaning of an icon. The cultural clashes could be done by anyone. It's just a matter of knowing a religious culture and a secular culture. Plenty of people know that. But it's only the Orthodox who understand what those wooden paintings really mean, and what stands behind each and every one of them. And it's the combination of those three threads that gives Icon the strength and the power it has to not just take a place in your heart, but to insinuate itself into the very fiber of your being. This is not a book that can be forgotten easily. It's a book that will widen and deepen your world.
Icon: A Novel by Georgia Briggs is available in paperback here and as an ebook here. You can learn more about author Georgia Briggs here.