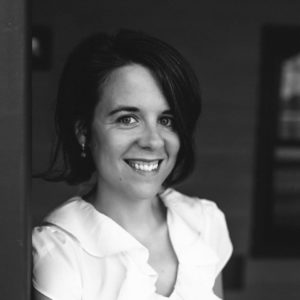 Today's post comes to us from Dr. Nicole Roccas. Along with her blog and podcast (Time Eternal), Nicole is currently finishing her first book, Time and Despondency, which will be published with Ancient Faith later this year. In "real life," Nicole is a freelance editor and writing consultant at  www.nicoleroccas.com.
As she describes below, what she loves most about her job are the times she gets to help people dismantle the obstacles that prevent them from finishing a writing project.
When I first started considering editing as a career, it was largely because people told me I was good at writing–and pointing out grammar mistakes (gee, thanks…) However, as I began taking more clients, I encountered a subset of folks who weren't just struggling with grammar, but with the writing process itself.
These were people who tended to get stuck, somehow, in the middle of their writing—they'd written themselves into a corner and didn't know how to get out. I loved helping get these these clients putting words on paper again. The ability to tell one's story is a powerful facet of the human experience, and when that can't happen–for whatever reasons–it can be deadening.
I wondered, though, what my clients would think if they knew the truth: in my own writing, I get stuck just as badly as they do.
Slowly, I've realized it's our weaknesses that enable us to help others. I know what it's like to be trapped in the middle of my own ideas—I've known the difficulty of being stuck, and the joy of being freed from the snare.
As a child, writing was my playtime activity of choice. There was something satisfying about a crisp sheet of new paper, or the soft crumbling sound my pencil made as I wrote a word. I recall one assignment from those days particularly well: a long story I wrote in third or fourth grade about a girl who vanished in the jungle. I started the story in a surge of creativity, but got lost along the way—in my writing, as well as in the jungle. I couldn't figure out how to wrestle the story into a conclusion. I don't recall whether I managed to finish the assignment in the end, but I do remember feeling sick to my stomach every time I tried.
The story is an almost prophetic icon of a struggle that haunts virtually everything I write. I call it the gremlin of forestalling endings. He stands in my way every time I get close to concluding a piece of work. I've learned to get around him and usually can finish even sizable works of writing on time, but he's still there, beckoning me and trying to hold me back.
In fact, he's been hanging around a lot lately, as I finish up the manuscript for my forthcoming book, Time and Despondency. The only way I know how to make it past this stumbling block is to be true to myself—not my worst self that feels incapable of anything, but my best self, the self that is sustained by God (as we all are), and thus able to bring new words and life into this world.
When I consult with my clients, one of the first things we address is the importance of knowing yourself. In the words of St. Basil: "Be attentive to yourself, that you may be attentive to God." If we are to lead fruitful, God-perceiving lives, we must know ourselves first and foremost.
This extends to creative endeavors—we all create (and struggle to create) with certain tendencies tendencies. As best-selling author Gretchen Rubin points out, one area where people tend to differ is being an opener versus a finisher (if you want to know which you are, you can take her quiz). Many of my friends are the latter, they thrive on getting stuff finished and checked off their list. They find a tidy joy in tying up loose ends that I can only marvel at. I am the opposite—I thrive on blank screens, new beginnings, and endless possibilities. As soon as I'm in the thick of a writing project, there's a part of me that fills with dread.
For openers like me, finishing a piece of writing requires even more faith than beginning it. To finish something is to send it out into the world, where you can no longer hide behind endless revisions and perfectionizing. To finish something requires turning the work around and facing its messy side to be sure everything is where it should be—not an easy task for someone who likes straight lines and clean compartments. But more than that, to finish something means to see ourselves, to acknowledge what it is we have tried to do or give words to, and to acknowledge our limitations. (And there are always limitations—it's in the nature of being human that our aspirations are chronically higher than we can reach, that's the beauty of reaching for the stars.)
All of this, for me at least, puts a rather daunting layer of existentialism on finishing a task. But it's funny—what we consider to be the end is often just a beginning. Christ, just before breathing His last, proclaimed "It is finished" (Jn 19:30). I bet most of His disciples assumed He meant His life was officially over. Forever. But what was finished was the dominion of death, the stranglehold of decay on this life. In dying, Christ brought to end the old condition of man so He could resurrect the new.
Today, I'm remembering that sometimes we need to bear the cross of finishing things—toilsome and scary as it may seem—so that, thanks be to God, we can enter into something new.